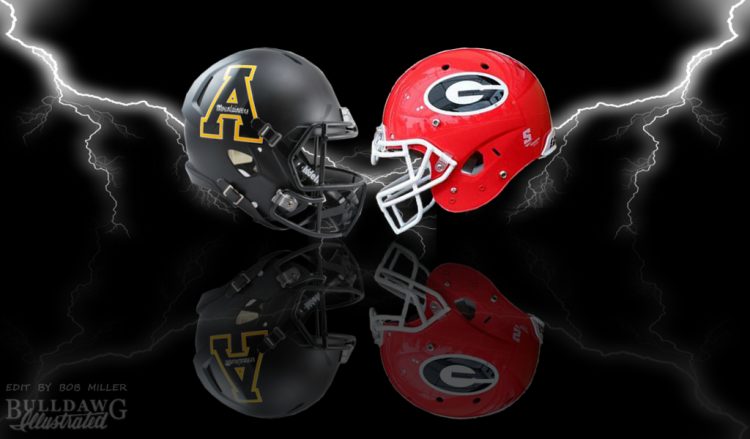 The Dawgs open the 2017 season Between the Hedges against the Appalachian State Mountaineers who were a field goal kicker away from upsetting the Tennessee Volunteers on opening night last year. Make no mistake about it, this is not the same Mountaineer team that came to Athens in November 2013. They are a bigger, stronger, faster football team with a 21-5 record over the past two seasons led by an excellent young coach Scott Satterfield who outcoached Butch Jones for sixty minutes.

The 2017 Mountaineer football team heads into the season with big expectations. Senior QB Taylor Lamb and outstanding tailback Jalin Moore comprise a formidable backfield that won't be intimidated by the sea of 92,746 in red and black. As mentioned previously, this is a well-coached team that is self-assured and very confident in what they do. The Tennessee game was a perfect example of their confidence and faith in their scheme.


The App State offense is a run first unit that exclusively uses the pistol and shotgun formations. Ideally, the Mountaineers want to end each game with a 2:1 run to pass ratio. To assist the offensive line in opening holes in the running game they run jet sweep or reverse motion on approximately 35% of running plays. Nearly 15% of the time they run the motion the ball ends up in the hands of the player that is in motion so a defense must respect it. It is a complex rushing attack that has baffled some very good defenses.


On the other hand, the Mountaineers passing game is vanilla. Most their passes are bubble screens, swing passes to the running backs or underneath routes. Of the twenty-three passes the Mountaineers threw against the Volunteers, only three traveled more than 10-yards downfield in the air. The only downfield pass that was completed was a wheel route to running back Marcus Cox. In general, quarterback Taylor Lamb struggles to push the ball downfield.


It is an offense built to play from ahead. The Mountaineers are consistently ahead of the chains and constantly convert in third and short situations. If you aren't careful the clock will disappear right in front of your eyes and you will be locked in a fourth quarter battle.


On the defensive side of the ball this is going to be a much different Appalachian State football team than last season. Defensive lineman Antonious Sims and Dezmin Reed graduated and took 20.5 tackles-for-loss and 13 sacks with them. Perhaps an even bigger loss for the Mountaineers comes at the linebacker position with the graduation of Kennan Gilchrist (89 tackles + 11 tackles-for-loss) and John Law (57 tackles + 5 tackles-for-loss). Gilchrist and Law were the heart and soul of the defense and when they hit you there was no doubt that you were going to the ground.


Appalachian State plays a hybrid 3-3-5 defense that can morph into a 3-4 on running downs. To compensate for an undersized defensive front, they constantly run slants and stunts taking advantage of their speed and quickness. Behind the aggressive play of the front three the defense plays a bend but don't break style. Their philosophy is to keep everything in front of them and make you sustain 10+ play drives over 70+ yards.


While the Mountaineers suffered some significant losses they still return very talented football players. They are fundamentally sound and are typically an excellent tacking football team. The Georgia offense is going to have to beat the App State defense because the reverse won't happen.


App State will arrive in Athens with an outstanding game plan and be well schooled in what Georgia is going to try to do. If Georgia gets off to a slow start the game could be very reminiscent of the Tennessee game last September. However, if the Dawgs get off to a hot start like the Miami Hurricanes did when they travelled to Boone last season than the Dawgs could win the game in a rout.


Regardless, the Mountaineers are a quality opponent that the Dawgs must respect.

KEY PLAYERS – OFFENSE:

Jalin Moore – RB – 5'11 205 – 237 Carries – 1042 Yards – 10 TD's – Moore is an explosive back with excellent short area burst. His patience is outstanding and he has a knack for finding the creases and getting the tough yards between the tackles. While he may not be a homerun threat he can rack up the 5, 8, 15 yard carries in a hurry.


Sheadon Meadors – WR – 6'2 185 – 45 Receptions – 716 Yards – 2 TD's – The Mountaineers don't have an aggressive downfield passing game but Meadors is the one receiver of their roster that is capable of taking the top off the defense. Lamb will likely try hit him deep a couple times to keep the UGA defense honest.


Victor Johnson – LT – 6'2 295 – 13 Starts – Johnson is the best offensive lineman for App State. He is a long, athletic tackle who has done an excellent job protecting Taylor Lamb's blind side. He is going to have to keep Davin Bellamy, Lorenzo Carter and D'Andre Walker in check.

KEY PLAYERS – DEFENSE:

Eric Boggs – ILB – 6'3 235 – 98 Tackles – 4.5 TFL – 3 Sacks – 3 INT – Boggs is an electrifying defensive football player. He plays a million miles an hour and always seems to be in the right place at the right time. It will be fascinating to watch him try to keep Chubb and Michel from breaking into the secondary.


Devan Stinger – HYBRID – 5'11 200 – 71 Tackles – 3.5 TFL – Stinger plays the hybrid OLB/safety position. He is a heat seeking missile that loves to come downhill and make the big hit. He is tremendously versatile and makes it difficult to read the Mountaineers coverage.


Clifton Duck – CB – 5'10 175 – 57 Tackles – 2.5 TFL – 5 INT – Last year as a true freshmen Duck was a special player. No moment ever proved too big for him and he routinely held his own against receivers sometimes 4-5 inches taller and 40 pounds heavier. If given the opportunity to make a play he will make it.

WAY-TO-EARLY PREDICTION

UGA 38 – Appalachian State 14


---
Recent Articles by I'mYourHuckleberry

[pt_view id="d18572ftik"]