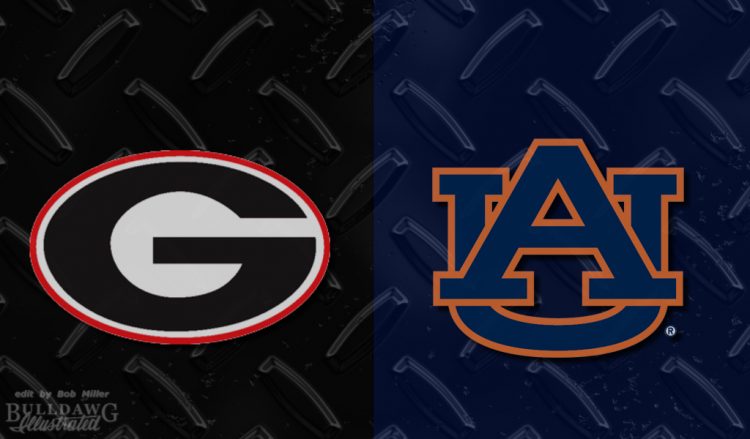 On paper this is the scariest game on the Dawgs schedule in 2017. For the last eleven years the Dawgs have dominated the Deep South's Oldest Rivalry with a 9-2 record and an average margin of victory of 14 points. It is an unprecedented trend for a rivalry that has historically been one of the closest in all of college football. With a loaded roster and the game at Jordan-Hare the Tigers will be looking to reverse the trend. It's a game circled by every Auburn fan and another loss will not be swallowed easily. A loss to the Dawgs followed by an Iron Bowl loss could seal Malzahn's fate.


Fairly or unfairly, Auburn's season hinges on legs and arm of Jarret Stidham. During Gus Malzahn's tenure at offensive coordinator and now head coach at Auburn his offenses have only gone as far as his QB's could take him. In 2009 with Chris Todd and Kodi Burns at QB, Auburn finished 8-5. In 2010, Cam Newton arrived and the Tigers went 14-0 and won the BCS title. 2011 saw the Auburn offense crash back to reality with an 8-5 record. In 2013 with Nick Marshall at quarterback the Tigers went 12-2 making a return appearance in the BCS Championship game. Since then, Auburn's QB play has been much maligned in 2014 – 2016 and the Tigers have only been able to muster a 23-16 record.


Stidham is a different type of QB from what Malzahn has typically had success with. He is a good athlete that can extend plays with his legs but Auburn will not be drawing up any designed runs for him. Similarly, the read option will remain a part of the Auburn offense but a majority of the time he will be handing the ball to his running back or tossing it to the player coming across in motion. That predictability will help defenses, but Stidham can more than make up for the lack of a running threat with his ability to execute the run-pass option (RPO). Stidham was coached by the creator of the RPO at Baylor in 2015 – Art Briles. Prior to his injury, he was nearly unstoppable with a nearly 70% completion percentage and 12 TD passes to only 2 interceptions. When executed properly the RPO is the deadliest weapon in any offensive arsenal.


Stidham is fortunate to be playing behind one of the best offensive lines in the SEC. With Braden Smith kicking out to right tackle, Austin Golson at center and Darius James at left tackle it is a unit with a combination of talent and experience. Also, Auburn may have the most talent at the offensive skill positions in the SEC. Kamryn Pettway and Kerryon Johnson are a dynamic 1-2 punch at tailback. Receivers Kyle Davis, Darius Slayton, Eli Stove and Nate Craig-Myers are electric playmakers whose production have been stifled by terrible quarterback play. If Stidham can consistently deliver the ball this unit will be full of household names by the end of the season.
On paper, the Auburn offense is a unit that can dominate you playing smash mouth football or spread you out with 5 wide receivers and pick you apart.


You also can't mention the Auburn offense without mentioning Daniel Carlson. He is the best kicker in the country and the moment Auburn crosses the 50-yard line they are in field goal range.


Defensively there is no doubt that Auburn will miss Montravious Adams and Carl Lawson in 2017. However, by Week 10, Auburn should have been able to answer lingering questions. First and foremost, Auburn has a tremendous amount of returning talent on the defensive line. Big things are expected from Marlon Davidson and Derrick Brown in their sophomore seasons and both have ALL-SEC potential. Linebackers Deshaun Davis and Tre Williams are solid but not spectacular linebackers and Tray Matthews will anchor a secondary replacing both starting cornerbacks.


The defensive line is the clear strength of this unit. As previously mentioned, big things are expected from Davidson and Brown but consistent edge rushing threat could elevate this group to elite status. Auburn beat writers are expecting big things from Jeff Holland and by the time the Dawgs arrive at Jordan-Hare Markaviest Bryant could be a name to watch.


If Auburn stays healthy they should be an offensive juggernaut in 2017 and their defensive front is good enough to take over a game. Jordan-Hare is going to be rocking for this game as Auburn will be looking to build momentum heading into the Iron Bowl.

KEY PLAYERS – OFFENSE:

Jarrett Stidham – QB – 6'2 210 – If Gus Malzahn's has an elite at the quarterback his offense is elite. If the quarterback play is below par the offensive performance is typically inept. If Stidham plays up to his potential this Auburn offense will be explosive.


Kamryn Pettway – RB – 6'0 241 – Georgia was fortunate to avoid this monster last season. Pettway is a beast between the tackles who rarely goes down on first contact and wears down a defense over the course of the game. Pettway is a battering ram and a glue guy for this Auburn offense.


Nate Craig-Myers – WR – 6'2 208 – The Tampa, Florida native is the biggest beneficiary of the arrival of Jarrett Stidham at Auburn. Craig-Myers biggest asset is his ability to stretch the field vertically and he finally has a quarterback who can put the ball out there and give him a chance to go get it. Having a weapon like Craig-Myers on the perimeter can help open running lanes for Pettway and Kerryon Johnson.

KEY PLAYERS – DEFENSE:

Derrick Brown – DT – 6'5 317 – With the loss of Montravious Adams to the NFL there is a void along the defensive front Auburn is hoping Brown can fill. The former five-star recruit is entering his sophomore season with huge expectations. Brown is a force at the point of attack in the run game with the athleticism to disrupt the game as an interior pass rusher.


Jeff Holland – DE – 6'2 255 – Auburn has a great deal of talent along the defensive front but they are hoping to find an elite pass rusher off the edge with the departure of Carl Lawson. There isn't a name that jumps off the screen at you outside of Holland. Holland has the athleticism and Auburn coaches are optimistic with more consistent effort the production will increase.


Tray Matthews – S – 6'1 207 – The former Georgia Bulldog is entering his senior season at Auburn and is a leader for this Auburn defense. Infamous for doing the wrong things, see his attempted WWE tackle on Leonard Fournette, Matthews has developed into a solid SEC safety. If he can stay healthy, he will be an impact player.

WAY-TO-EARLY PREDICTION

Auburn 26 – Georgia 24



---
Recent Articles by I'mYourHuckleberry

[pt_view id="d18572ftik"]