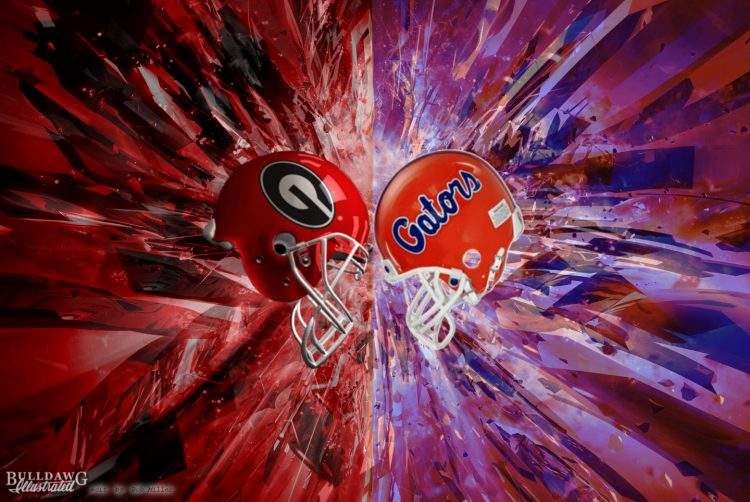 This is not meant to diminish the quality of Georgia's first seven opponents but the annual Cocktail Party against the Gators is the first "scary" game on the Dawgs schedule and the beginning of a SEC gauntlet. Florida is the king of the SEC East and until the Dawgs prove they win in Jacksonville the Gators are the favorite to return to Atlanta. The Gators suffered significant losses to graduation and the NFL Draft, but Florida is still Florida. What does that mean? First, the Florida football team plays with confidence and swagger that borders on cockiness which gives them a mental edge. Second, the Gators have elite, game-changing athletes that can dominate a game. The 2017 Florida Gators won't be any different.


The Gator nation is confident that they will win the SEC East in 2017. In 2015 and 2016 the Gators rode a proven and dominant defense to roll through the Eastern division and get to Atlanta. Some say they are reloading, not rebuilding but the losses are significant with Alex Anzalone (LB), Caleb Brantley (DT), Jarrad Davis (LB), Joey Ivie (DT), Marcus Maye (S), Teez Tabor(CB) and Quincy Wilson (CB) all being selected in the NFL Draft, five of them in the first two rounds. That is a great deal of talent to lose, especially considering that Jim McElwain has not recruited at an elite level since his arrival and nearly all of Will Muschamp's defensive recruits are gone. What gives the Gators optimism this season is a talented, veteran-laden offensive line and the most talented group of receivers in SEC. If Malik Zaire or Feleipe Franks can prove to be capable at quarterback it could be a very dangerous offensive unit.


Whether it be Malik Zaire or Feleipe Franks who wins the quarterback battle this fall Florida will be a team that runs the out of the shotgun and pistol formation with read option principles. Both Zaire and Franks are capable runners that defenses must respect and the Gators have three solid SEC caliber running backs. If the offensive line can live up to expectations the rushing attack will be difficult to contain. The individual talent is impressive but the unit did not mesh well during 2016 and missed too many assignments. During spring practice they demonstrated better continuity and if they can continue their development they can take over games.


The fascinating aspect of the Gators offense will be their passing attack. In three years at Notre Dame, Zaire showed flashes of potential but was twice beaten out for the job by both Everett Golson and DeShone Kizer. His arm talent is average but he can be dangerous as a passer with his ability to escape the pocket and extend plays. At only 6'0 tall the Gators will move him around and change his launch point so that he can see downfield. If Franks beats out Zaire for the job the challenge becomes different for opposing defenses. At 6'6 with an absolute cannon for an arm, Franks is more capable from the pocket and can launch the ball 60+ yard downfield with a flick of his wrist. Franks is said to still bel adjusting to the speed of the game, however, by Week 9 he could be a completely different quarterback.


The Gator defense is in rebuilding mode in 2017. They will be rebuilding with a new defensive coordinator, Randy Shannon after the departure of Geoff Collins to Temple. Collins, one of the most dynamic defensive coordinators in the country was a real difference-maker for the Gator program.


The strength of the defense is the Gator secondary. Chauncey Gardner and Duke Dawson have potential to be the SEC's top cornerback tandem and Marcell Harris is a solid safety. The remainder of the defense is full of question marks. Their pass rushers have shown potential and the defensive tackles have experience but none have been consistent contributors. In recent years the Gators have been able to rely on a defensive line that was capable of consistently getting home to the quarterback with only the four down lineman. The linebackers have a great deal of speed but have only played limited roles in the past. Things get very interesting for the Gators across their entire defense because they have a severe lack of depth. In many situations, if a starter were to go down due to an injury the Gators would be relying on a true freshmen backup.
Florida is a scary opponent for the Dawgs not only because of their talent and mental edge in this series. The tide has to turn eventually and Georgia has their best chance in recent memory to take a victorious flight home from Jacksonville.

KEY PLAYERS – OFFENSE:

Malik Zaire – QB – 6'0 225 – If the Gators are to reach their potential on offense this season it will come with Zaire under center. He received good coaching from Brian Kelly while at Notre Dame and is excited about the opportunity to be the man. While is not an elite QB he should be better than any QB the Gators have put under center in the last few years.


Antonio Callaway – WR – 5'11 197 – Callaway has superstar potential at receiver. His top end speed is out of this world and with better QB play and Tyrie Cleveland opposite him he could be in for a career year. You must keep a close eye on Callaway for every play he is on the field.


Martez Ivey – LT – 6'5 305 – Many thought the former five-star recruit would take hold of the LT position from the moment he stepped on campus two years ago. He has done a solid job at LG but now it's his turn to kick outside and vault up draft boards.

KEY PLAYERS – DEFENSE:

CeCe Jefferson – DE – 6'1 261 – Jefferson is a former five-star recruit that has not lived up to his potential. Entering his junior season it is put up or shut up time. Gator coaches are optimistic that a breakthrough season is coming and if it does that would go a long way to the Gators defense remaining a strength of the team.


Vosean Joseph – OLB – 6'1 226 – For the past couple seasons Jarrad Davis has been the tone-setter for the Florida defense. This season Joseph attempts to fill the considerable void left behind by Davis which won't be easy. While he is a dynamic athlete he still has yet to prove he is a top-level three down SEC linebacker.


Duke Dawson – CB – 5'10 208 – The biggest move for the Gator defense comes with Dawson moving from the nickel role outside to corner. Dawson has been a cornerstone for the Gator defense at nickel and this is a big adjustment for him and the team. If he can be elite at corner across from Chauncey Gardner the Gator defense will once again be difficult to pass against.

WAY-TO-EARLY PREDICTION

UGA 24 – Florida 16



---
Recent Articles by I'mYourHuckleberry

[pt_view id="d18572ftik"]