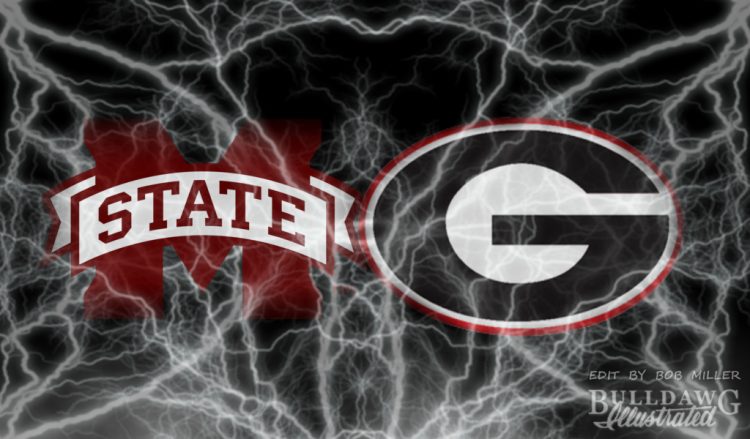 After a bit of a breather in Week 3 against Samford (who I did not preview because I know absolutely nothing about their program), the Bulldogs host the Bulldogs for a second consecutive week. However, this time it is the Mississippi State Bulldogs and Georgia's first SEC game of the 2017 season. After plateauing with 10 wins in 2014 and an Orange Bowl appearance Mississippi State has been trending downward with 9 wins in 2015 and only 6 in 2016.


Dan Mullen appears to be secure in Starkville after receiving a four-year extension this offseason. Hot seat talk could start early this season with a brutal 3-week stretch that starts with a home game against LSU and then consecutive road tests Georgia and Auburn. They will be underdogs in each of those games and a 0-3 start in the SEC is not out of the question.


The 2017 Mississippi State Bulldogs are a potentially dangerous team. There is no question that they have a superstar in Nick Fitzgerald at quarterback. It will be personal for the former Wing-T quarterback from Richmond Hill, GA returning to his home state to play the flagship school who never offered him a scholarship. The defensive unit will be heavily reliant on seven junior college transfers including two former Georgia Bulldogs in Chauncey Rivers and Johnathan Abraham. It is going to be a mix-and-matched unit trying to improve from 13th in the SEC in scoring defense, 14th in pass defense and 12th in total defense in 2016.


On offense, there is no question that Mississippi State is a run first unit. Quarterback Nick Fitzgerald, a dynamic runner with great instincts packed into an intimidating 6'5 235-pound frame, spearheads the rushing attack. If anyone knows how to use a powerful running quarterback it is Dan Mullen who had tremendous success with Tim Tebow. Mullen will mix up his running game with designed QB runs, zone read and option packages. If Aeris Williams plays up to the level that is expected of him and the offensive line can gel the rushing attack will be formidable.


The passing attack will be another one where Georgia will see the dreaded run-pass options (RPO). If Nick Fitzgerald keeping the ball or handing it off to Aeris Williams wasn't enough of a concern there is always the chance that Fitzgerald is going to snap it out wide to one of his receivers. The RPO is a major part of Mississippi State's offense but they also have a traditional drop back passing game as well. This is an area where they need major improvement from their offensive tackles in being able to protect Fitzgerald. In-turn they are optimistic that given more time and the ability to set his feet that his accuracy will improve. For Mullen's offense to take the next step, Fitzgerald will need to improve on his 55% completion percentage and the 11 INT's thrown last season.


As previously mentioned, Mississippi State was porous on defense in 2016. They struggled against both the run and the pass because of a combination of factors. Rushing the passer was a struggle, corners were consistently beaten in man coverage and the interior defensive line could not consistently get penetration to disrupt opposing rushing attacks. In addition to that, they lost their best pass rusher in A.J. Jefferson and their tackling machine Richie Brown. To try to get things back on track Mississippi State hired former Georgia defensive coordinator Todd Grantham to lead the defense. Georgia fans are familiar with Grantham's complex, ultra-aggressive 3-4 defensive scheme. He will play a variety of coverages to confuse Eason and create turnovers. While his defenses tend to create turnovers, they are also vulnerable to blown coverages leading to explosive plays.


Mississippi State is a quality SEC opponent with a special player in Fitzgerald that will keep them in every game. Georgia is fortunate with where this game falls on the schedule. Mississippi State will be coming off a 7:00 PM emotional and physical home game against LSU. Georgia should be rested after a glorified scrimmage against Samford, which interestingly, that Samford game is set for a 7:30 p.m. kickoff. Georgia will be the fresher team and will have had an extra day or two of preparation during the Samford week.

KEY PLAYERS – OFFENSE:

Nick Fitzgerald – QB – 6'5 235 – 2,423 Yards Passing – 21 TD's – 11 INT's – 195 Carries – 1,375 Yards – 16 TD's – Fitzgerald is the trigger man for everything Mississippi State does on offense. What makes him different from other dual threat QB's is his toughness and ability to run between the tackles. If he can just be more consistent as a passer he could elevate his offense to an almost unstoppable level.


Aeris Williams – RB – 6'1 217 – 137 Carries – 720 Yards – 4 TD's – Williams came on in a major way in the second half last season. He has a bruising running style and could take a lot of hits for Fitzgerald if he can prove to be a capable short yardage back.


Donald Gray – WR – 5'10 204 – 41 Catches – 709 Yards – 17.3 YPC – 4 TD's – Gray is the only receiver on the roster that has proven anything in a Bulldog uniform. His 17.3 YPC average from last season is very impressive but he will face the other team's best corner and coverage rolled in his direction all season.

KEY PLAYERS – DEFENSE:

Jeffrey Simmons – DL – 6'4 307 – 40 Tackles – 3.5 TFL – There is no doubt that Simmons is the Bulldogs best football player on the defensive side. He is as athletic as he is big. He will command double teams all season and if he can hold his own he will free up edge rushers to get after quarterbacks and his linebackers to stuff the run.


Leo Lewis – ILB – 6'2 235 – 79 Tackles – 4.5 TFL – 1 Sack – Lewis was excellent last season and is expected to have a big season in 2017. As for all opponents that play UGA a major key is containing Nick Chubb and Sony Michel and Lewis will play a large role in trying to do that. He is physical at the point of attack and will likely have quite a few meetings in the hole with Georgia's talented backs.


Montez Sweat – OLB – 6'6 248 – NO STATS – The former Michigan State defensive end and junior college transfer, the Bulldogs are relying on Sweat to make an immediate impact. His physical stature is remarkably similar to Lorenzo Carter and he plays the same type of role flying around the edge trying to create turnovers. Mississippi State is desperately searching for a pass rusher and Sweat is their best option.

WAY-TO-EARLY PREDICTION

Georgia 27 – Mississippi State 14


Oh… by the way… Since I didn't preview the Samford game… UGA 66 – Samford 17.


---
Recent Articles by I'mYourHuckleberry

[pt_view id="d18572ftik"]