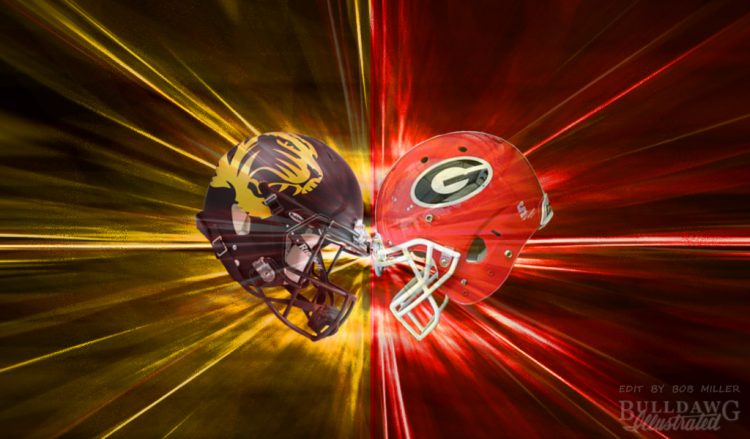 After back-to-back road games in Tennessee against the Volunteers and Vanderbilt, the Bulldogs return home to the friendly confines of Sanford Stadium to take on the Missouri Tigers. After consecutive appearances in the SEC Championship games, their first two seasons in the SEC the Tigers have swiftly fallen down the ranks of the SEC East with a combined total of only 9 wins the last two seasons. The 2017 version of Mizzou will look very similar to their successful Big 12 teams of the past.


Missouri fans are optimistic leading into the 2017 season and the main reason why is an offense that is potentially explosive. Everything starts for Mizzou along the offensive line that overachieved in a big way during 2016. The offensive line was expected to be a weak point after replacing all five starters in 2016 but instead consistently opened holes in the running game and only allowed Drew Lock to be sacked 14 times. With all five starters returning, the offensive line is expected to be a strength.


The Missouri offense is run out of the shotgun formation and their rushing attack is a variant of the spread option. It is similar to what the Bulldogs saw against Appalachian State in that Mizzou does not have a mobile quarterback and they use jet sweep/reverse motion to keep the defense off balance. However, the biggest mismatch they create in the running game is with their wide receiver splits. Offensive coordinator Josh Huepel is a master at using formations with wide splits that spread out the opposing defense and lessen a defenses ability to play with more than 6 players in the box.


While the rushing attack is solid, the passing game is where Missouri is dynamic. Josh Huepel brings a high-octane Big 12 passing offense to the SEC and has a big-time quarterback in Drew Lock pulling the trigger. His scheme is based on timing and the quarterback getting the ball out of his hands quickly. They run a variety of combination routes and stretch the field horizontally more than vertically. Much like their running game, by stretching the field horizontally they create one-on-one situations with their receivers and defensive backs. This offseason they have stressed to Drew Lock that he must improve his deep ball accuracy to take advantage of his receivers on the perimeter that can really fly. If they can consistently convert on the deep ball this offense could easily average 35+ points per game.


On defense is where it gets interesting for Missouri. To say the Tiger defense was terrible last season is an understatement. They were 86th or worse in the nation in every major statistical category. Opponents gashed them in the run game and they often had to commit safeties to stopping the run leaving talented cornerbacks in one-on-one situations. This year, talented cornerbacks Aarion Penton and John Gibson III are gone and the front seven lost their best players as well. While Barry Odom is widely regarded as a brilliant defensive mind it is difficult to imagine them containing a SEC offense for 60 minutes. Their best hope defensively is for Marcell Frazier to become a one man wrecking crew on defense coming off the edge forcing opposing quarterbacks into making mistakes. Also, if Terry Beckner, Jr. can return from consecutive season ending knee injuries that could be a major boost. Still, there just isn't enough talent to compete against SEC offenses.


This is another football game that the Dawgs should win comfortably. Missouri is a talented offensive football team that will put points on the board against nearly every opponent but their defense may be the worst in the SEC on paper. With the Dawgs getting this game at home it makes it a much more comfortable game for the Dawgs.

KEY PLAYERS – OFFENSE:

Drew Lock – QB – 6'4 225 – 237 Completions – 434 Attempts – 3,399 Yards – 23 TD's – 10 INT's – One of the most gifted passers in the SEC, Lock is ready for a breakout season. The goal is for him to become more accurate. He has all of the physical tools you could ask for and if he becomes more consistent with his fundamentals he could be scary good.


J'Mon Moore – WR – 6'3 205 – 62 Catches – 1012 Yards – 16.3 YPC – 8 TD's – One of the best receivers in the SEC, Moore is a threat to take the top off a defense and also runs precise routes underneath that make him very difficult to cover. Also, he is one of the biggest red zone threats in the country.


Tyler Howell – LT – 6'8 330 – Howell is a monster at left tackle and his sheer size makes him very difficult to get around for a pass rusher. Also, with his size, he can shield multiple defenders in the run game. If he plays to his potential Drew Lock will be incredibly dangerous.

KEY PLAYERS – DEFENSE:

Terry Beckner, Jr. – DT – 6''4 290 – 24 Tackles – 2.0 TFL – Once the top DT prospect in the nation, Beckner has not lived up to expectations largely because of knee injuries. He has special athleticism and with his quickness and explosiveness at the point of attack he can disrupt opposing rushing attacks.


Marcell Frazier – DE – 6'5 265 – 33 Tackles – 8.5 TFL – 7.5 Sacks – Frazier came on late in the season with 6.5 sacks in his final three games. He is incredibly explosive off the edge and has the prototypical size and strength for the position. He has the potential to be special.


Eric Beisel – ILB – 44 Tackles – 6.0 TFL – Beisel will be counted on to lead the defense with the graduation of Donavin Newsom and Michael Scherer. Beisel is expected to be the quarterback of the defense as a senior and has a tremendous amount of responsibilities on his shoulders.

WAY-TO-EARLY PREDICTION

UGA 30 – Missouri 17



---
Recent Articles by I'mYourHuckleberry

[pt_view id="d18572ftik"]