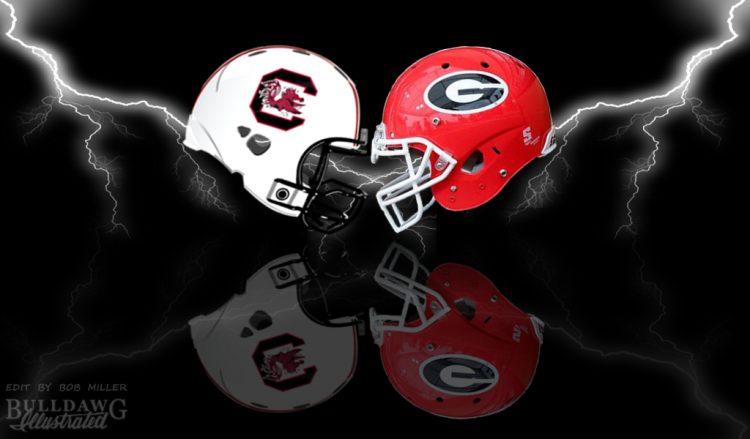 This game worries the Dawg Nation more than any other game on the schedule. The Dawgs hope to be coming off a program changing victory against Florida in Jacksonville and have an important road game against Auburn looming. In between those marquee games falls the annual tilt with the South Carolina Gamecocks. A Gamecock team some hype as the darkhorse to win the SEC East.


Will Muschamp and the Gamecock faithful are confident heading into the 2017 season. Muschamp is looking forward to a full season with a capable quarterback under center. The Gamecock faithful are optimistic that Muschamp's defensive pedigree will shine through in his second season in Columbia and he will work his magic.


The Gamecock offense will be outside the norm of the other SEC East programs – they will be a pass first offense. They will pass first because of Jake Bentley's abilities and because they don't have a SEC caliber tailback on the roster and an offensive line that is average at best. The line struggled to get a push last season and without a substantial influx of talent arriving, will likely struggle again. If the Gamecock passing offense is as explosive as many project, defenses will consistently play with two deep safeties allowing them favorable matchups in the box giving them a chance to have a respectable rushing attack.


The passing game has potential to be special. Not only because of Jake Bentley and his stud receivers but also because of Kurt Roper's scheme. Roper got a raw deal in his only season as offensive coordinator arriving in a lose-lose situation in Gainesville. Prior to that stop, Roper spent a majority of his career with David Cutcliffe where he learned from the best on coaching QB's and how to scheme a passing attack. His scheme is described as intuitive for his quarterbacks and a nightmare for opposing defensive coordinators. He uses a variety of route combinations that are difficult to defend and is not afraid to stretch the field vertically. This is the most talent he has had under his control as an offensive coordinator and big things are expected from his offense.


On defense, Will Muschamp will have to earn his salary this season. Yes, technically, Travaris Robinson is the Gamecocks defensive coordinator but make no mistake – Muschamp leads this unit. The 2016 Gamecock defense was serviceable but did not live up to expectations. Even with the return of Skai Moore, it will be difficult to field a defense that can compete at a high level. The defensive line returns a number of upperclassmen but that does not mean they will produce at a high level. Darius English and Marquavis Lewis are gone and former 4-star recruits Dante Sawyer and Shamiek Blackshear have been non-factors to this point in their careers. That is a problem for Muschamp because when his defenses are at their best they can rush the passer with the front four. That does not appear likely to happen in 2017.


The linebacker corp returns speed and experience but is extremely undersized by SEC standards. That is a major concern with the punishing rushing attacks on South Carolina's schedule and the severe lack of depth. If a starter were to go down, either a true freshman or walk-on would be called upon to take their place. The Gamecock's secondary has solid football players but lacks shutdown corners or elite safety play. With a defensive line that appears as if it will struggle to get pressure on opposing quarterbacks, life will be difficult for the secondary.


On paper, the Gamecocks are the opposite of Will Muschamp's teams from his Florida tenure. The offense can take over a game while the defense needs to hold on tight and not lose the game. These are the games Georgia struggled with during the Mark Richt era – Georgia is the more talented team but this is the definition trap game.

KEY PLAYERS – OFFENSE:

Jake Bentley – QB – 6'4 223 – After the Gamecocks pulled the redshirt off of Bentley in 2016 he showed out in a big way. He is the prototypical pocket passer with a quick release and excellent accuracy. As he grows more comfortable in the offense it is scary how good he could be in 2017.


Deebo Samuel – WR – 6'0 208 – Samuel is an electric playmaker and the Gamecocks will find multiple ways to get the ball in his hands. He will line up in the slot, out wide, running back and wildcat quarterback. He is a threat to take it the distance any time he touches ball.


Hayden Hurst – TE – 6'5 256 – After giving minor league baseball a try the 24-year-old Hurst made a wise decision to switch to football. Hurst is a beast in the weight room that gives the Gamecocks a fantastic blocking tight end but he is no slouch as a receiver. He is a big time security blanket for Bentley.

KEY PLAYERS – DEFENSE:

Bryson Allen-Williams – LB – 6'2 225 – Bryson has improved each year at South Carolina and now he is looking for a breakout season in his second year in Muschamp's defense. He can cover slot receivers, tight ends or play downhill against the run. It wouldn't be a shock to see him lead the SEC in tackles.


Skai Moore – LB – 6'2 221 – Moore is someone everyone in the SEC should root for. He is everything college football is all about and after missing 2016 with a neck injury. Hopefully, he will be back and better than ever. Moore is a fantastic leader and could help elevate this defense out of the SEC basement.


Jameyst Williams – CB – 5'7 178 – Landing Williams on signing day was a huge recruiting coup for the Gamecocks. Williams will likely come in and occupy the nickel back position from Day 1 but his biggest impact will likely come in the return game where he can be dynamic in the return game.

WAY-TO-EARLY PREDICTION

UGA 37 – South Carolina 21



---
Recent Articles by I'mYourHuckleberry

[pt_view id="d18572ftik"]