On Monday, the kickoff time for the annual Georgia versus Georgia Tech rivalry game for Saturday, November 30th was released and has been set for Noon on ABC.
The annual rivalry game is commonly called "Clean, Old-Fashioned Hate", and it will be the 113th meeting between the two schools. Georgia head coach Kirby Smart is 2-1 all-time against the Yellow Jackets, and his squad will be looking for their third win in a row in the series. Georgia leads the series 67-41-5 against the Jackets and has won 15 out of the last 18 meetings
In Smart's first season, the Yellow Jackets beat the Bulldogs 28-27 at home, but in the last two, the Bulldogs have dominated outscoring them 83-28. After last year's game, Smart talked about how important the game against Georgia Tech is.
"It's significant because I know what it feels like to lose your last game to Tech at home," Smart said. "Personally, I know how that has affected me and every time I see that picture with my family, I know that was a game we didn't win. I told them no regrets. You don't want to live thinking about that. You want to go out, take care of business and I thought it was great leadership and effort from guys like Terry Godwin and Jayson Stanley. Those kids have given so much to Georgia that we appreciate it."

https://www.youtube.com/watch?v=hEiqbd4vEew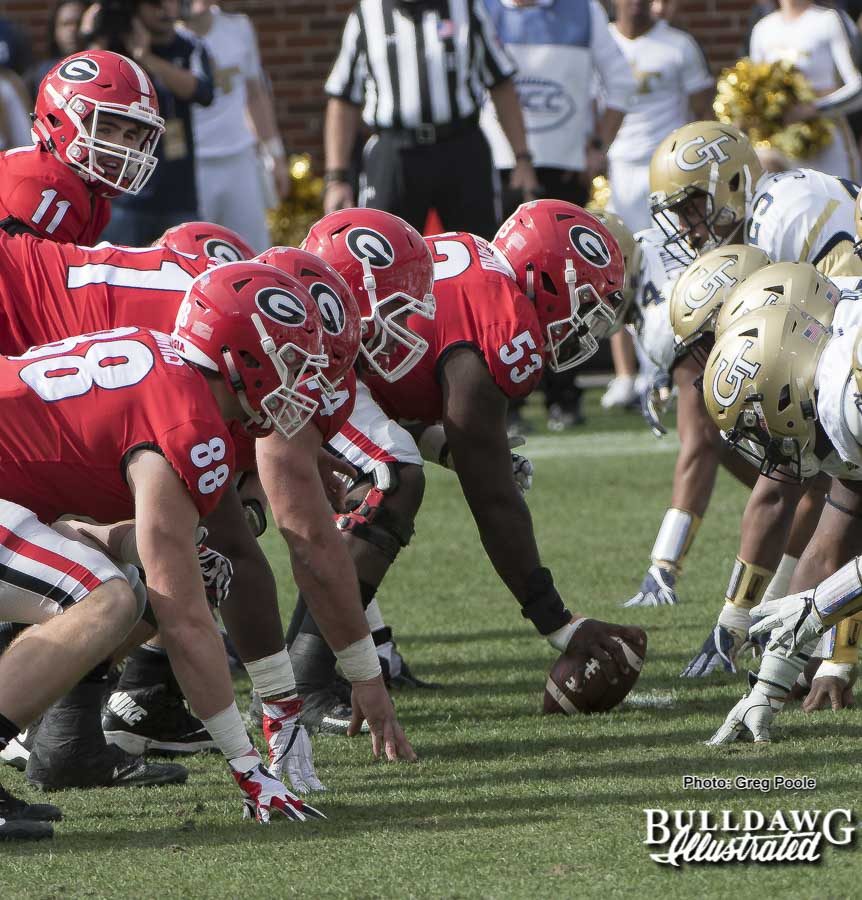 This year's matchup against the Yellow Jackets will be different because their offense doesn't run the triple-option anymore under first-year coach Geoff Collins. Former Georgia Tech head coach Paul Johnson implemented the triple-option into his offense when he arrived in Atlanta in 2008. After losing in 2016 to Georgia Tech, Smart starting working on defending the option every week, but with Johnson gone he won't have to.
Under Collins, Georgia Tech has struggled this year and is off to a 2-8 start. Tech's offense is only averaging 16.5 points per game this season as most of their players were recruited under the option system. It seems like they are still adjusting to that change 10 games into the season. In 2018, their offense was averaging 5.67 yards per carry, but this year that averaged has dropped to just under four yards per carry.
This noon kickoff should help Georgia slightly in preparation for whoever they play in the SEC Championship, likely LSU at this point, but before all that the Bulldogs host the Texas A&M Aggies this weekend for their final home game of the season.