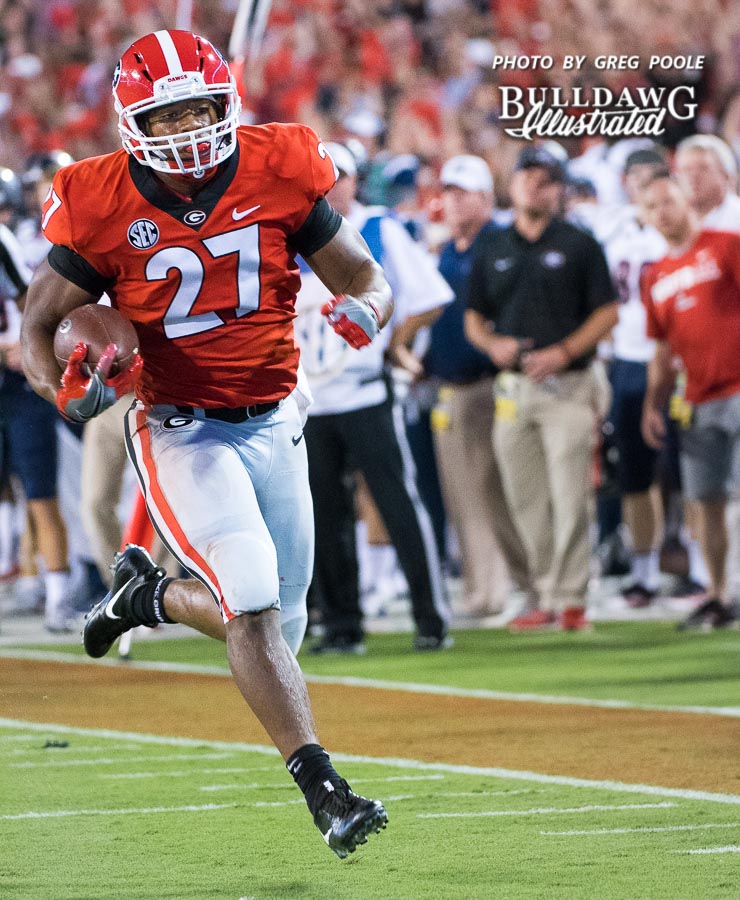 Make no mistake Mississippi State has an outstanding team and will be a great challenge for Georgia, as the Bulldogs open Southeastern Conference play. Dan Mullen has done a fine job at the helm in Starkville, making State a bowl regular while securing a number of signature wins – including a trio of victories over Georgia, Florida, and Michigan in 2010, when the Maroon Bulldogs went 9-4 and finished No. 16 nationally.

Did you ever think Mississippi State would beat those three teams in the same season?

Three years ago, when the first College Football Playoff Poll came out, it was Mississippi State sitting in the No. 1 spot. Mississippi State. Probably could have gotten good odds of that in Vegas a couple of years earlier.

The program that was down there with Vanderbilt in the bottom two of the SEC more often than not for several decades in the proceeding century has certainly become a factor in the league. From 1895-1973, Mississippi State had two winning seasons.

From 1979-1990, the Maroons had three. From 2001-2009, MSU had one winning record, posting three W's five times in that stretch and a 2-10 mark in 2003.

Mullen, beginning with that outstanding 2010 campaign, has led Mississippi State to six winning seasons, including that 10-3 Orange Bowl season of 2014.

Well, this Mississippi State team may be Mullen's best. Led by a tremendous defensive line and an outstanding quarterback, both with Georgia ties, Mississippi State trounced LSU 37-7 and now turns its eyes on Athens.

Quarterback Nick Fitzgerald, from just outside of Savannah, is one of the SEC's best, and the stop unit is led by the controversial signee, now sophomore Jeffery Simmons.

Saturday night's battle of the Bulldogs is the beginning of the gauntlet – eight straight SEC games and then Tech. It certainly won't be easy, and as talented and tough as Mississippi State is, this is a game Georgia badly needs.

Yes, they are all big. Yes, they are all important. Yes, Georgia could recover from a loss to MSU and still go on to have a terrific season.

Even though this isn't our father's, grandfather's, or our not that much earlier in our lives Mississippi State – it is, as alluded above – a much different and scarier animal under Mullen than it used to be, the Bulldogs have the goods to beat the Starkville Maroons in Sanford Stadium.

At home. Between the hedges. Georgia has to deliver in Sanford Stadium.

There has been far too much heartbreak at home of late. It is a top priority for the Bulldogs to dominate Sanford Stadium. Great teams win almost all of the time at home. So far, so good in 2017. Georgia got the season off to a terrific start with the 31-10 win over Appalachian State and the 42-14 topping of Samford sandwiched around the triumph at Notre Dame.

A win over Mississippi State would be another big check in that box.

There is the matter of those 50-50 games when Georgia has, or at least is perceived to have, equal to superior material.

Going back to the near miss in Atlanta against Alabama in the 2012 SEC Championship Game, there has been too many knee- knockers that haven't gone the Bulldogs way. There is one way to get over that mountain – start winning those games. So far, so good. Georgia's thrilling 20-19 victory at Notre Dame, with overwhelming support from the Bulldog faithful in South Bend (and of course Chicago), was the stuff of champions.

There has been much talk of that victory over the Fighting Irish serving as the launching point game for Kirby Smart's program. Now comes the part where the Bulldogs must build on it.

The future is bright with Smart … young, energetic, and authentically enthused that he can steer the Bulldogs ship to the port of greatness. Georgia's victory in South Bend further enhanced the perception on the recruiting trail that the Bulldogs are a program on a rocket-fueled rise up college football's ladder.

But this team has the potential to be something special.

Georgia's defense is outstanding, the kicking game vastly improved, and the offense – well there is work to be done, but play-makers aplenty. In fact, as bright as the future is, this is a defense not to be squandered. A lot of front-line stop-unit talent, as well as the dynamite tailback tandem of Sony Michel and Nick Chubb, will graduate and/or move on to the NFL next year.

The return of Michel and Chubb, along with outside linebackers Lorenzo Carter and Davin Bellamy, was an enormous endorsement for Smart and his staff. Their leadership and performance is at the forefront of why the Bulldogs are off to a strong start, of why the hopes of 2017 are escalating. They came back to win. To win games like the one in South Bend and like the one Saturday night against Mississippi State.

If this season is going to be a dandy, those beautiful red helmets need to surely shine under the Sanford Stadium Saturday night lights.



---
Recent Articles by Jeff Dantzler


[pt_view id="b358db4n1f"]