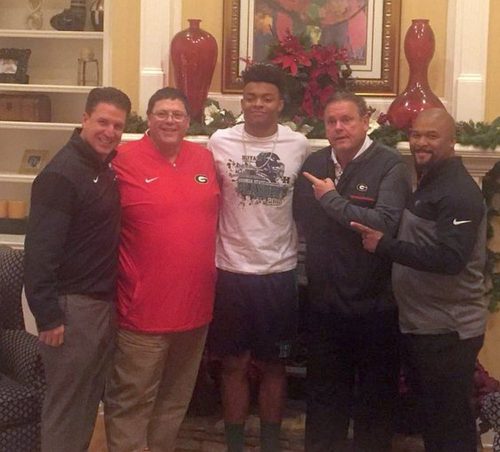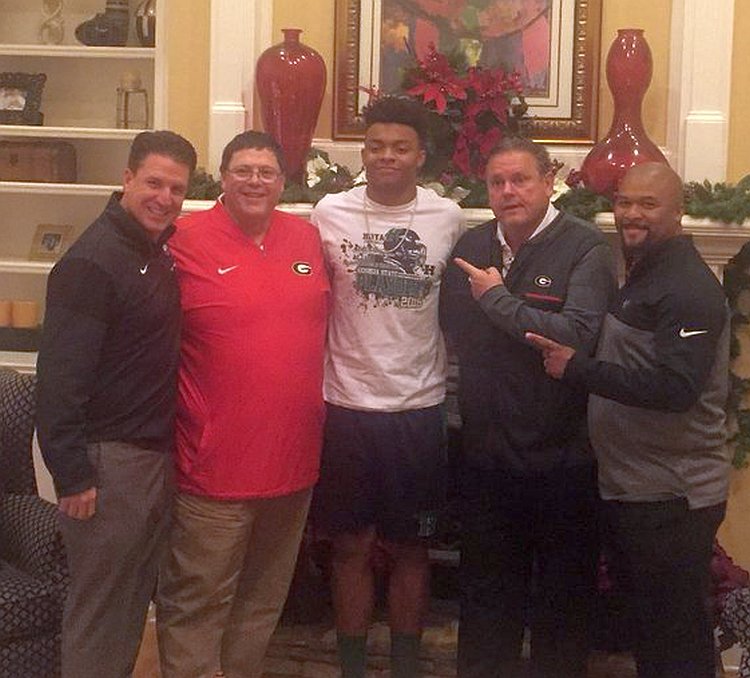 In 2017, Jacob Eason, the sophomore quarterback with a howitzer for a right arm, was destined to lead the Georgia program to national prominence.  Eason had a solid spring practice followed by an outstanding fall camp – everything was falling into place.  Suddenly, in the first quarter of the season opener, his world turned upside down suffering a knee sprain that would set in motion a chain of events that changed his life and Georgia's football season. Need proof? 
Four-and-a-half months later, five-star recruit and previously anointed savior of the Georgia program, Eason, is heading home to Washington.  Meanwhile, true freshmen Jake Fromm is now the mayor of Athens after leading the Dawgs to a win in South Bend, domination of the Gators and Vols, an SEC Championship, Rose Bowl victory and UGA's first appearance in the National Championship since 1982.

KEY RETURNERS:  Jake Fromm (So.)
KEY NEWCOMERS:  Justin Fields (TFr.)
KEY DEPARTURES:  Jacob Eason (Transfer)
Jake Fromm is an indefatigable competitor.  From the moment he stepped on campus in Athens he was determined to become a team leader and earn the starting job – he was the hunter.  In 2018, Fromm will be the hunted and the hunter is a five-star, generational talent, by the name of Justin Fields.
Fromm's accomplishments as a true freshman are incredible.  He finished the season with a 62% completion percentage, 27 total touchdowns, and only 7 interceptions.  More importantly, he brought a sense of calm, confidence and leadership to the huddle efficiently ran the offense.  His work in the film room was on full display on game day.  Coach Chaney put a lot on his plate and Fromm never flinched – his ability to make pre-snap reads was that of an upperclassman.  There is no doubt the offensive line made tremendous strides in 2017 and the backfield was loaded with talent but Fromm's contributions to the Dawgs rushing for 3876 yards, 5.8 yards-per-carry, and 42 touchdowns cannot be overstated.  Fromm's pre-snap reads also shined through in the passing game.  On many occasions, Fromm was able to anticipate where he was going to go with the ball prior to the snap based on the alignment of the defense.  Often, that was a good attribute but occasionally it proved to be a detriment.
Fromm's tendency to predetermine his throws led to ghastly interceptions and opportunities for big plays missed.  With his work ethic and a full offseason in the program, this inevitably will improve.  The mental side of the game is Fromm's greatest asset as a quarterback.  The concern with is how high his ceiling is physically?  He moves well in the pocket and can escape for the occasional 15-20 yard jaunt when the opportunity presents itself but he is not going to break open a game with his legs.  The more important question is how much he can improve his arm strength.  On a scale of 1-to-10 (5 = Greene, 6.5 = Murray, 8.5 = Eason and 10 = Stafford) I would put Fromm at 5.5.  It is good enough to get the job done if you can anticipate your throws but there are just certain throws you can't make.  If he is able to improve to the 7.0-7.5 range it will make a tremendous difference.
Justin Fields arrives at UGA as the #1 Dual-Threat Quarterback in the Class of 2018.  At 6'3 225 pounds he has all of the physical tools a coach could ask for.  In February, Fields ran a 4.51-second laser timed 40-yard dash and a 4.16-second shuttle.  He has the power to break through arm tackles, the lateral agility to make defenders miss in the open field and the speed to make game-changing plays with his legs.  In high school, he flashed the ability to throw from multiple launch points, different arm angles and with both velocity and touch.  Using the same arm strength scale mentioned above, on a scale from 1-to-10, I would put Fields at 8.0.
What will decide whether or not Fields can push Fromm for playing time in 2018 is what made Fromm so special as a true freshman – the mental game/work ethic.  Is he willing to put in extended hours in the film room, studying the playbook and player-organized 7-on-7?  The best advice he can receive is to be Jake Fromm's shadow – learn from the master himself.
2018 OUTLOOK:
Jake Fromm will be the starting quarterback for the University of Georgia in the season opener September 1, 2018 against Austin-Peay.  He is talented, he has the "it" factor and he has earned the respect of his teammates.  However, Justin Fields will be nipping at his heels.  His talent is indisputable and the coaching staff will find ways to get him on the field.  It won't just be in the "Tebow" role either, they will let Fields sling it.  Fromm will be the leader but Fields will make numerous plays throughout that leaves the Bulldog Nation's jaws on the floor salivating for more.
COMING SOON:
ImYourHuckleberry – Who's Got Next at Running Back U?
---
Recent Articles by I'mYourHuckleberry
[pt_view id="d18572ftik"]