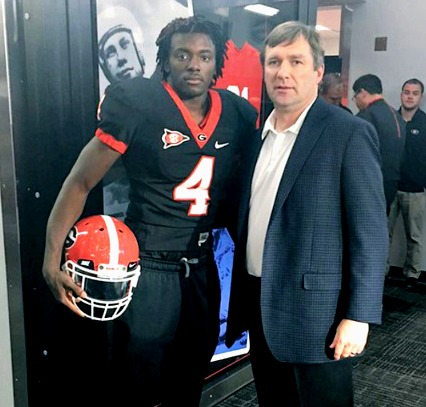 "And now, a new breed of Bulldog stands ready to take the field of Battle" ~ Larry Munson
After fifteen seasons of Mark Richt's breed of Bulldog taking the field Between the Hedges Kirby Smart is bringing a new breed of Bulldog.  In the Class of 2017, the new breed of Bulldog he is looking for is clear as day and Sam Pittman says it best – UGA is looking for "freaks". 
What makes a freak?  It's a 6'4 348-pound offensive guard by the name of Netori Johnson that is a grown ass man at the age of 17 that can out-sprint guys that way 100 pounds less than him.  It's a 5'11 178-pound safety named Richard Lecounte, III that has the ball skills of an elite wide receiver and brings the wood like a Mack truck.  It's a linebacker named Nate McBride that runs a 10.5 100-meters at 220 pounds and a 6'2 wide-receiver with a 7'0 wingspan in Jeremiah Holloman.  These are four of the more notable "freaks" that UGA is hoping to land in the Class of 2017.
You can't make a freak – these are young men born to play the game of football that also have the work ethic and desire to be great.  In order to compete for and win National Championship's you need to have these freaks.  Look no further than the National Championship game last season that featured Alabama with Derrick Henry, Calvin Ridley and Reggie Ragland and Clemson with DeShaun Watson, Mitch Hyatt and Shaq Lawson.  Each of these players were not only the most talented football players on their respective teams but were also the players with the strongest work ethic.  Simply put, to win National Championships in college football you must have the horses.
UGA has been lucky enough to have a few of these freaks over the years.  Off the top of my head a few of those freak's in recent memory are guys like Champ Bailey, David Pollack, Thomas Davis, A.J. Green, Jarvis Jones, Todd Gurley and Nick Chubb.  These young men led the Bulldogs to some very successful seasons but it wasn't enough to get the Bulldogs over the top because a few freaks on a roster aren't enough.
Teams that consistently compete for and win National Championships also have intense, passionate coaches who demand and expect perfection.   Not only can these coaches motivate players to run through a brick wall for them, but they can get them to run through the brick wall out of pure instinct without even asking.  Coaches like that create an environment where absolutely everyone elevates their game each and every day in the weight room, in practice and on Saturdays regardless of whether you are scout teamer or one of the freaks.  It's an environment where you don't get a hug from the head coach on the sideline after making an idiotic decision that costs your team the game, instead you get a the ass chewing of a lifetime.  It takes a coach with this kind of and intensity navigate the most difficult conference in the country and win National Championships.
I don't want to take anything away from Mark Richt, who did fantastic things for the University of Georgia, but he was not that type of coach.  We don't know yet if Kirby Smart will be that type of coach but the early signs are promising and he certainly learned from the best in Nick Saban.  That said, it won't happen overnight and miracles rarely happen in college football.  UGA is unlikely to win the SEC East in 2016 despite an excited fanbases expectations and there will be bumps in the road both big and small.  However, I feel confident in saying The Process began under Coach Smart on December 7, 2015, the day he was introduced as Head Coach.  That Process is going to give UGA their best chance to win, win consistently and win big.