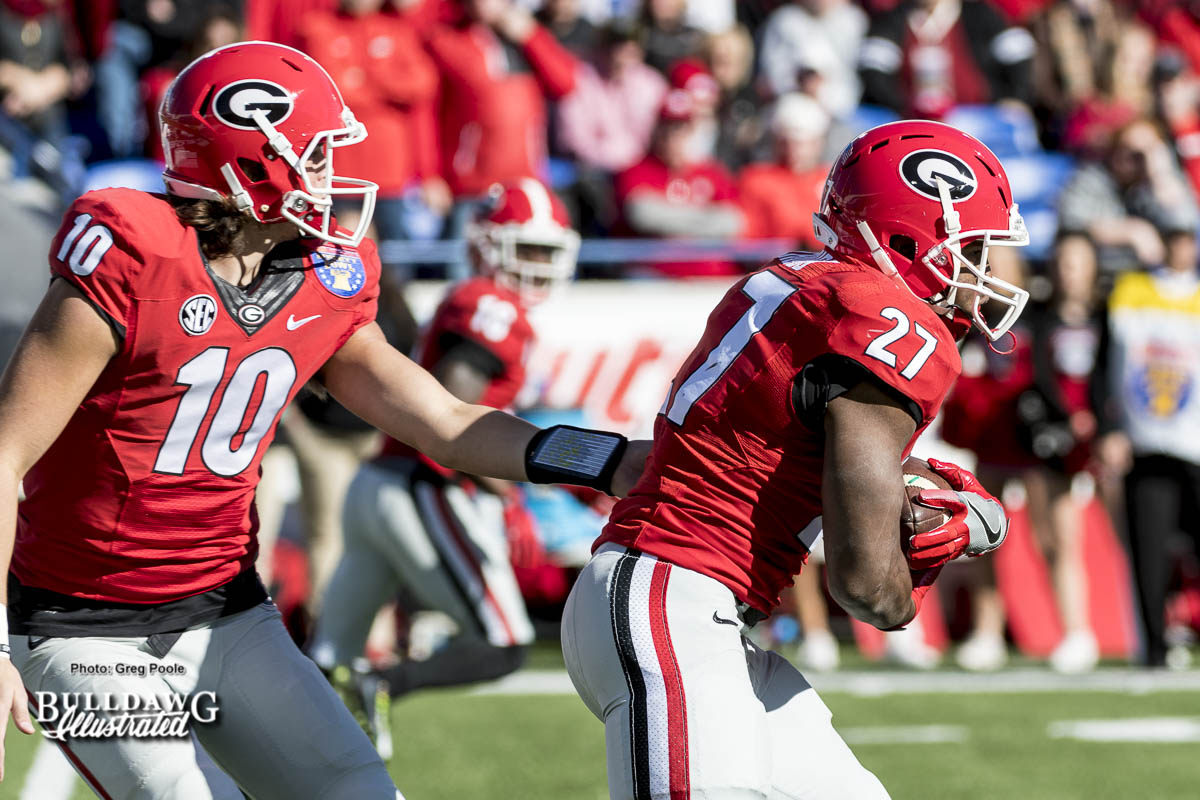 Are there more questions than answers for UGA Football in 2017?  Find out inside!
Eason Needs to Make Strides
Throwing for 2430 yards with 16 TD's and only 8 INT's as a true freshmen in the SEC is impressive.  However, his general inconsistency, only hitting 55% of his passes and his inability to consistently hit the open receivers are cause for concerns.  It will be interesting to see if the coaches work with his throwing motion to get it a little bit more over the top.  Overall his accuracy should improve in his sophomore season because he will be thinking less and anticipating more.  Also, with an offensive line that should be improved and allow him to step up in the pocket and use better mechanics that should be immediate reason for improvement.
Every Position is Open on the Offensive Line
Heading into spring practice it is a complete free-for-all for who will lock down positions on the offensive line.  Nobody on this unit played well enough in 2016 to be considered a lock to start in 2017.  There will be a lot of competition this spring with guys like Cleveland, Kindley and Hayes pushing hard during spring practice but the competition will likely still be very much open with players like Isaiah Wilson and Netori Johnson capable of earning an early role (from what I have heard about Wilson out at the Under Armour game the young man may truly be special).  This unit will almost certainly be younger next season but I can all but guarantee that they will be bigger, meaner and more athletic.
Chubb & Michel Best Recruiting Job by Smart
I can't stress how huge it is for UGA that Chubb and Michel are coming back – they are two grown ass men and absolute studs.  With another eight months for Chubb's knee to continue to heal and with his unmatched work ethic in the weight room I strongly believe 2017 will be the best Nick Chubb we have seen.  Also, with iMac headed to the NFL Michel's versatility as a receiver will likely be used even more.  Those two are going to demand excellence and demand an unwavering work ethic from their teammates this offseason because they came back to hunt for a Championship.
Can a Couple Receivers Emerge?
The receiver position still has a lot of question marks headed into 2017.  Guys like Wims, Godwin and Ridley have shown flashes but can any develop as a consistent go to guy?  Can Tyler Simmons take the top off a defense.  Can Jeremiah Holloman put fear in the hearts of opposing defensive coordinators and make them hesitate to roll that 8th man down into the box on a regular basis?  For Eason to elevate his game to the next level he is going to need help from his receivers.
The Outside Linebackers Will Determine How Dominant the Front 7 Can Be
Georgia is returning 9 defensive lineman that have played a significant number of snaps and are proven SEC level football players.  Inside linebackers Roquan Smith and Natrez Patrick may be the best ILB combination in the SEC in 2017.  However, it is the play of the outside linebackers that will determine the ceiling for this front seven.  Can they set the edge consistently against physical rushing attacks?  Can they contain mobile quarterbacks in the pocket?  Last but not least, can they get after the QB and force them into mistakes.  Davin Bellamy and Lorenzo Carter coming back for their seniors seasons and are essentially playing for draft position so it will be interesting to see how much they can elevate their games.  Keep your eye out for Chauncey Manac in 2017 – the young man has a non-stop motor and plays with a different brand of physicality.
A Youth Movement in the Secondary?
Along with the offensive line the secondary may also experience a youth movement.  With Aaron Davis, Dominick Sanders and Malkom Parrish all returning for their senior seasons you would think Georgia would field a veteran unit.  However, with Mecole Hardman waiting in the wings pushing for a role and ultra-talented true freshmen Richard LeCounte, III and potentially DeAngelo Gibbs arriving in the spring it will be tough to keep those three off the field.  UGA needs to get more athletic and more physical in the secondary and a youth movement may be the only way to fix it.
One answer I do have is that it is a damn good time to be a Dawg fan.  There is a culture being established in Athens, Georgia right now and what Kirby is doing on the recruiting trail is flat out special.  The results are going to show themselves sooner than later.
What are your questions and potential answers for the UGA football program headed into 2017?