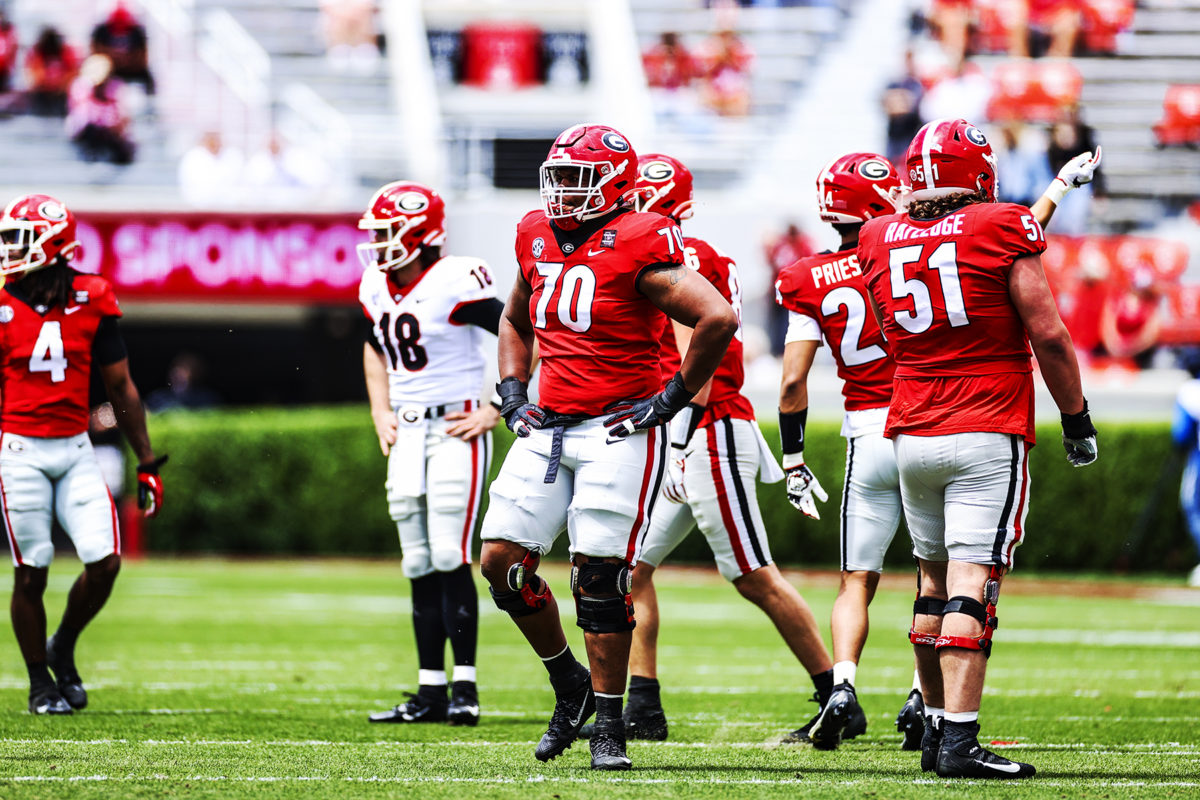 After a seemingly endless off-season, Georgia's 2021 opener is upon us, and most pundits project Georgia to be in the thick of the national championship hunt. UGA has many weapons to throw at the Tigers, but the final score will come down to how well the Dawgs' lines of scrimmage play against their orange-clad opposites. Although that is true of most games, this one sets up as a classic trenches battle between outstanding units.
On both sides of the line of scrimmage, Georgia boasts quality depth and experience. The Bulldogs defensive front is massive, experienced, and could be the best in the country.
Defense
Jordan Davis is the sparkplug of the defensive. Davis' mission is to plug the middle and occupy blockers so that linebackers are free to make tackles or rush the passer. The staff asked Davis to lose weight during the off-season. Conditioning has limited his playing time, but the huge North Carolina native is, reportedly, in the best shape of his career heading into the opener.
Devonte Wyatt and either Jalen Carter or Travon Walker will fill out the defensive front with the help of Tymon Mitchell, Nazir Stackhouse, Zion Logue, Tymon Mitchell, Bill Norton, Tymon Mitchell, and Nazir Stackhouse.
offense
The offensive line is deep and talented, but will begin the season with some question marks. Left tackle may be the most important offensive line position other than center since he must protect a right-handed quarterback's blindside. Xavier Truss, who started at left tackle in the Peach Bowl, could be the guy here. Still, many project senior Jamaree Salyer will start in Charlotte before giving way to Truss, Broderick Jones, or Amarius Mims.
I've penciled in Justin Shaffer at left guard, but if one of the young left tackles can hold down the position, Shaffer moves to moves to right guard, and Jamaree Salyer jumps to the right side at guard. Center is a question mark right now too. Warren Ericson, the projected starter, is recovering from a broken snapping hand, but has been snapping with his left hand during drills. If he is unable to snap the ball securely, Sedrick Van Pran is the likely replacement.
Right guard (assuming that Salyer stays at left tackle) will be Tate Ratledge's (redshirt freshman) position to lose, with Chad Lindberg and Owen Condon providing depth. The right tackle position Warren McClendon is the established starter, with Jones and Mims pushing for playing time.
A win against Clemson will solidify national expectations for UGA as a playoff contender. The lines of scrimmage will determine this game, with the most significant challenge being Clemson's vaunted defensive line going against Georgia's talented, if unsettled, offensive line.