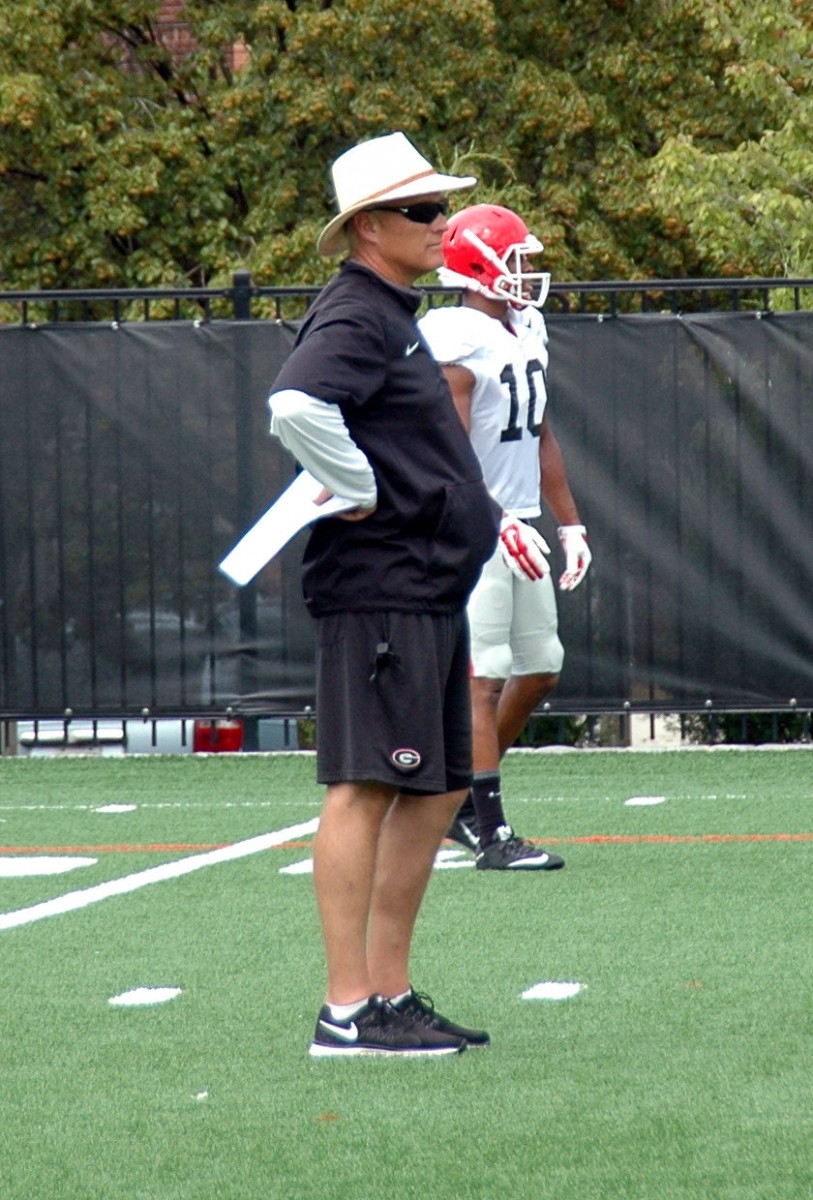 [su_spacer size="20″] Coach Mark Richt talks about the health of the Georgia Bulldawgs football team and gives an update on the injury status of fullback Christian Payne, inside linebackers Reggie Carter and Tim Kimbrough and who will be traveling north to Nashville with the team to take on the Commodores.
[su_spacer size="20″]
The Dawgs remained relatively injury free for most of fall camp with the exception of some minor "bumps and bruises", but sophomore fullback Christian Payne, who had entered the camp as the number one fullback on the depth chart, was one of a handful of Dawgs with a significant injury that kept them from practicing and playing.
[su_spacer size="40″] During Georgia's first scrimmage of Fall Camp on August 14th, he suffered a fractured fibula in his lower leg. It wasn't a severe break of the bone and described more as a hair line fracture; however, it was enough to put him out of action for up to 4 weeks
[su_spacer size="40″] There had been reports from the post-practice pressers that Payne was practicing and might be good to go for this Saturday's game versus Vanderbilt, and Coach Mark Richt discussed the fullback's status of playing and traveling with the team up to Nashville.
[su_spacer size="40″]
Looks like it. He's practicing and as of right now, we're bringing him.
[su_spacer size="40″] Mark Richt talks about what kind of player Christian Payne is:
[su_spacer size="40″]
He's tough. He knows what he's doing. He's a strong kid. Very strong lower and upper body. He's not afraid to strike. Good fundamentals. It's a high contact position. You got to be willing to do it down after down. He's been doing that and doing it well.
[su_spacer size="40″] As athletically gifted and as big and strong as senior fullback Quayvon Hicks is, he has struggled at times by being consistent at the position, especially when it comes to the fundamentals and blocking.
[su_spacer size="40″] Coach Richt discusses the status of junior inside linebacker Reggie Carter, who was out last week versus Louisiana-Monroe with an injured shoulder, for Saturday's game in Nashville.
[su_spacer size="40″]
I don't know yet. If we bring him, which I think we plan on bringing him at this point. I'm sure he'll get in there. How much? I don't know.
[su_spacer size="40″] Mark Richt talks about Georgia's other starting inside linebacker, junior Tim Kimbrough, who injured his left hand in Georgia's game this past Saturday. He has been "clubbed" up to protect the injury while it heals.
[su_spacer size="40″]
He'll be fine. He's coming.
[su_spacer size="40″] The Southeastern Conference has a 70 man team roster, dress out limitation for the traveling team at away games; so, the coaching staff has to make decisions on which are the best 70 players to take on the road. Coach Richt was asked if it is difficult to come up with which players go on the road:
[su_spacer size="40″]
No super difficult. It always gets difficult at the very end . . . We've been looking at that for about a month . . . Overall, it was pretty quick.
[su_spacer size="40″] A.J. Turman has also been banged up with an ankle injury and did not play last week. He did not practice Wednesday, and it is not known whether he will make the trip to with the team up to Nashville.
[su_spacer size="40″] Overall, the Bulldawgs remain healthy . . . knock on wood . . . and will be able to field a plethora of talented running backs with Nick Chubb, Sony Michel, Keith Marshall and Brendan Douglas on offense to wear down the Commodores. The Dawgs will also be able to field the majority of their talented line backing corps including outside linebackers: senior Jordan Jenkins, junior Leonard Floyd, junior Chuks Amaechi, sophomore Lorenzo Carter, and redshirt sophomore Davin Bellamy; and inside linebackers: senior Jake Ganus, junior Reggie Carter, and junior Tim Kimbrough as well as talented freshman Natrez Patrick, Roquan Smith and D'Andre Walker.
[su_spacer size="40″]
MArk Richt: Jordan Jenkins plus injury report
[su_spacer size="80″]