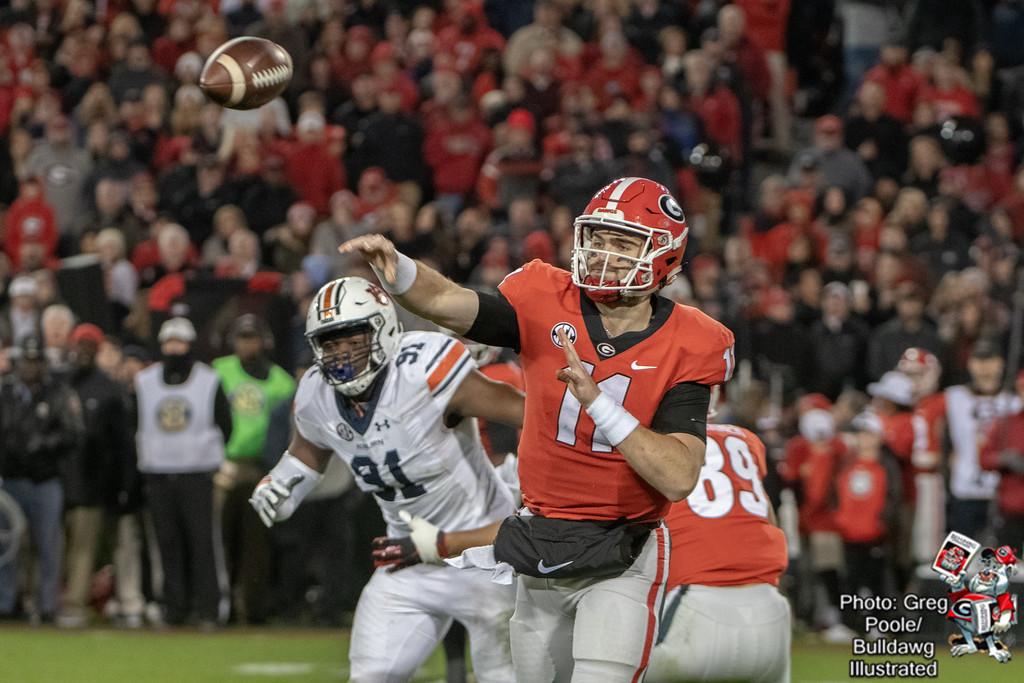 I am super excited to bring my @Dawg_Stats blog to Bulldawg Illustrated. I am a UGA and Grady Grad that loves our Dawgs. Over the past few years, I have gotten great enjoyment looking at football through its numbers and trying to learn and understand the "analytics" of football and more specifically, the analytics of UGA. Here is a crash course in some of the terms that I will write about and show to you guys. I am, by no means, an expert on football or a mathematician. But, I have a keen interest in learning and want this blog to an outlet to share what I've learned. Please jump into the comments and share your thoughts on what I write about.
Check out this DawgStats article: SUCCEEDING ON 1ST DOWNS
Personnel
I boil down a lot of analysis into personnel on given plays. You will see me reference 10, 11, and 12 personnel often. These personnel groups cover the majority of UGA's base offense
The first number is the number of Running Backs in a formation. The second number is the number of Tight Ends.
10 Personnel
1 RB and 0 TE. This is four wide and one RB. UGA runs more and more of this. Now, This doesn't mean that UGA doesn't have a TE on the field, but I count a play where a TE is "flexed" out in slot or wide as a opposed to lining up as a blocking lineman or blocking TE.
11 Personnel
1 RB and 1 TE. Another base formation for UGA on offense. TE is used in a blocking formation (although, often can run a route from 11 Personnel)
12 Personnel
1 RB and 2 TE. Definetly a "run" look. Often one TE is a down lineman.
There are obviously many Personnel Groupings that UGA can and will run, but if you get this naming structure, they become easy to understand.
Check out this DawgStats article: SUCCEEDING ON 1ST DOWNS
00 Personnel
Empty backfield and 5 WRs. Again, this doesn't mean that there aren't any TEs or RBs, but they are lined up as WR.
23 Peronnel
"Jumbo" package. 2 RB and 3 TE – We run this less and less frequently and a notable use was the infamous Goal Line sequence in Jacksonville that Gator fans like to remind us about – even though we won the game… I digress. Here is one of the few times we ran 23 this season, for a Zamir TD
Also, in this blog, I hope to explain UGA on offense through somewhat standard YPA (yards per attempt), Success Rate, and Yards Per Play. Most analytics systems that try to compare and predict football look at these metrics. I am going to scrape the surface of football analytics here, but if you look at Bill Connelly, or Massey Peabody, or The Power Rank, and the Damn Good Dawgs at the Chapel Bell Curve, these metrics are at the core of their models. All of these stats are similar to the box score stats that we all have be reading for years (and decades for some of us), but weight plays differently. (8 yard rush on 3rdand 15 is not "successful" as a 4 yard run on 2ndand 5.)
Success Rate is defined as gaining 50% of needed yards on 1stdown, 70% yards to gain on 2nddown, and 100% yards to gain on 3rdand 4th) I am going to build a glossary that we all can reference as we crunch the Dawg Stats. Thanks for reading and GO DAWGS!!
Check out this DawgStats article: SUCCEEDING ON 1ST DOWNS