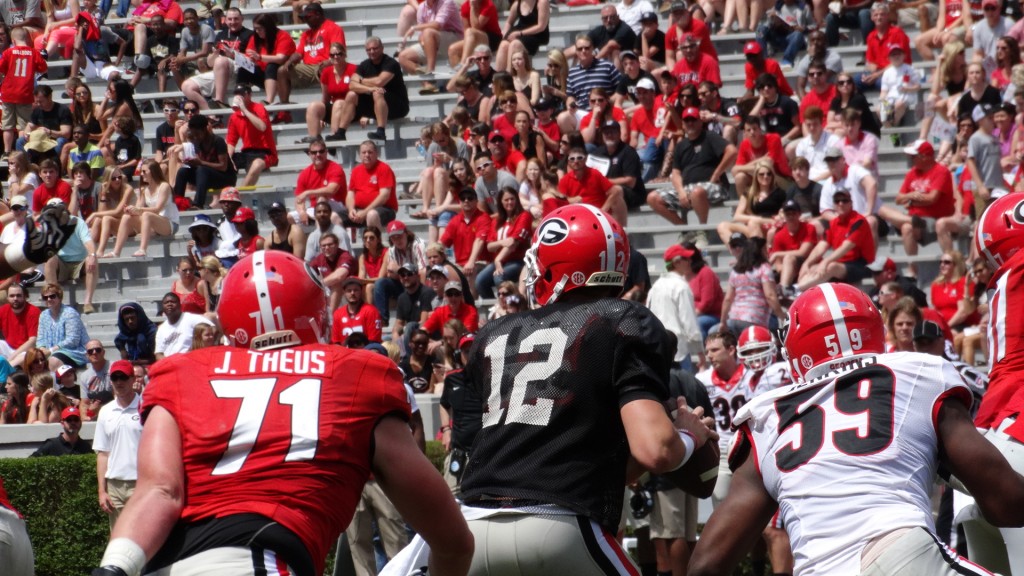 [su_spacer size="20″] The final score of G-Day, 2015 – 24-17 with the Black team winning over the Reds Saturday – hardly mattered in the grand scheme of things, nor did the final statistics, what with Georgia's three candidates for the starting quarterback job this spring, flip-flopping back and forth in guiding the two teams.
But, yes, there were hints of what Brice Ramsey, Faton Bauta and Jacob Park might do under fire this coming autumn when the Bulldogs start playing games for real.
Redshirt sophomore Ramsey, starting the game for the No. 1 offense, which was the Red team, struggled on several short throws but displayed his powerful arm on two long passes … a bullet down the middle that Isaiah McKenzie turned into a 72-yard touchdown and a deep 60-yard sideline pass to Reggie Davis. His total passing for both teams … five completions in just nine attempts for 174 yards.
In contrast, junior QB Bauta, put the ball in the air a total of 25 times – 19 times for the Red team alone – and finished with 16 completions for 171 yards including a 25-yard touchdown pass to tight end Jordan Davis.
And then there was Park, the redshirt freshman who didn't see much throwing action in the spring's previous two scrimmages but displayed a strong arm on quick passes to the sidelines on G-Day and improved his resume by finishing with 10 completions in 15 attempts for 92 yards, although he was picked off once when early freshman enrollee Jarvis Wilson intercepted Park's overthrown pass and returned it some 53 yards.
Mind you, many times Saturday afternoon the Bulldog signal-callers were under a fierce pass rush by members of both the No. 1 and 2 defensive units and had to release the ball much earlier than they wanted to. The starting defensive team, playing on the Black team, had four sacks alone of the quarterbacks and guess, what, the No. 2 Georgia defense comprising the Reds also recorded four sacks on the afternoon.
In a spring intrasquad scrimmage of this variety, it's a given fact that both the offensive and defensive units know each other's tendencies because of continuous repetition in practice each day. Indeed, members of the defense often times know what play the offense is going to run from the time they break the huddle.
"Georgia won today, which was good," head coach Mark Richt said in his post-game conference with a full room of media.
"It's so hard to try and judge what kind of a day it was when you go Georgia against Georgia while working your first, second, and third units because it's just a lot of guys getting a lot of reps. When things were executed properly on offense, it was pretty to watch. Defensively, I thought that the guys for the most part played well as a unit. They tackled well and batted some balls down at the line of scrimmage."
Naturally, the first question posed to Richt was concerning the play of each of the three Bulldog quarterbacks.
"It's still a race," Richt said. "I don't think there's any question that it will go through the summer and fall before we make that decision on who will start the first ball game."
"There's going to be pressure on the quarterback," said Richt. "During the game the pocket is going to get tight on them at times and somehow you've got to make good decisions by throwing the ball away, hitting the checkdown, or even taking the sack. A couple of times they took sacks and sometimes that's the best decision."
Richt then discussed each of the quarterbacks' performance, in a game played before an announced crowd of 46,000-plus.
"Brice made some nice plays," Richt said. "Over the spring he has done a very good job of studying what to do, getting us in the right protections, getting us in the right hot and side adjustment situations. He's been really pretty accurate throughout the spring practices to this point.
"Faton," said Richt, "has been a guy who has worked extremely hard to get a comfort level with everything that Coach Schottenheimer is trying to teach him. He got better and better as the spring went along.
"And Jacob ran more reps with the two and three units," added Richt. "but you can see his arm talent and his ability. This summer will be crucially important for him. The more he gets comfortable with the system the better he'll compete.
"Coach Schottenheimer is a really good teacher," Richt declared. "Our quarterbacks are not there yet but they're making progress."
So make your own guess as to which Georgia quarterback will be answering the opening whistle when the Bulldogs open the new season on Sept. 5 against Louisiana-Monroe. From what transpired in this spring game on Saturday – what with each of the three candidates having their good and bad moments and going by Richt's comments above I, for one, will say that the rifle-armed QB from Camden County will be the first one taking the field. But give Brice Ramsey only a narrow edge over Bauta, the team's hardest-working guy who did throw the intermediate routes better than what Ramsey did in the spring game.
In addition to Ramsey's 72-yard TD strike to McKenzie, who apparently injured a hamstring on the catch and run, and Bauta's 25-yard scoring pass to Jordan Davis, the other scores on the day came on a 1-yard run by A.J. Turman, a 52-yard run by Turman, a 17-yard run by Nick Chubb (remember him?) and field goals of 25 and 37 yards by Marshall Morgan and Patrick Beless, respectively.
Thanks to his long scoring run, sophomore tailback Turman led all rushers with 106 yards on a workman-liked 26 carries. Carrying only three times from scrimmage, Chubb added 34 yards including his scoring run and also caught three passes for 23 yards. Brendan Douglas carried 12 times but for only a net of 21 yards.
Malcolm Mitchell snared four passes for 36 yards, Jordan Davis also had four catches for 74 yards including his scoring catch of 25 yards and walkon Matt Price also had four receptions for 37 yards.
Defensively, those first-unit defenders for the Black team made things plenty tough on the Red offense, pressuring the passers and also crashing through the offensive line to often tackle the running backs behind the line of scrimmage.
Junior inside linebacker Reggie Carter led the way with eight tackles while senior outside 'backer Jordan Jenkins and sophomore corner Malkom Parrish followed with five total tackles each. Jenkins, Lorenzo Carter, Sterling Bailey and Reggie Wilkerson all recorded QB sacks.
For the Red defense, freshman inside linebacker Natrez Patrick, one of the team's prize early enrollees, led the way with eight total tackles while still another early enrollee, freshman defensive linemen Jonathan Ledbetter, followed closely with seven stops. Then came Tramel Terry with six total tackles. Notching sacks for the Reds were Patrick, Devin Gillespie, James DeLoach and Chris Mayes.
"I think I played well," said sophomore outside linebacker Lorenzo Carter, who seems destined to be a headache for opposing offenses the next several years. "We tried to keep up the energy and Coach (Tracy) Rocker helped keep up the energy the whole game. We pass rushed well and got in the backfield some. I'm just ready to start hitting some quarterbacks. We've got some things to fix," said Carter, "but I think as a defense we played really well."
"We came out and executed well," said the other Carter, inside linebacker Reggie. "We still have a long way to go but we're making big strides and we need to continue. Competition brings out the best and everyone is getting better feeding off that competiton."
For the record, despite requests by a majority of the media members, the Georgia coaching staff opted to not let the three quarterbacks hang around for post-game interviews. Could it be they don't want a quarterback controversy being stirred up by something Ramsey, Bauta and Park may or may not say in response to questions about the starting job?