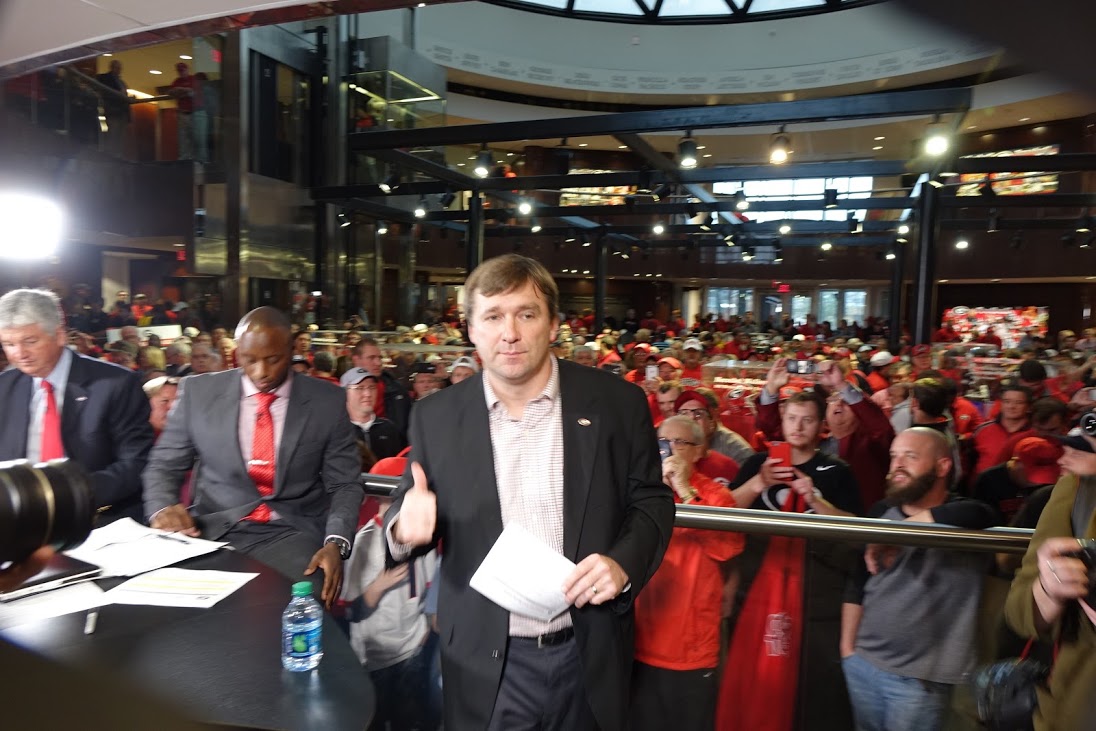 Earlier this week, Head Coach Kirby Smart was asked if by recruiting nationally and establishing a national brand when it comes to the UGA football program, has that changed how he and the coaching staff recruit the state of Georgia.
"I would never change how we recruit the state of Georgia, it's home base, it's primary, it's A-number-one, most important, it doesn't mean we're going to get every kid, it doesn't mean that," said Kirby during Tuesday's post-practice press conference. "I mean, there's some good players in the state that have left and we've fought to get them, but I mean, I want the best players in the state to stay home."
It is probably no surprise that the majority of players on the Dawgs' roster are from the Peach State. Out of the 131 scholarship, preferred walk-on, and walk-on players on the UGA football team's roster, 88 are from the state of Georgia. And that has also been reflected in Kirby Smart and his coaching staff's recruiting classes up until the 2019 signing class.
Coach Smart's first recruiting class was 2016, and UGA signed a total of 22 players, 17 of which were from the state of Georgia. In the Dawgs' 2017 class, Kirby and his staff again signed 17 players from the Peach State out of a total of 26. UGA also signed 26 in the 2018 recruiting class, and of those, 15 were from the state of Georgia. However, in the 2019 recruiting class, there is a significant change as out of the 25 signed prospective student-athletes, only 8 were from the Peach State. And so far, in the current 2020 recruiting class, of the 16 verbal commitments, UGA has received thus far, only 4 are from the home state of Georgia. Here is a line chart to show the comparison of total signees to the signees from the state of Georgia.
As you can see in the line graph better than I can articulate in type, the trend is a downward one when it comes to how many players the UGA football coaching staff are signing from the state of the flagship University. Now, there could be a number of reasons for that trend, and I'm not trying to say that Kirby and his staff are doing a poor job of recruiting the state of Georgia. I think it points out that since Kirby Smart took over the UGA football program, while the state of Georgia is still an important state when it comes to annual recruiting, he has established a national brand. UGA is now pulling in top prospective student-athletes from around the country.
Why draw that positive conclusion from the numbers?
In Georgia's 2019 recruiting class, which was considered one of the top two in the country only second to Alabam, the Bulldogs signed five 5-star prospects. Of those, four were outside the state of Georgia. Nine of the signees were top-100 prospects nationally, and of those, 7 were also from outside the state of Georgia. Those freshmen have made impacts already on the UGA football team. Players like linebacker Nakobe Dean and Nolan Smith as well as wide receiver George Pickens, and defensive backs Lewis Cine and Tyrique Stevenson.
When we look at this current 2020 recruiting class, Kirby and his staff currently have 7 top-100 prospects committed, and out of those 5 are from outside the state of Georgia which are 5-star OLB Mekhail Sherman from Washington D.C. , one of the top running backs in this class Kendall Milton from California, top-5 wide receiver Marcus Rosemy, top-10 defensive tackle Jalen Carter, and top-10 defensive back Jalen Kimber. UGA could add to that group too if they are able to sign 5-star RB Zachary Evans from Texas, 4-star wide receiver Arian Smith from Florida, 5-star athlete Darnell Washington from Nevada, 5-star defensive back Kelee Ringo from Arizona, and 5-star linebacker Noah Sewell from Utah. Most of those players are talented to come in as true freshmen and compete for playing time… if not all.
As Kirby Smart stated, while he would like for UGA to sign every top prospect in the state of Georgia each year, as would fans, that just isn't going to happen. Not when the Peach state produces a plethora of talented athletes, which puts it in the group of top four states for football talent along with California, Florida, Texas that most major college football programs look to and recruit heavily.
In the end, the goal of the staff each recruiting cycle is not to see how many players from the state of Georgia they can sign, but rather, addressing the needs on the roster and replacing depth that is lost each year with the best talent possible.