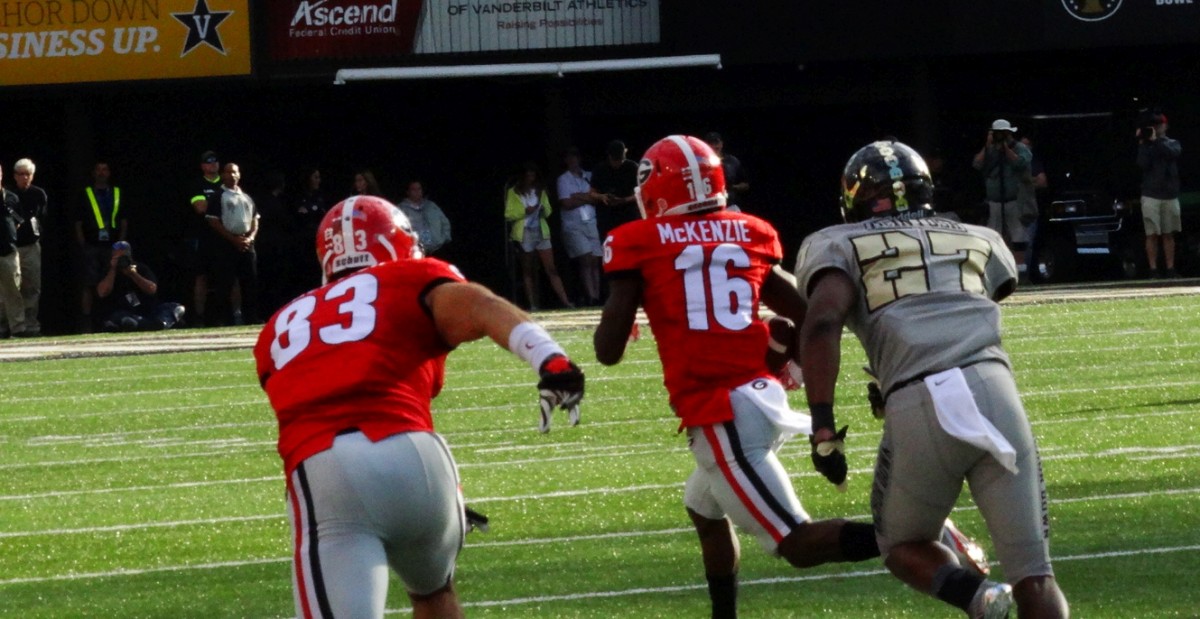 [su_spacer size="20"] The Georgia Bulldogs had a tough game against the Vanderbilt Commodores that seemed to be competitive until the very end. One of the top playmakers from this game was sophomore wide receiver and kick returner Isaiah Mckenzie. Despite any struggles that the Bulldogs faced throughout the day in the passing game, Mckenzie found other ways to make plays.
[su_spacer size="20"]
Mckenzie is an all-around special talent, who makes plays in areas other than the passing game. This weekend he started off the Bulldogs scoring with a long 77 yard punt return for a touchdown. Mckenzie was questioned about what he saw during his return and he had this to say:
[su_spacer size="40"]
I didn't really see anything until I got around the corner. I just made one man miss and once I saw daylight it was really up to me. My teammates did a great job blocking.
[su_spacer size="40"] Special teams had a large effect in this game and they had their low points and high points for the Bulldogs this past weekend against the Commodores. When questioned about Special teams as a whole Mckenzie believed that they played a big part in the Bulldogs win, especially since they struggled to get the passing game going. Here's what Mckenzie had to say concerning the emphasis that is placed on special teams by the coaching staff:
[su_spacer size="40"]
We thank Coach Eck. Coach Eck talks about special teams everyday, all day. That's all he wants special teams, special teams, and we came out and did a good job.
[su_spacer size="40"] Mckenzie is a very special player, who can make plays for the Bulldogs in a number of ways. I fully expecting to see him make a huge effect in the Bulldogs passing game and especially their return game.
[su_spacer size="40"] [su_youtube_advanced url="https://www.youtube.com/watch?v=gqGAx5FZUt4″ autohide="no"] [su_spacer size="80"]