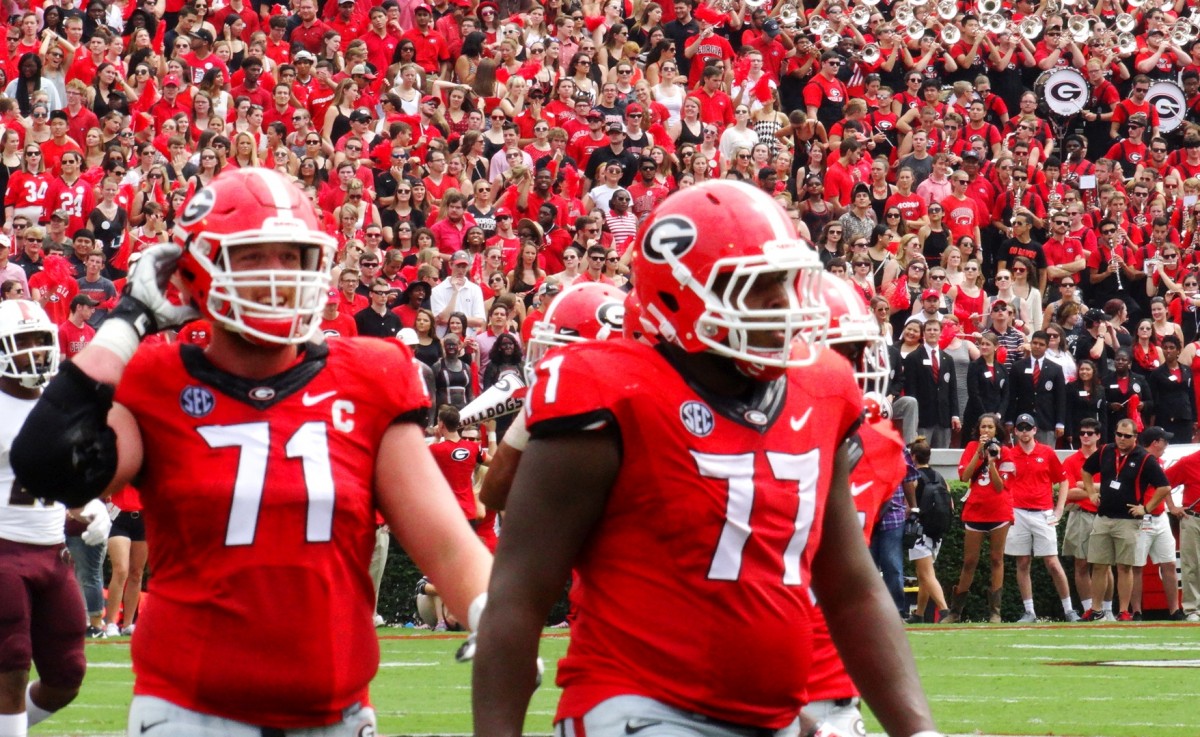 [su_spacer size="20"] The Bulldogs are coming off back to back tough losses to Alabama and Tennessee but hope to rebound against a struggling Mizzou team. The Bulldogs offense has struggle greatly in their couple few games and they are looking to return to form in their next match. Sophomore guard Isaiah Wynn was asked many questions on how the Bulldogs plan to improve their level of play on the offensive side of the ball.
[su_spacer size="20"]
Wynn goes into detail about how the Bulldogs are getting much needed reps against the scout team and how the scout team has been very helpful in preparing them for their next battle against the Missouri Tigers. Wynn also compliments the Tigers on their ability to constantly have stellar defensive lines and what they expect to see from the Mizzou D-line.
[su_spacer size="40"]
They're pretty good. They're very big up front but we should be good as long as we play physical and execute… We're doing a lot of practice against stunts and even one on one but practicing work on double teams. Of course, On film they are showing a lot of stunts, I think thats gonna be the main thing coming out.
[su_spacer size="40"] Wynn was later questioned on the fact that it may seem that the Bulldogs O-line may not be creating as much space as they expected and what they were doing to address that, Wynn had this to say:
[su_spacer size="40"]
So far this week, We've been honing in on that of course and we just think going, getting two feet on the ground, playing lower and practicing on the dummies… I just feel like it's a fundamental thing
[su_spacer size="40"] Wynn was also asked about the physicality of practice and if it was at a higher level than it usually is on most days. Wynn responded with this:
[su_spacer size="40"]
I feel like we're back on the same page and we're getting better week by week. Every practice is usually physical but it was a better Tuesday.
[su_spacer size="40"] Wynn was also asked if the Bulldogs were placing any extra emphasis on third downs and if he believed maybe the issued was more on first and second down since they were often put in third nd long situations.
[su_spacer size="40"]
Yes sir we have, We're practicing a lot of third down situations, what can happen and all that type of stuff… I just think we gotta do a better job executing plays and just win our position battles. 
[su_spacer size="40"] The Bulldogs should show off what they have been practicing this week and should show some improvement after two down weeks.
[su_spacer size="40"] [su_youtube_advanced url="https://www.youtube.com/watch?v=2HHHF6W2sO4″ autohide="no"] [su_spacer size="80"]