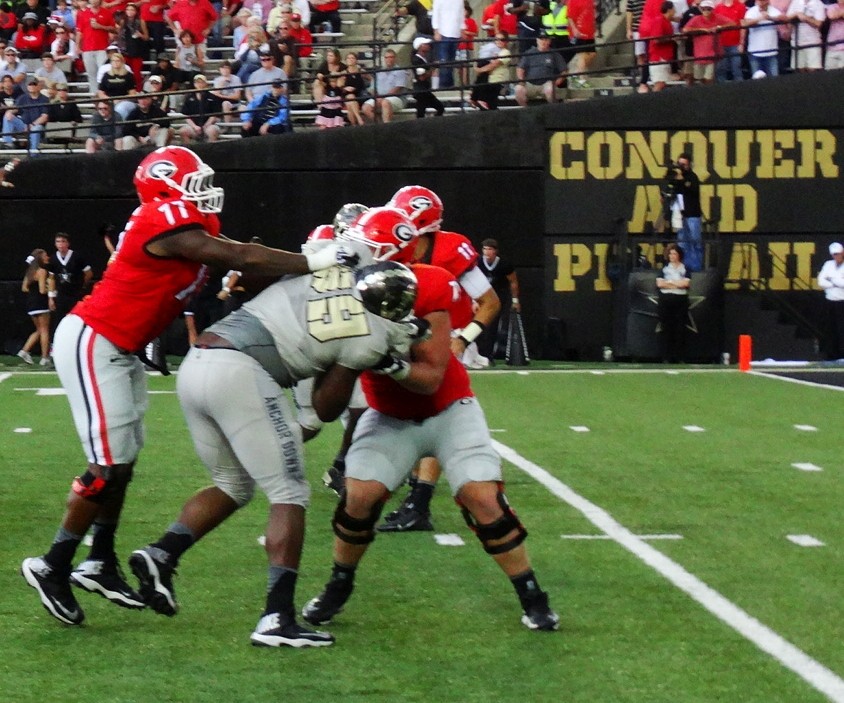 [su_spacer size="20″] Sophomore offensive linemen and guard for the Bulldawgs, Isaiah Wynn, talks about Georgia's game this Saturday versus South Carolina; the Dawgs' offensive line and trick plays on offense.
[su_spacer size="20″]
How does Isaiah Wynn feel about the fans expectations as well as their comments on social media about Georgia's offensive line performance from their first two games?
[su_spacer size="40″]
We just go out there and play football. We don't mind what anybody says about us. We just know that we got to come ready to play on game day.
[su_spacer size="40″] There have been comments on Isaiah Wynn's size and that he is too small to play offensive guard in the SEC. What is his response to those statements?
[su_spacer size="40″]
I really don't mind. I feel like the way I play, my tenacity makes up for it.
[su_spacer size="40″] Isaiah Wynn talks about some of the differences between UGA's blocking under former offensive line coach Will Friend compared to this season under Coach Rob Sale. He states that it is a little different and that UGA is doing a little more zone blocking in answer to the one of the media member's questions, but he likes it. What does he like better about it?
[su_spacer size="40″]
Just that we have a variety of plays that we have. We have trick plays and of course the zone and a lot of pass plays.
[su_spacer size="40″] Wynn, with a big grin, cannot reveal any of those trick plays, of course.
[su_spacer size="40″] But that does make one wonder doesn't it? We haven't seen that many different plays from the offense in the first two games; certainly not that many pass plays and I'm not sure I've seen a trick play yet. Could we finally see some variety versus South Carolina?
[su_spacer size="40″] I for one wouldn't mind seeing some. As a fan, they are fun to watch, especially when executed properly. When I played football in high school, they were fun as a player because it was something different. However, at the same time, if the running game is working like it has been and Chubb and company are averaging over 7 yards per rush, then I am not so sure if it would be the smart move to go away from what is working.
[su_spacer size="40″] Speaking of the running game, how does Wynn feel when Chubb, Sony, and Keith break off a good run or a big play?
[su_spacer size="40″]
It's just a lot of pride. We get excited when we see them hitting big runs.
[su_spacer size="40″]
Isaiah Wynn interview: UGA vs. South Carolina
[su_spacer size="80″]