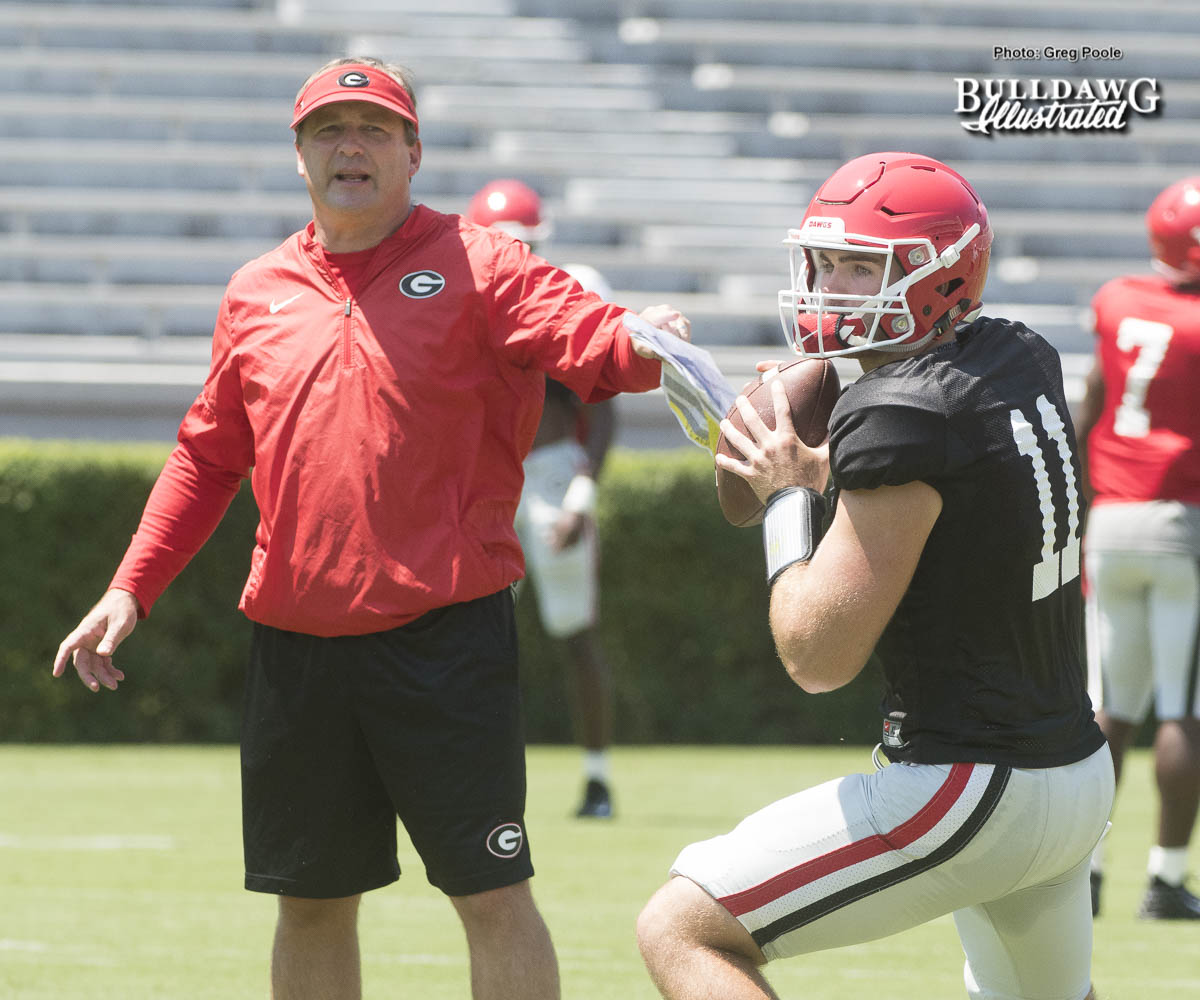 If it's one thing we know, it's that Kirby Smart can recruit a top-level quarterback. The quarterback room at the UGA is getting pretty full, and there aren't nearly as many open seats available as there have been in year's past.
Smart was hired almost immediately after former Bulldogs' head coach Mark Richt resigned in 2016. When Smart arrived in Athens, he quickly solidified the signature of Jacob Eason, which gave him three quarterbacks at his disposal during his first season. Eason a freshman, junior Brice Ramsay, and graduate transfer Grayson Lambert. Smart went with Eason as he led them to an 8-5 record his freshman year.
In 2017, Smart added freshman Jake Fromm to the mix to join Eason, plus he convinced Ramsey to stay for his final season as a redshirt senior. Eason started the first game of the season against Appalachian State but was sidelined with an injury. Fromm then took over and led the Bulldogs to a 13-2 record, a SEC Championship, Rose Bowl victory, and a national title appearance, but came up short against Alabama in the final seconds.
During the 2018 campaign, Ramsey's eligibility ran up and Eason elected to transfer back home to Washington. Smart offered scout team freshman Stetson Bennett IV a scholarship, but he decided to transfer to Jones County Community College. No. 1 rated quarterback Justin Fields joined the team and enrolled in classes in January of that year. Smart remained with Fromm as the starting quarterback going 11-3, and less than a year later Fields elected to transfer to Ohio State.
Prior to the 2019 season, Smart brought back Bennett on scholarship, who led Jones to a 10-2 overall record, a Mississippi Bowl win and the MACJC conference championship game. He then flipped Ohio State commit, D'Wan Mathis, and that gave him three scholarship quarterbacks. Fromm led the team to a 12-2 record but elected to forgo his senior season to enter the NFL Draft.
Currently, in 2020, Smart now has more quarterbacks than he's ever had and he might be fighting to add more to that list. With Fromm's departure, Smart brought in Wake Forest graduate transfer Jamie Newman, who is the favorite in foresight to be the starter next season. Smart has also signed four-star gun-slinger Carson Beck out of Florida bringing that number to four with the return of Mathis and Bennett.
Newman will have one season in Athens to accomplish all he can, and on Tuesday the program got big news when 2021 five-star quarterback Brock Vandagriff committed to the Bulldogs. Per Rivals, Vandagriff is the No. 1 rated pro-style quarterback in his class. With Vandagriff's commitment, this confirms that Smart again will have four viable options, and that sets him up for the next four to five years.
But as we all have found it, the transfer portal is a real thing.
With the enhanced probability of a transfer, specifically at the quarterback position, is probably why Smart is loading up at the position. During his four year tenure, Smart has started the season with less than three scholarship quarterbacks each season. During the past two seasons, Smart has only had two scholarships available. In 2018, he only had Fields and Fromm due to the departure of Eason. This past season, Smart only had Fromm and Bennett because Mathis was recovering from an off-season brain surgery.
Going into 2020, Smart is thinking about the long haul.
It's a good possibility that Beck, Mathis or Bennett could transfer next season if they don't beat out Newman for the starting job, but Smart seems to be prepared for that. Competition is very healthy for each one of these young athletes, and if those three lose out, then they will gain good experience. If one is unsatisfied with the outcome they might make a decision for themselves and Smart will support them, but he knows he has to be prepared for it since he has not been in the past.
Part of building a successful program is consistency, especially at different positions on the team. Smart has done that with the offensive line, running backs, tight ends, and the defense, but not with the quarterback position. Georgia's wide receiving core lacked depth and experience in 2019, so Smart went out and recruited like crazy to get the talent level up, as he's done with quarterbacks.
With the addition of Newman, it's a great step in the right direction.
Oklahoma is a great example of how successful a team can be with transfer quarterbacks. The Sooners have made it to the College Football Playoff the past three seasons, despite not being able to come up with a win, the program has been led by transfers. Two of them, Baker Mayfield and Kyler Murray, won the Heisman Trophy and were No. 1 picks in the NFL Draft. Jalen Hurts didn't win the Heisman nor will he be a top-choice in the draft, but he did put up some impressive numbers this past season to boost his draft status.
Three of the four teams who made the CFB Playoff this past season had transfer quarterbacks, including Fields. LSU's quarterback Joe Burrow didn't fit in at Ohio State, but he excelled in Baton Rouge pulling off one of the single greatest college seasons by an individual at quarterback.
Georgia fans might have been especially frustrated by the transfer of Fields, and all his immediate success, but Newman may just be the answer they needed.
For now, Smart can breathe easy, but maintaining that room is going to be a problem in the foreseeable future.