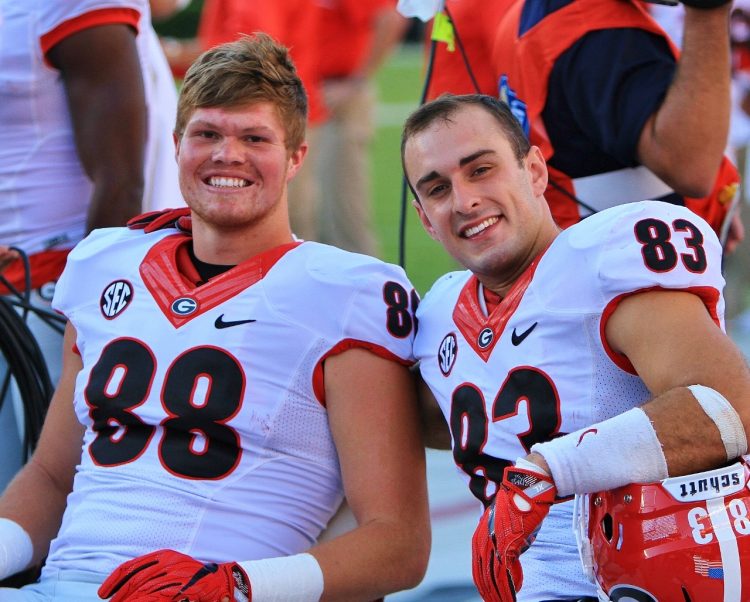 The Georgia Bulldogs have one of the most talented tight end units in the country and Jackson Harris believes the competition between each tight end is what is driving them to getting better each day.
The Bulldogs tight end unit top to bottom is one of the best groups in the country and if utilized properly, they should be very effective in the team's offense. The first five players in this group consist of sophomores Isaac Nauta and Charlie Woerner, junior Jackson Harris, and seniors Jordan Davis and Jeb Blazevich.
Each of these tight ends have a different skill set and it would not be surprising to see four or five of these players seeing the field in various packages because of the excess of talent in this group. Harris says he believes that the competitive nature between all of the tight ends is what will drive this group to being very good.
"There's no doubt this tight end group is very talented," said Harris. "The thing on top of that is everyone is just such hard workers and we're a group and we support each other and everyday we just push each other that much more and I feel like that competitiveness is creating a unit that is gonna be very good this year."


These tight ends seem to be challenging each other each day to get better and if this group continues to grow, then they should be very productive. Nauta led the Bulldogs tight ends with only 361 yards on 29 catches while hauling in three touchdowns. However, the Bulldogs must incorporate this tight ends group even more because of how talented they are from top to bottom and how much of an impact they can have on the offense's success.


These talented tight ends should bring more consistency for the Bulldogs offense and could help set them apart in the SEC East race.