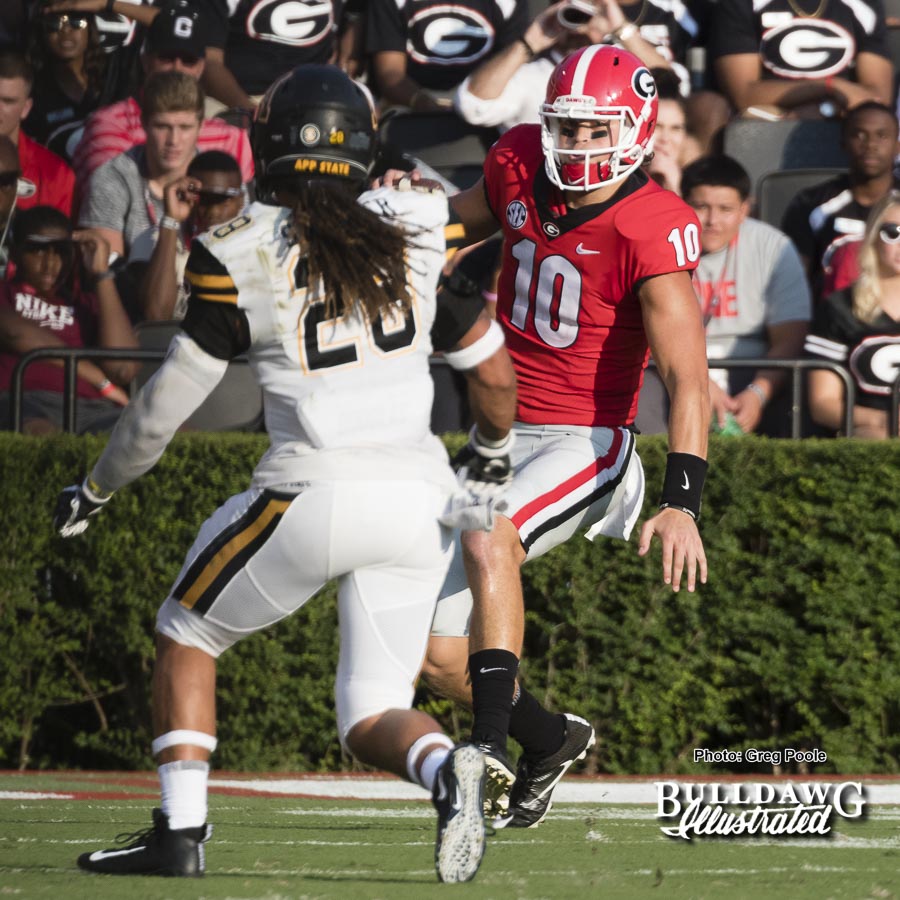 Head Coach Kirby Smart announced that quarterback Jacob Eason has been diagnosed with a left knee ligament sprain and will not play this Saturday versus Notre Dame.


Eason was injured in the first quarter of Georgia's home opener versus Appalachian State over the weekend on Saturday on a late hit out of bounds by a Mountaineer defender. If there is a silver lining here, it is that it is a sprain and not a tear; so, the injury will not need surgery to repair. While Coach Smart did not give a timeline for Eason's recovery or return, Georgia does expect to get him back this season.


"We found he has got a sprained left knee ligament, which is nonsurgical. We expect a full recovery this season," said Kirby. "He's performing rehab daily, starting yesterday (Sunday). Not sure the length of time he will be out. … It'll be week to week."


He will be back this year," Kirby added. "We feel very fortunate. It could have been worse."


So who will likely start for the Bulldogs this Saturday against the 'Irish'? True freshman Jake Fromm will get the nod in lieu of the injured sophomore.


And with Fromm stepping into the starting role, who will vie for the back-up spot? Behind Fromm there is graduate Brice Ramsey who played a few series versus Appalachian State in the fourth quarter and did not fare well, throwing two interceptions. Junior walk-on Sam Vaughn and true freshman preferred walk-on Stetson Bennett also could vie to compete for the backup spot this week along with the No. 3 quarterback position on Georgia's depth chart.


---
Recent Articles by Bob Miller


[pt_view id="83405b425p"]