After starting quarterback Jacob Eason went down in the first game, no one knew what to expect from true-freshman, Jake Fromm. Now, Georgia is 7-0 for the first time since 2005 with Fromm at the helm. He went on the road and defeated Notre Dame, Tennessee, and Vanderbilt with ease.  With his game management skills, ability to check the ball and run when needed, to his confidence, Fromm has the qualities to be Georgia's next great quarterback. 

Game Mangement Skills: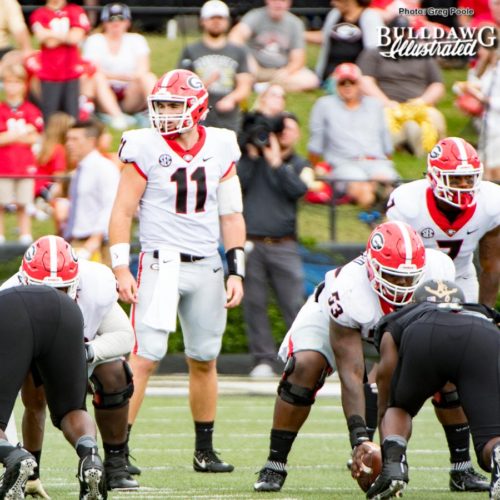 The Bulldogs have been searching for a true game manager. A player that can take control of the pace of the game and execute plays with ease. Fromm does just that. When Fromm came in after Eason's injury, he didn't perform like a freshman. Instead, he took control and ran the offense like a veteran. He showed poise and a level of maturity that some quarterbacks never obtain.


Georgia ranks No. 1 in time of possession in the SEC. Fromm has the ability to manage the clock and keep the offense on the field for long periods of time. His management skills remind me of Aaron Murray, David Greene, and Matthew Stafford. All three were known for their ability to control the offense and make plays. He's following in their footsteps and could very well surpass some records.

Natural Ability:


Fromm seems to be able to do it all. He may be a gunslinger but the freshman can use his wheels too. With a 170.4 quarterback rating, he shows just how naturally talented he is. After seven games, Fromm is 75-121 for 1,162 yards 12 touchdowns and three interceptions. He's completing 62 percent of his passes and averages 166 passing yards a game.


Prior to that, he ranked as one of the top high school quarterbacks in the nation. Fromm held 14 offers from various schools across the country. However, his decision came down to Alabama and Georgia. At Houston County, Fromm threw for 881-1062 for 11,679 yards 108 touchdowns and 20 interceptions. Being in the spotlight seems to be the norm for Fromm and his natural ability is to thank for that.


Not many get to start at quarterback as a true freshman in the SEC. He is just the third true freshman to start with Eason and Matthew Stafford being the other two. However, seven games into his career, his natural ability allowed him to make plays and put the team in ideal situations.


He works hard on and off the field. Since he arrived in the spring, Kirby Smart and fellow teammates complimented him for his knowledge in the film room. During the spring, when the team ran seven-on-seven drills, if the youngster made a mistake he would go to the defense and ask what coverage it was. He did this to make sure he corrected his mistake. He's a student of the game and shows how determined he is to perfect his natural talent.

Confidence is Key: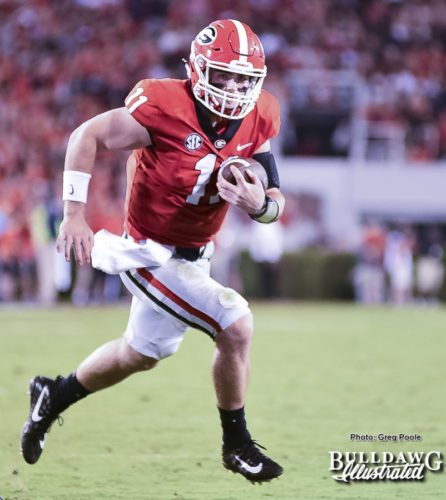 One of Fromm's biggest strengths is his confidence. As he progressed through spring ball, his confidence grew. After the G-day game and playing in front of the fans for the first time, his confident doubled. Smart mentioned early on that his competitive nature led to him be a more comfortable player.


Fromm's had to be clutch in multiple situations early on in his career at Georgia. He oozes confidence which makes him a natural leader. People follow others who are confident in themselves. And with each performance and win, he gets more comfortable with his teammates and confident in himself.


Confidence is key because it led him to Georgia. Then it helped him keep his composure when he came in off the bench during the App State game. His laser throws and quick decisions looked to be those of a confident veteran, not a true freshman. And with each throw and each game, his confidence continues to grow due to his performance, but also his teammates' performance around him.

Next Great Quarterback at Georgia: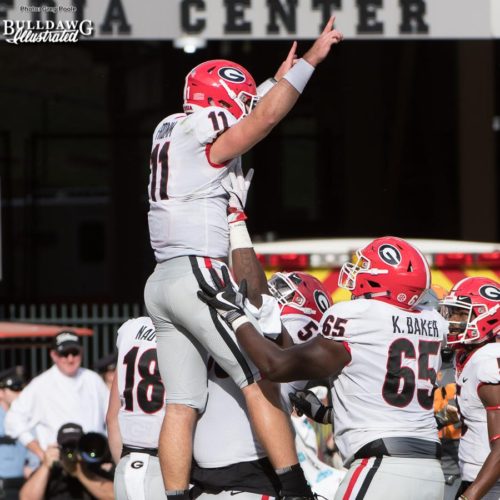 Fromm is the perfect quarterback for Smart's system. Georgia doesn't  need a savior at quarterback, or one that throws the ball 40 times a game for 300 yards. Instead, the team needs a quarterback who can execute the offense, and that's what makes Fromm so special.


He is a game manager, the guy who makes smart decisions, and has to be accurate when he needs to be. When you have Nick Chubb and Sony Michel in your backfield, the passing game shouldn't be the primary focus until running the ball doesn't work. He's proved that when the ball needs to be thrown, he makes the right decision and can be an accurate thrower.


Smart's found a quarterback who's natural ability matches his mental ability. Which is why he will be the next great quarterback because he knows what his job is. He has a tremendous amount of talent, but instead of trying to show out and be in the spotlight, he makes it about his teammates' achievements. There is something special going on at Georgia, and Fromm is at the forefront of it all.




Recent Articles by Savannah Leigh Richardson


[pt_view id="8722077nva"]