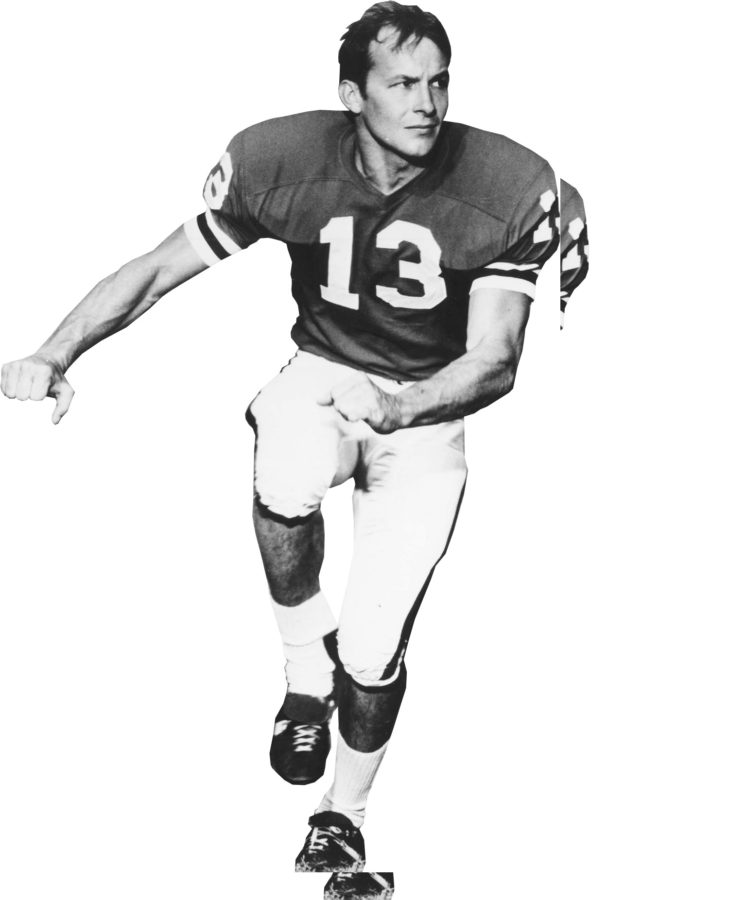 One of the best to ever play the game, and an all-time University of Georgia Bulldogs favorite, Jake Scott passed away on November 19. He was something special, and unique, blazing an emulated and admired trail on the gridiron, and living life with the utmost zest.
His days at Georgia were extra special. Scott was a part of the extraordinary 1968 Southeastern Conference championship team, one full of characters who have maintained an unbreakable bond for over a half century. His memory, the performances and the stories of this unbelievable player and character from this magnificent team will forever live on.
Jake Scott was elite. And unique.
He could have played in any era. You will occasionally hear of athletes from days gone by who could still play today. Scott certainly could. Picture the skill and versatility of Champ Bailey. Though Scott was a safety and Bailey a cornerback, both could do it all.
Scott could have also thrived in the era when players went both ways on offense and defense. He would have fit right in with Charlie Trippi and Frank Sinkwich, and undoubtedly been every bit as great on offense as he was at safety and on returns.
In his two seasons as a Bulldog, he was a big play, big game, record-setter. Young Bulldog fans from those days adored him. The things he could do on the football field were remarkable.
Over those two seasons, he set numerous records for interceptions, interception return yardage, defensive scores and punt return yardage.
Playing in 10-game regular seasons when bowl games weren't counted in season and career statistics, and teams threw maybe, on average, 10 to 15 times per contest, Scott amassed an incredible 16 interceptions. SIXTEEN! That's 16 picks in 1967 and 1968 combined. Absolutely incredible.
In 1967, Scott had six interceptions and was named All-SEC.
Then in 1968, the native of Athens, who played his high school football in Arlington, Virginia took things to the next level.
He had an iconic 90-yard punt return for a touchdown at Tennessee, breaking tackles and even hurdling a helmet to paydirt. Scott equalled the NCAA record with two interception returns for touchdowns against Kentucky.
Scott was named first team All-American with 10 interceptions, as the Bulldogs won the SEC with an 8-0-2 regular season.
Legend has it, Scott also rode his motorcycle up the pillars and through the peaks and valleys of the roof of the Coliseum.
He was fearless and loved to have fun with his friends.
"Jake may well have been the best all around athlete who ever played for us – great instincts, competitiveness, flexibility and love of the game," reflects legendary fellow College Football Hall of Fame member, Scott's coach, Vince Dooley. "He was a free spirit, a Sui Generis for sure, and challenging at times, but the best 60-minute player we ever had."
That career interception record still stands at Georgia. It stands in an era where there are 12 regular season games, and all postseason games, including SEC Championship Games and bowl games are counted in the statistical ledger. It's a lot more games. And there's a lot more passing. In case you weren't aware.
Another fellow College Football Hall of Fame Bulldog great Scott Woerner was a great admirer.
"Jake Scott, along with Thomas Davis, are beyond a doubt the greatest athletes/players to have worn the "G" in my time," he says. "Game changers at every level."
Scott showcased his incredible ability in the National Football League, most notably for the Miami Dolphins, for whom he and his fellow Bulldog All-American from 1968, the late Bill Stanfill, headlined the famed "No Name Defense."
Both were five time Pro Bowl selections.
There is still only one undefeated team in NFL history, and that's the 1972 Dolphins. Scott was the Most Valuable Player of Super Bowl VII, as Miami wrapped up the historic 17-0 season with a 14-7 victory over the Washington Redskins. He intercepted two passes in one of the most significant games in the history of the sport.
One year later, the Dolphins won a second straight Super Bowl. Scott recovered two fumbles and had 67 combined punt/kickoff return yards in Miami's 24-7 win over the Minnesota Vikings.
Scott and Stanfill were inducted into the Miami Dolphins Honor Roll, which circles their home stadium, in 2010.
A year later, Jake Scott was inducted into the College Football Hall of Fame.
When it comes to all-time great Georgia defensive backs, Scott is at the top of the list, along with Terry Hoage, Woerner, Bailey and Davis. When it comes to players who had that "it" factor, that style, that swagger, those instincts, the swashbuckling Jake Scott was in a league of his own. It can be argued that he, Andy Johnson and Herschel Walker were Dooley's most popular players.
Jake Scott was a champion, Hall of Fame legend.
"He was a great friend, a wonderful teammate, and one of the best football players ever," says his close friend Mike Cavan, quarterback of the 1968 SEC champions. "Jake was a remarkable player, with all the tools, and incredible instincts … and he definitely did things his way."