[su_spacer size="20″]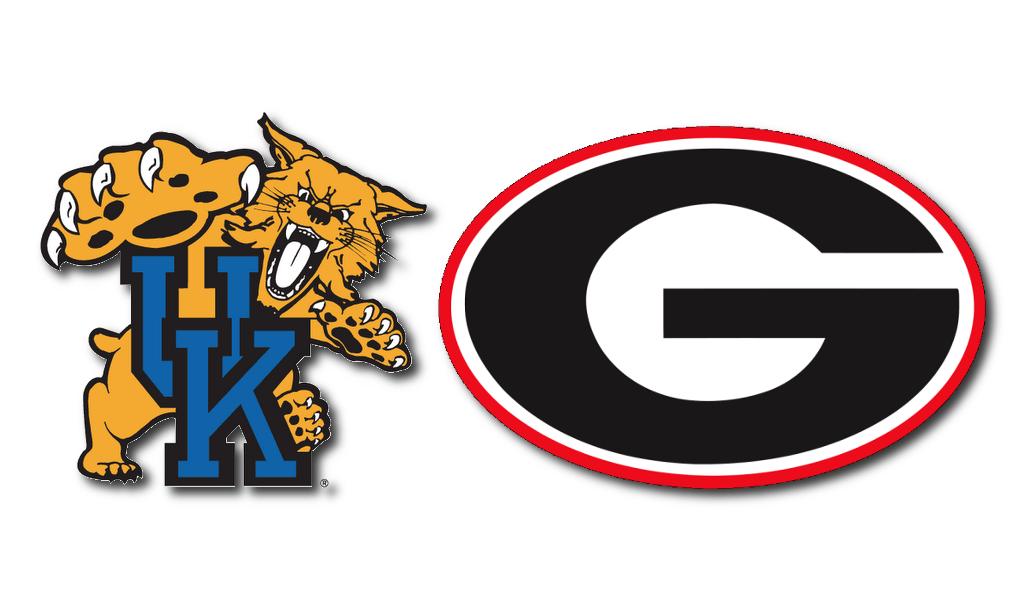 [su_spacer size="40″] For the first time since 1969, in losses to arch-rivals Auburn and Tech, but on the heels of two Southeastern Conference championships in a three year period, Georgia has gone back-to-back games without scoring a touchdown. The Dogs escaped with a 9-6 win over Missouri between the hedges, but then there was last Saturday. Florida won in Jacksonville for a second straight season, cashing in on numerous Bulldogs miscues to down Georgia 27-3. Georgia had two more turnovers than points.
[su_spacer size="40″] Georgia has now gone nine straight quarters without a touchdown. In the month of October, in four games, the Bulldogs offense generated three offensive touchdowns. There was another special teams disaster that set: the tone and set up the first score, and the Dogs now sit at 5-3, 3-3 in the league.
[su_spacer size="40″] Kentucky meanwhile fell by a big number at home to rival Tennessee, dropping the Wildcats to 4-4 and 2-4 in SEC play. The Wildcats didn't get that breakthrough win against Florida or Auburn in near misses, and now they take their crack at the staggered Bulldogs.
[su_spacer size="40″] Championship and top ten dreams — Georgia was the preseason pick to win the SEC East and ranked amongst the nation's elite prior to the season, and through an undefeated September against the soft part of the schedule — have evaporated. The Bulldogs have to find a way to a respectable season.
[su_spacer size="40″]
Key Match-up
[su_spacer size="40″]
Georgia Front vs. Towles and Williams
[su_spacer size="40″]
NOTE: Since the article was written and turned in by Jeff for the BI print edition, it has been reported by Kentucky that Stanley "Boom" Williams will be out for the game on Saturday.
[su_spacer size="40″] Patrick Towles and one-time Georgia running back commitment Stanley "Boom" Williams give Kentucky an excellent quarterback/tailback punch and the Wildcats most explosive offense since Andre Woodson starred behind center as a junior and senior in 2006 and 2007. The Bulldogs defense will be in a "pick your poison" situation. Williams is a physical, tough back who can break the long run. Towles is a superb passer who can make any throw in the book. He is also a threat to run.
[su_spacer size="40″] Bottling up Williams is of vital importance. Georgia's interior defense is going to have to be tough and strong against the always big Kentucky offensive front, and keep Williams from running downhill. Meanwhile, the Dogs must create pressure on Towles, while respecting his ability to run. That means those defensive ends and outside linebackers are going to have to keep containment — or as the saying goes from screaming ex National Football League players wearing suits in front of the camera, "set the edge!"
[su_spacer size="40″] Georgia just does not appear capable of winning a shootout at this point in the season. Kentucky may be vulnerable on defense, but the Georgia stop unit will have to be on top of its game, or Mark Stoops may be chalking up his signature win between the hedges, just as Rich Brooks did in 2009, when Kentucky twice rallied from 14-point deficits to defeat the Bulldogs.
[su_spacer size="40″]
History
[su_spacer size="40″] So many of Georgia's most famous and memorable victories over Kentucky have come in Lexington, and there are a couple of primary reasons. Since Georgia has had the superior programs throughout the decades, the Wildcats have pulled off some wins, including the dreadfully painful loss in 1988 that cost the Bulldogs a piece of the Southeastern Conference championship in Vince Dooley's final season on the sidelines, at home in Lexington. The other reason is that so many of the Bulldogs memorable 'victories are directly tied the Larry Munson, the Greatest College Football Announcer Ever, especially in games that were not on television. Most famously, there was his incredible call of the winning game and true kick of All-American Rex "Yeah! Yeah! Yeah!" Robinson to win it 17-16 in Lexington in 1978, capping one of the "Wonder- dogs" most thrilling and memorable comeback victories. The Mighty Munson was at his very best that night.
[su_spacer size="40″] In 1980, en route to the 12-0 National and SEC Championships, Georgia led 20-0 and put the game away with Buck Belue hitting Amp Arnold for a 91-yard touchdown.
[su_spacer size="40″] The Bulldogs were again undefeated in 1982, but fell behind winless Kentucky 14-3. John Lastinger responded with three touchdown passes, including a 64-yard connection with Heisman Trophy winner Herschel Walker that cut it to 14-10. Georgia would win 27-14 and take another step towards a third straight SEC title.
[su_spacer size="40″] In 1984, one of the best all-around athletes and punt returners in Georgia history, Jimmy Harrell broke loose for a long scoring scamper that was the pivotal play in a 37-7 Bulldogs route.
[su_spacer size="40″] Two years later it was All-American John Little with the "Pick Six" in a 31-9 Georgia victory on the bluegrass.
[su_spacer size="40″] Even ten years prior to the heroics of Robinson and Munson, another all-time Bulldog great shined in the Commonwealth, as All-American Jake Scott had a record-breaking performance with two interception returns for touchdowns.
[su_spacer size="40″] When it comes to standout Georgia victories over Kentucky in Athens, we go back 18 years to 1997 when the Bulldogs beat a talented Wildcat squad, record-setting eventual No. 1 over NFL Draft pick, on a rainy day between the hedges 23-13. One of the two big stars of the day was the dog of then young Atlanta Journal-Constitution writer Mark Schlabach. "Tubby" got loose on the field during the second quarter after following some tailgating revelers down to the field and showed some great maneuverability before finally being corralled. Luckily he was returned home later that day, as opposed to what the Greatest Bulldog Ever Dan Magill joked — to the horror of some co-ed female press box attendees within earshot — "well, I guess they'll just have to take him out under the bridge and shoot him."
[su_spacer size="40″] Robert Edwards was the other big star of the day.
[su_spacer size="40″] One of the top tailbacks in Bulldog history had one of his greatest days, rushing for a pair of touchdowns, including a back-breaking 80-yard scoring scamper to deliver the victory. The following week Georgia would beat Florida, and then go on to top Tech, whip Wisconsin in the Outback Bowl and finish 10-2, No. 10 in the land.
[su_spacer size="40″]
---
[su_spacer size="40″] Make sure to check out
Bulldawg Illustrated's
latest print edition:
Stand Tall Dawgs
, digital issue available for free online. CLICK
HERE
.
[su_spacer size="80″]