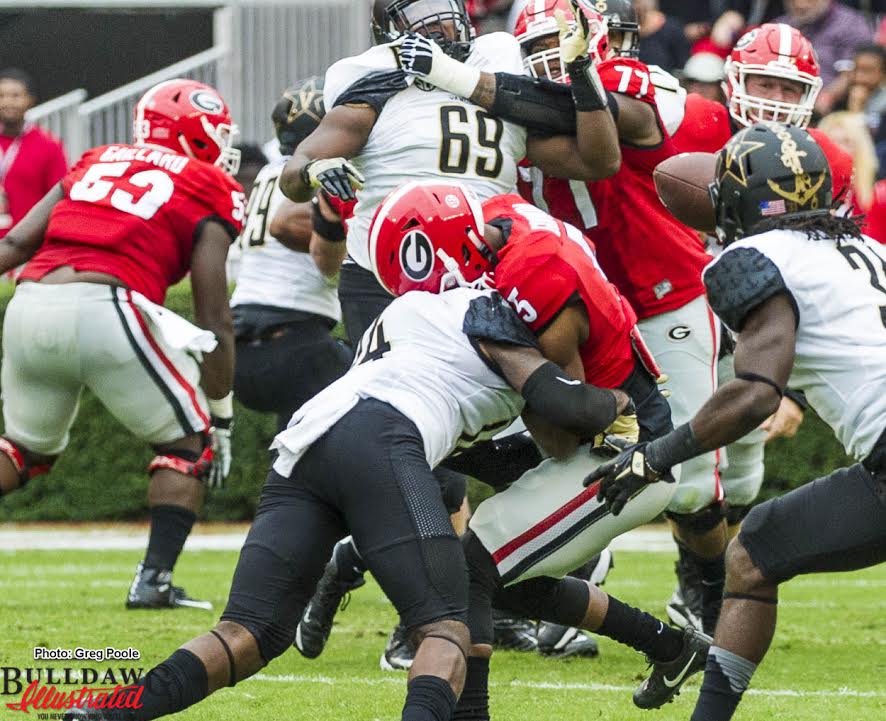 Georgia and Vanderbilt square off Saturday night between the hedges in a big Southeastern Conference battle. The second-ranked Bulldogs improved to 5-0 and 3-0 in the SEC with a 38-12 victory over Tennessee in Athens, while the Commodores made it 3-2 (Vandy is 0-1 in the league) with a 31-27 win over Tennessee State.


Last season in Nashville, the Bulldogs rolled to a 45-14 victory over Vanderbilt in route to the SEC championship. It was one of the "vengeance wins" for the 2017 Bulldogs. The year before, on the strength of an incredible game by All-American linebacker Zach Cunningham, the Commodores upset the Bulldogs 17-16 in Athens.


While it is not the year after, it is the first meeting in Sanford Stadium between the two since that disappointing day for the Dogs. That will be the case again the Saturday after Thanksgiving when the Bulldogs host Tech, trying to back up that 38-7 win last year on the Flats with a win at home against the Yellow Jackets. The first of the three second-time vengeance victories came over Tennessee this past Saturday.


Though Georgia didn't match the dominance of its 41-0 thumping of the Volunteers in Knoxville last season, a 26-point victory over struggling Tennessee was something the Bulldog faithful certainly enjoyed.


Georgia jumped out in front 24-0 after taking the opening drive of the second half for a touchdown. Tennessee would fight back and cut the lead to 24-12, but the Bulldogs had an impressive fourth quarter drive for the clinching score, and then tacked on one more after a Volunteer turnover. Third year Georgia coach Kirby Smart certainly wasn't happy with six penalties – a third successive week where those yellow flags plagued the Bulldogs – and three fumbles. Georgia recovered them all, including the first for a 31 yard scoop and score touchdown from tight end Isaac Nauta.
It was a second straight week that Georgia won by a substantial margin over an SEC foe. The week prior, the Bulldogs, despite some costly mistakes, beat Missouri 43-29 in Columbia. Georgia is winning, but Smart is aiming for a crisp and complete performance. The Commodores, who nearly picked off Notre Dame three weeks ago in South Bend, certainly won't be taken lightly. Quarterback Kyle Shurmur is one of the league's best signal callers and will challenge Georgia's defense. Dores head coach Derek Mason, like Smart, was a longtime defensive coordinator, and usually fields a challenging stop unit.


It's a chance for Georgia to go 6-0 and stay in the hunt. But every Saturday, if you're not ready, something funny can happen. It's college football in October, and it's a Saturday night between the hedges for the Dogs and the Dores.