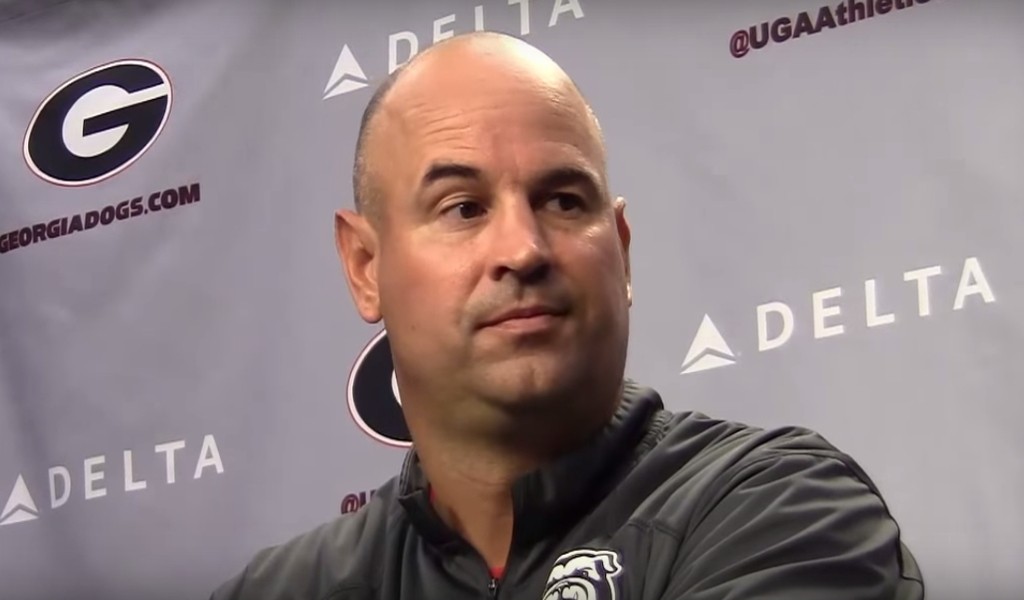 [su_spacer size="20″] UGA Defensive coordinator and secondary's coach, Jeremy Pruitt spoke to the media on the first day of fall practice for 2015 on Tuesday. He talked about the versatility of the defensive backs in the secondary to play multiple positions; the differences between the defense and where they are at this year versus last year going into fall camp; and about coaching philosophy as well as strength and conditioning.
[su_spacer size="20″]
Coach Pruitt discusses the STAR position in the defense and the versatility of the defensive backs and players:
[su_spacer size="40″]
We teach things by concepts; so, pretty much any guy that plays in our secondary can play the STAR position. We got corners that can play the STAR. We got safeties that can play the STAR. In the spring, Malcolm Parrish played the STAR. Aaron Davis played the STAR. Quincy Mauger played the STAR. Dominick Sanders played the STAR. Right there are four guys that we could put out there to play the STAR at any point and time, and they know exactly what to do.
[su_spacer size="40″] Pruitt was asked whether or not junior linebacker Leonard Floyd could play the STAR:
[su_spacer size="40″]
Sure. He will play it some.
[su_spacer size="40″] Pruitt was asked about how Georgia's situation at defensive back in the secondary compares this year to last year:
[su_spacer size="40″]
Well, we have some bigger men. We got a lot of guys with some really good ball skills.
[su_spacer size="40″] Coach Pruitt addressed the fans' expectations of the incoming freshman players:
[su_spacer size="40″]
The one thing we don't want to do with anybody in this freshman class is we definitely don't want to create unreal expectations. Our goal for those guys is for them to do their best every day. As a fan base, sometimes, when you start recruiting a lot of really good football players, you put these expectations out there, and the reality of it is, there are not a whole lot of true freshman that play anywhere, across the league. Every year, teams have 2 or 3, and I am sure we will have 2 or 3 this year. You know, probably, if you are playing with a lot of true freshman, you're probably not very good.
[su_spacer size="40″] Bulldawg Illustrated's Vance Leavy asked, "Talking with some of your guys earlier, they say you are a stickler for avoiding the self-inflicting wounds that can be so costly in games. How do you coach that when its game time versus practice, and how do you as a staff improve upon shoring up those little things that mean so much in close games?"
[su_spacer size="40″]
The one thing we don't want to do is we don't want to beat ourselves. Our number one goal this fall camp is no mental errors. Obviously, in fall camp when your teaching and putting new things in you are going to have some, but the goal is to eliminate them. We've got to teach the details of everything involved in each coverage, each pressure, and we do it kind of conceptually so the guys get the big picture.
[su_spacer size="40″] Coach Pruitt was asked philosophically where he was or where he wanted to be in regards to his defensive players and their size:
[su_spacer size="40″]
Obviously for us bigger is better. The thing we wanted to do last year is not necessarily lose weight. We wanted to change our bodies; so, we could play some downs. I think we have. Our strength staff has done a phenomenal job. The way they have worked this off-season and this summer; we are a totally different looking team than we were this time last year.
[su_spacer size="40″] Coach Pruitt was then asked to talk about Lorenzo Carter and how the sophomore linebacker expressed that he didn't like how he always fared against the run. Pruitt discusses whether that is a fair assessment of number 7:
[su_spacer size="40″]
He has figured out the film don't lie. That is one thing he has to focus on to be a complete football player. He has the ability to rush the quarterback, but he has got to learn to play the run. That comes with age, experience, and the first thing you have to realize is your deficiencies to fix them. I think that is something he understands.
[su_spacer size="40″] With day one of fall practice in the books, it will be interesting to watch how the defensive players respond in year two of Coach Pruitt's defense. UGA has more depth going into fall camp this year than they did last year on defense at this time; so, there should be a lot of good, hard fought competition for playing time at each position.
[su_spacer size="40″]
Jeremy Pruitt's media day remarks