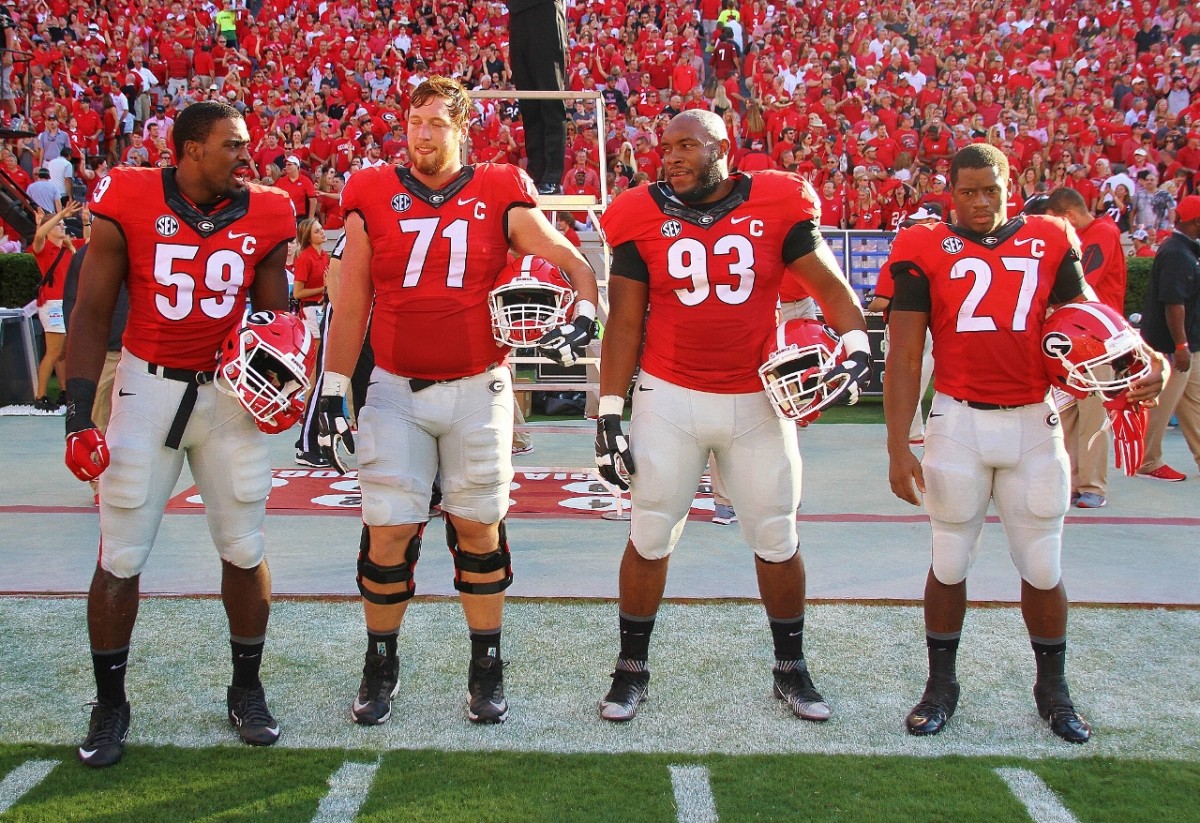 [su_spacer size="20"] As a captain, John Theus had a great day blocking for the Bulldogs and paved the way for running backs like Nick Chubb, Sony Michel, Keith Marshall, Brendan Douglas, and even Quayvon Hicks and he also provided protection for Greyson Lambert as he went on to have a banner day.
[su_spacer size="20"]
John Theus was a stout lineman for the Bulldogs in their huge win over SEC East rival, the South Carolina Gamecocks. However, In his postgame interview he highlighted the great plays other players made rather than himself. When asked about UGA quarterback Greyson Lambert, he had this to say:
[su_spacer size="40"]
He was under a lot of turmoil last week. People talking about him and he was gonna ignore it. I mean I've been in the same position before and he did a great job handling it and he knew what he was capable of and he knew we had faith in him.
[su_spacer size="40"] Theus was also questioned about how the Bulldogs were able to increases their effectiveness from last week and how the Bulldogs offense and Greyson Lambert went from a lackluster performance last week against Vanderbilt to a strong performance against South Carolina and he had this to say:
[su_spacer size="40"]
We all have our up games and our down games… We came out and played tonight and we executed. We knew he had it in him(Greyson Lambert). 
[su_spacer size="40"] When asked about how the play calling changed and how that played a part in the Bulldogs success this week Theus said this:
[su_spacer size="40"]
We have specific game plans going into each game and stuff we think we can do. Last week we thought we could line up with heavy formations and run the ball and this game we thought we could throw a little bit more
[su_spacer size="40"] One of the last questions Theus was asked was if this 52-20 victory was a statement game for the Bulldogs to the rest of the country and Theus made it apparent that he believed it not to be really a statement victory but just a good win that the Bulldogs should try to improve on next week.
[su_spacer size="40"]
I don't know about looking at it like that. I know each week were gonna be ready to play. We gotta bring our best every week, we did it tonight. We take it week by week. We'll see what happens.
[su_spacer size="40"] Theus was also questioned if he believed that this game helped the Bulldogs learn more about themselves and what they are capable of and he had this to say concerning that:
[su_spacer size="40"]
I mean a little bit, but I think we knew what our team is capable of, We know what Greyson is capable of, We know what our running game is capable of and we sure know what our defense is capable of. So we just put a complete game together tonight and it felt good.
[su_spacer size="40"] If Theus and the rest of the Bulldogs' offense continue to play at this level, they will be very dangerous throughout the season and could be one of the best offenses in the country.
[su_spacer size="40"] [su_youtube_advanced url="https://www.youtube.com/watch?v=UuR2BvLdI5Y" autohide="no"] [su_spacer size="80"]