On Saturday, Bulldawg Illustrated caught up with Georgia's junior defensive end Jonathan Ledbetter during one of the Rose Bowl week media periods and had the opportunity to talk with him about his decision to announce that he would be returning to UGA in 2018 to play for the Bulldogs.


The 6 foot 4 and 277 lbs Tucker High School graduate came to UGA as part of Georgia's 2015 recruiting class along with heralded defensive tackle Trenton Thompson, also a fellow Peach State prospect. Earlier this week Thompson announced his decision to return for his senior season in 2018, and on Friday, Ledbetter followed suit, by announcing he would return as well.
"Honestly, I think I want to stay," said Ledbetter.
While the words, "I think I want to stay" certainly are not a definite "yes" or "no" and he could always change his mind, Ledbetter reaffirmed his comments and decision on Saturday morning of Rose Bowl week.
"I was kind of on edge. I was trying to find out what I wanted to do. I just sat down with my family and decided it's for my best interest to finish my degree and just finish up with my team… finish the drill," said Ledbetter. "I wanted to be part of that legacy."
Ledbetter alluded to the fact that several veterans who could have declared for the draft last year decided to come back for their senior season. Linebackers Davin Bellamy and Lorenzo Carter along with running backs Nick Chubb and Sony Michel could have decided to declare for the 2017 NFL Draft after their junior seasons in 2016, but all four decided to return for this year.
"We had a lot of older guys come back last year… this year, really," said Ledbetter. "That could have went to the draft but decided to come back and be a part of the team. So, that's kind of where I want to be with my decision and stay close to the UGA family for another year as long as I can."
When asked if he got any feedback from the NFL, like his draft grade, that helped to influence his decision, Ledbetter said that he hadn't received his potential NFL draft grade yet
"No, I didn't. I actually haven't gotten my (draft) grade back," said Ledbetter. "It wasn't necessarily about status or the money or anything like that. This is a family here and I wanted to stick with the family."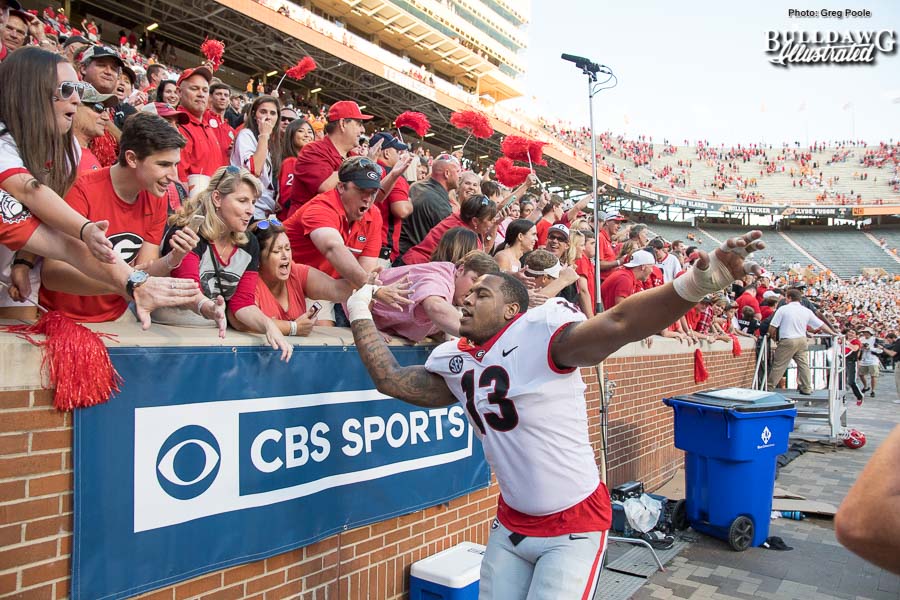 The transition from high school to college hasn't always been a "cakewalk" for Jonathan Ledbetter. Last year, he was suspended for six games for violating UGA's Alcohol and Drug Policy following in second DUI arrest in a four-month span at the age of 18, but Kirby Smart and UGA did the right thing and got Ledbetter into a treatment program. The big man put in the work, turned his life around, and now, one year later, has been a big part of the Bulldogs' success on defense. So, now, he looks to "finish the drill" and finish out his collegiate career at the University of Georgia, but at the beginning of the 2016 college football season, Ledbetter was on the precipice of that not being his reality or future.
"If it wasn't for Kirby (Smart), I honestly can say I was there. I got in trouble too many times," said Ledbetter during Friday's media period. "He kind of sat me down as a father figure and said, 'Look, I don't need you. I want you. You've got to get this right.' That was the first time I really had somebody sit me down and say not just that you're needed, but you're wanted."
Ledbetter, who sports No. 13 for Georgia, will now face another test, but this one of the gridiron variety, as he and his fellow Bulldog defensive teammates look to contain an Oklahoma Sooner offense led by Heisman Trophy Award winner Baker Mayfield in Monday's New Year's Day Rose Bowl College Football Semifinal game.
Here is the audio of Ledbetter's interview from Saturday, Dec. 30, 2017. Click on the "play" button to listen.
---
Recent Articles by Bob Miller


[pt_view id="83405b425p"]