[su_spacer size="20″] The Dawgs may be leading at halftime but don't leave your seats too early. This is a huge honor to tell all of you fans that the Southern University band, "The Human Jukebox," is performing in Sanford Stadium at halftime. I have heard that the Redcoats have given up their time on the field so that The Human Jukebox can have the entire halftime show.
[su_spacer size="20″]
Let me start this battle of the bands article with a little background about the Redcoats. We may not be the showstopper at this game but our program has some pretty significant history.
[su_spacer size="40″] The band was started in 1905 as a cadet band. It only consisted of twenty members, but now it has almost 800 students throughout the three athletic bands and five concert bands. The Redcoats play at all the home football games and some away games including the "World's Greatest Cocktail Party" in Jacksonville.
[su_spacer size="40″] In 1935, the Dawgs started realizing they needed a larger more well known band. That particular season we played LSU. Let's just say our band was a little puny compared to the "Golden Band from Tigerland." The Dawgs took this into consideration and look where the Redcoats are now.
[su_spacer size="40″] There have been some pretty cool events that have happened at Sanford during the halftime show. These performances included the "Six Flags" show. In this particular show, the Redcoats rode bicycles, dressed up as clowns, and balloons were everywhere. Another great one is the "Halloween Show." In these twenty minutes of the halftime show, the Redcoats dressed up in Halloween costumes. They performed the entire show in elaborate costumes. I can't imagine how hot it was. Another famous performance was when a couple had a three-minute wedding ceremony. This ceremony occurred at the Georgia-Vanderbilt game in 1978. It was a surprise and probably considered the most "famous" halftime show.
[su_spacer size="40″] I think the half time show that I would have loved the most is when James Brown played. James Brown put out his new beat, Dooley's Junkyard Dawgs, three days before homecoming in either 1975. The Dawgs begged him to come and perform it at the halftime show for homecoming. Next thing you know on November 1, James Brown was right here in Athens. I thought it would be cool to hear from a couple of folks who actually there, so I asked my dear friend and diehard Dawg fan Terry Wingfield, known to me as "Wingy". I asked Wingy how was it sitting in the stands and watching the great James Brown? He said, "I loved hearing his voice. He sang all the great hits, like
Dooley's Junkyard Dawgs
and
Georgia On My Mind
. He also has some pretty good moves."
[su_spacer size="40″] Vickie Farmer, probably the biggest female Dawg I have ever met, agreed saying, "I was at the game in 1975. James Brown wore a red jumpsuit and was just great. He performed
Dooley's Junkyard Dog
s surrounded by the Redcoats. It was the first time I remember hearing that song! James Brown's show was so much more fun than when Prince Charles visited and went on the field at halftime."
[su_spacer size="40″] Wow, that was news to me! Another famous sitting during UGA's halftime show.
[su_spacer size="40″] This is my opinion, of course, but I mean what's better than going to a Georgia football game in Sanford stadium? The football atmosphere can't be beat, and the band, even while sitting in their seats, is almost always playing and keeping the crowd pumped up. I think I've said enough about the Redcoats, but spelling G-E-O-R-G-I-A with the Redcoat Band is something you should have on your bucket list.
[su_spacer size="40″] Now let's discuss the Southern University band that has been getting some chatter from the bulldog fans around town. If you mention Southern University, their fan's attention will draw straight to the band. All these fans want for Christmas is to see this electrifying band take the field and perform any song you can think of. I'm going to tell y'all some history about them, but just because I said history don't stop reading, it is not too boring. T. Leroy Davis is responsible for this well-known band and he was the director from 1947-1964. This most famous band originated because of his powerhouse of a concert band. In his last year as band director he got permission for the concert band to play at the halftime show for the Southern University game. This is when the band really became noticed and Davis started to form a great history of music in the roots of Southern University.
[su_spacer size="40″] After his retirement, a newcomer came along by the name of Ludwig Freeman. During his reign as band director, which was from 1965-1969 they were truly the best band in the world of marching bands. Because they are so notorious, this band has some pretty competitive tryouts for some spots of the band. There were just five new girls that were crowned the spot of being the talented Dancing Dolls of Southern's 2015-2016 band.
[su_spacer size="40″] And guess what? We will be lucky enough to see them this weekend right here in Athens, GA. While performing their stellar music, they will juggle and perform other really cool circus acts. Some people say that if there were a competitive sport of juggling they would kill it and take the trophy home.
[su_spacer size="40″] There will definitely be some spectacular things going on at this football game. For instance, Chubb might run for 200 yards or heaven forbid, Southern might upset the Dawgs like Jacksonville State almost did to Auburn. But for crying out loud, one thing I know, there will be a fabulous halftime show at this game and we might see some fireworks folks! I, for one, can't wait for this show so please keep your seats…THE HUMAN JUKEBOX IS COMING!
[su_spacer size="40″] About the author:
[su_spacer size="40″]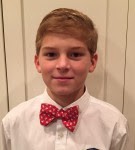 [su_spacer size="40″]
Hamilton Culpepper is an 8th grader at Prince Avenue. He is a diehard Georgia fan and an aspiring sports announcer/writer.
[su_spacer size="80″]