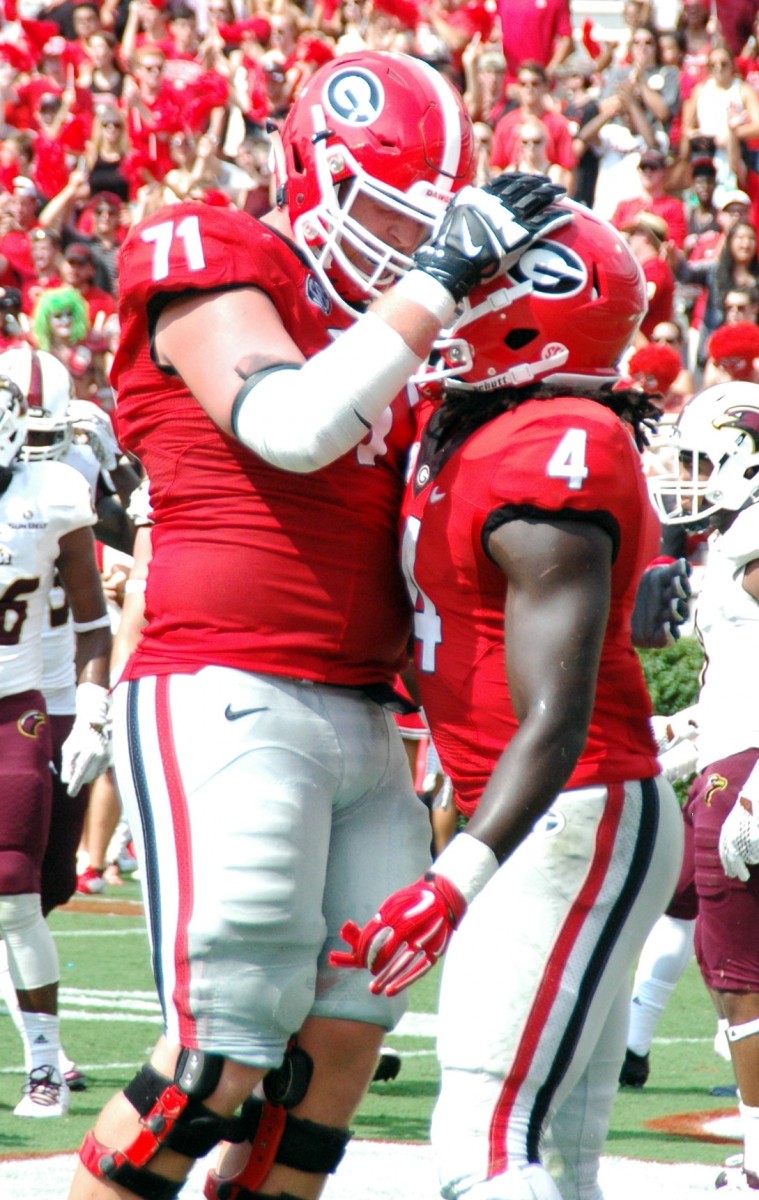 [su_spacer size="20″] A player that relate to Georgia wide receiver Malcolm Mitchell's journey from injury to getting back on the field and performing like he wants to is Mitchell's teammate, senior running back Keith Marshall. Like Mitchell, he suffered a season ending injury, also tearing his ACL in his knee, and also like Mitchell, it has been a long road for Keith Marshall in working his way back onto the field from that injury.
[su_spacer size="20″]
Back in 2013, just 5 weeks after Malcolm Mitchell went down for the season with a torn ACL in his knee that he suffered in the first game of the season, Keith Marshall found himself in the same boat after he suffered a devastating knee injury in Georgia's game versus Tennessee which also saw them lose receiver Justin Scott-Wesley for the season.
[su_spacer size="40″] After fighting and working hard to come back from the injury, Marshall returned in less than a year from his torn ACL, but he would again be forced out for the season due to injury after having to be carried off the field by two trainers during Georgia's game versus Troy.
[su_spacer size="40″] Now, nearly 2 years of hard work and overcoming setbacks, Marshall is back and part of a heralded Georgia running back corps that include sophomore backs Nick Chubb and Sony Michel as well as junior Brendan Douglas. Although, number 4 hasn't had any 100 yard games or huge 50 yard plays like he did as a freshman, for fans to see KM carry the rock once again, every carry is a big play.
[su_spacer size="40″] So, how does Keith Marshall feel to be back out on the field?
[su_spacer size="40″]
I feel pretty good. I feel as good as I have since everything happened.
[su_spacer size="40″] I have been exceedingly proud of the Georgia fan base and how they have supported Keith Marshall. It has especially evident this season with the standing ovations he has received when he has come into the game and gotten to carry the ball. I have to say, that this Bulldawg fan's eyes got a little watery and glossy seeing number 4 with the ball in his hands. It was especially moving to see him have the opportunity to score a touchdown versus South Carolina.
[su_spacer size="40″] Has Marshall felt that support and love from the fans?
[su_spacer size="40″]
That felt great. Just to get back out there and have all the fans support me, it felt great.
No one would blame Marshall if he had wanted to give in and hang up his cleats. He wouldn't be the first football player to so because of injuries. However, that is just not KM's style. That is not the man he is.
[su_spacer size="40″]
Nah. I am not at that point. I still feel I have years to play. I'm trying to just work as hard as possible to get back out there.
[su_spacer size="40″] Here is the full interview of Keith Marshall from Tuesday's presser:
[su_spacer size="40″]
Keith Marshall interview: Southern U Week
[su_spacer size="80″]