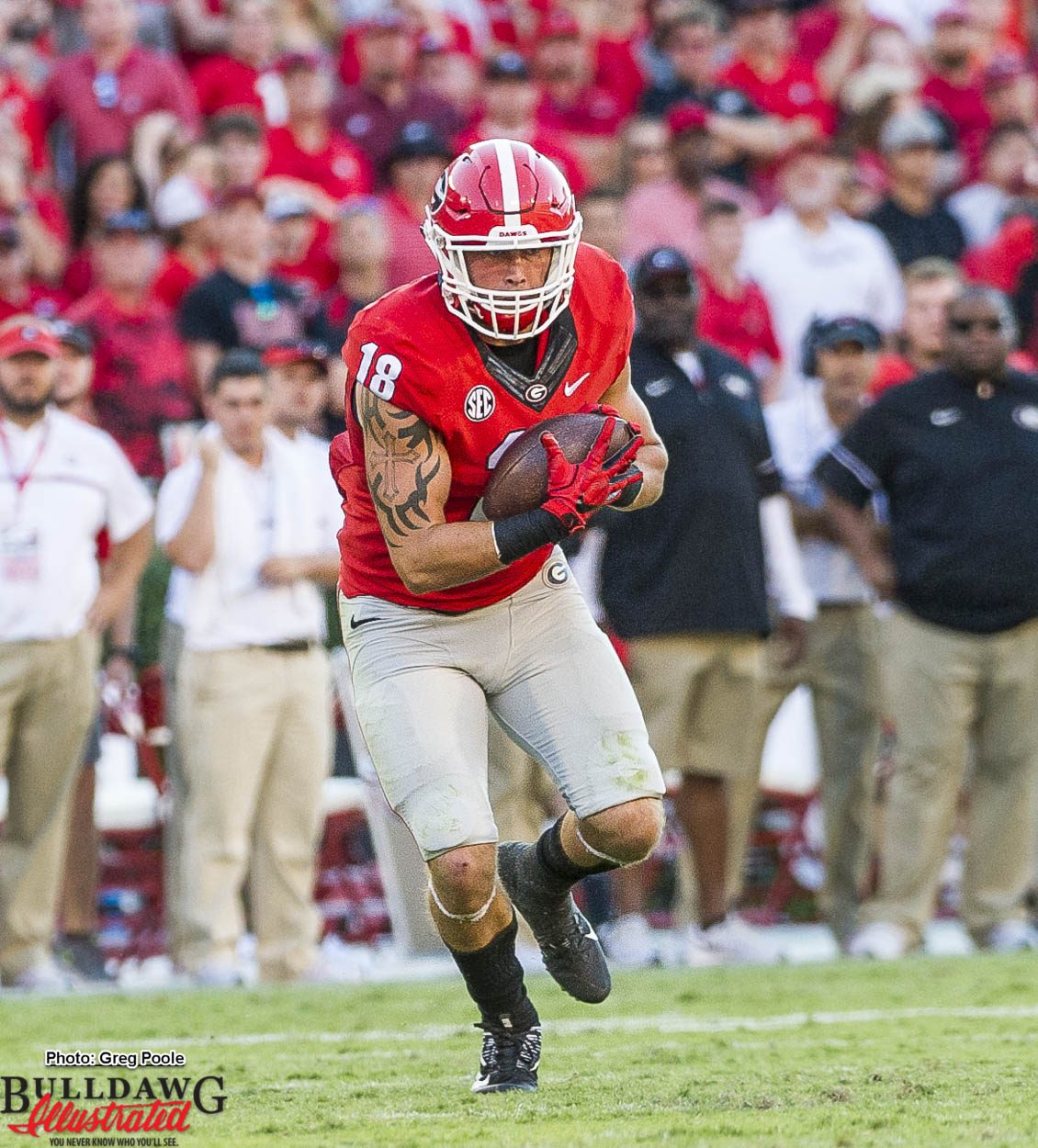 Kevin Butler, former University of Georgia legendary kicker and a member of the Georgia radio broadcast team, will each week during the 2016 football season select his offensive, defensive and special teams players of the week for Bulldawg Illustrated. Here are Butler's selections and reasons why for the Bulldogs' 34-31 heartbreaking loss to Tennessee.
OFFENSE
Freshman tight end Isaac Nauta, who led the Bulldog receivers with five catches for 83 yards including a 50-yard touchdown reception from freshman quarterback Jacob Eason.
"We have all wanted to see the tight end more involved in the offensive attack and Isaac certainly had a great performance against the Volunteers," said Butler. "The highly recruited tight end showed his talent and timing with five key receptions. I say timing because Nauta's receptions all came at the right time in the game. Five catches for 83 yards including a 50-yard sprint for a TD; NAUTA is NICE!! Two other key receptions for first downs kept Isaac involved in a successful offensive attack. As the freshman keeps playing, expect great things to come."
DEFENSE
Sophomore linebacker Natrez Patrick, who stepped up against a potent Tennessee offense and led the Georgia defense with 10 total tackles.
"Coming off the poorest defensive performance in Mississippi, the defense needed to reestablish itself and that happened for 59 minutes and 56 seconds versus Tennessee Saturday," said Butler. "Natrez Patrick led a stingy UGA defense with 10 tackles, which included 5 solos and 5 assists with 1 sack and 2.5 tackles for minus-12 yards. UGA played a tough defensive game, controlling the Tennessee run attack that was highly touted coming in. Natrez's leadership is one of the most important factors to the success of this young Georgia defense."
SPECIAL TEAMS
Senior wide receiver and kick returner Reggie Davis, who had a 46-yard kickoff return in the game's final three minutes after the Volunteers had taken a 28-24 lead.
"The senior return specialist came through Saturday with a huge return of a kickoff in the 4th quarter to set up the winning, or not winning, TD," said Butler. "His 46-yard return was key to lifting a UGA team that was on a roller coaster ride for much of the game. He was the bright spot on special teams. Any positives we can get from ST play right now is a huge help. He almost broke the fourth quarter return for a TD and he is turning into a nice weapon for UGA on kickoff returns."