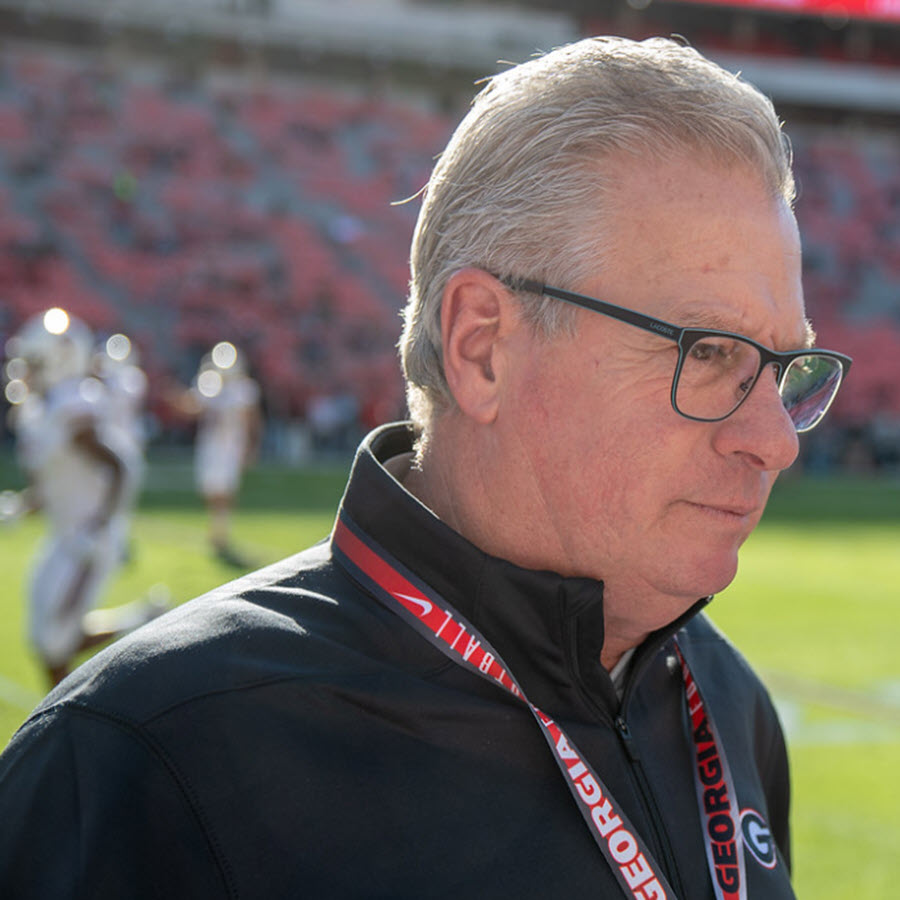 Kevin Butler, former Georgia legendary kicker and a member of the Georgia radio broadcast team, will each week during the 2019 football season select his offensive, defensive and special teams players of the week for Bulldawg Illustrated as well as the Bulldogs' Unsung Contributor to the Game, The Kicker. Here are Butler's selections and reasons why for the Bulldogs' 21-14 win over Auburn Saturday.
Compiled by Murray Poole
OFFENSE
Junior tailback D'Andre Swift, who ran for 106 yards on 17 carries, averaging 6.2 yards per carry, against an Auburn defense reputed to be one of the best in the nation.
"It never gets old saying D'Andre Swift," said Butler. "It might break my heart when I don't get to pick him as my offensive player of the week when he moves to the next level. Once again D'Andre slashed the Auburn Tigers for 106 yards on 17 carries, averaging 6.2 yards per carry. Against a defensive line that many think is the best in the nation, D'Andre continues to dominate the Auburn program with his powerful running and his ability to never quit. Three consecutive SEC East titles have come from a Georgia offense that runs the ball as good as anybody in the nation. We have a very special player in Swift as Georgia has become the new home for our Philadelphia star. D'Andre chose Georgia because he wanted to play big-time college football and we saw that at Auburn this past weekend, led by Coach Malzahn, pushing their production out at the high school level. If you want to be a star running back like D'Andre, make sure you go to a professional program like Georgia, not Auburn!"
DEFENSE
Sophomore cornerback Eric Stokes, who had seven tackles against the fast-paced Auburn offensive attack and also prevented Tiger quarterback Bo Nix from hitting on the deep passes.

"The redshirt sophomore from Covington, Georgia. and Eastside High School had one of his best games as a Bulldog," said Butler. "Facing an Auburn team that has been inconsistent at best, Eric and the Georgia defense had to be ready for Auburn's best punch. The best way to be ready for a punch is to punch yourself and Eric did just that. Seven tackles with six solos proved that not only is Eric a great coverage defensive back but he is certainly physical enough to make sure tackles and limit the production of Auburn's offense. Georgia's rush defense is one of the best in the nation and with that our defensive backs will be challenged each week as we march towards the playoffs. Eric's play was key for the Auburn win and will certainly be key to Georgia reaching the SEC championship and moving on to the college playoffs. We are very lucky to have Eric and he is playing some of his best ball at the right time. Go Dogs!"

SPECIAL TEAMS
Sophomore punter Jake Camarda, who kept the Tiger offense backed up most of the game by averaging 50.7 yards on 11 punts, including a 67-yard boomer that died at the Tigers' 2-yard line and four kicks that made Auburn start from inside its own 20-yard line.
"The sophomore punter from Norcross High School showed why he was ranked one of the top punters coming out of high school two years ago," said Butler. "In a classic SEC defensive game, Jake played as big a role as any football player on the field, dominating the field position struggle that each team experienced. Having to punt the ball 11 times is an offensive coordinator's nightmare but if it has to be done Jake gave a textbook example of how those 11 punts should go. Consistently flipping the field on the Auburn Tigers was Jake's go-to punt Saturday. Eleven punts for 558 yards enabled Georgia to net 46 yards per pint. Not only did Jake net 46 but he pinned the Tigers inside their 20 four times and one time inside the five. With Georgia's defense playing at a very high level, Jake will be very valuable down the stretch, enabling our defense to start from a point of strength when we are concerned about field position. The kicking game is a strong point for Georgia and Jake just made it stronger."

THE KICKER
The Bulldogs rising to the challenge after a week when they heard a lot of propaganda coming out of Auburn about what the Tigers were going to do to Georgia Saturday night at Jordan-Hare Stadium.

"Good old-fashioned hate," said Butler. "Some things can be described in one word and some things need a novel. The Georgia-Auburn game can be described in three words … old-fashioned hate. All week long the team heard about how Auburn was going to bury the Bulldogs. Our fans lawyerly got dressed, got in their cars and drove to the loneliest little town on the Plains to support their Bulldogs who they believe in. With Georgia staring at a third consecutive SEC East title the heat was just bubbling over. From Auburn's classless video of Kirby getting run over in his playing days to their crybaby coach whining about a reversal, Georgia kept true to its hate and pounded the lowly Tigers into submission. Kirby getting his first win as head coach in an SEC West opponent's stadium could not have been sweeter. Kirby has dominated Gus over the years and one more domination this past Saturday might be the last time we see the Gus Bus in Auburn again. The Dogs dominated another SEC opponent on their way to yet another championship."