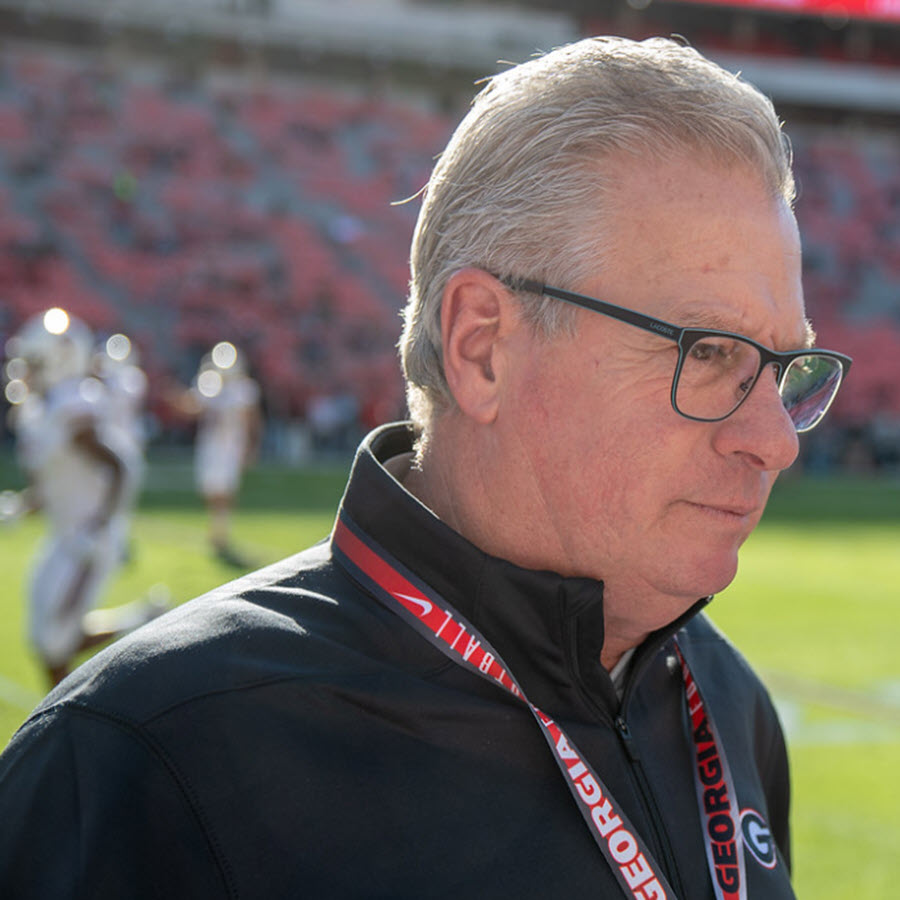 Kevin Butler, former Georgia legendary kicker and a member of the Georgia radio broadcast team, will each week during the 2019 football season select his offensive, defensive and special teams players of the week for Bulldawg Illustrated. And this season Butler has added a new category to his superlative awards, "The Kicker" (Unsung Contributor to the Game). Here are Butler's selections and reasons why for the Bulldogs' 27-0 win over Missouri Saturday.
Compiled by Murray Poole
OFFENSE
Sophomore guard Cade Mays, who stepped up at center for the Bulldogs after starter Trey Hill had to leave the game due to injury. Playing well for Georgia's offensive front, Mays himself later had to exit the contest with Jamaree Salyer taking over at the center spot.
"The sophomore offensive lineman showed his versatility in crunch time during the Missouri game," said Butler. "After Trey Hill suffered an injury at center, Mays stepped in and did an excellent job filling in for a fellow offensive lineman. When Cade chose Georgia over Tennessee, Dawg Nation knew we had somebody special. Not only did Cade fill in at an unfamiliar position but he also popped out of the injury tent ready to jump back in the game after taking a good shot from a very tough Missouri defense. As Georgia pursues another SEC East championship, the ability of Georgia's offensive line to play different positions makes the Bulldogs a much tougher opponent going down the stretch. Mays showed that ability Saturday and for his dedication to being the best he can be at whatever position, Cade is my offensive player of the week."
DEFENSE
Senior linebacker Tae Crowder who recorded a team-high seven tackles for a Bulldog defensive unit that notched its third shutout of the season … making a tremendous goal-line stand late in the final quarter after the Tigers had reached the Georgia 1-yard line.
"The senior linebacker from Pine Mountain, Georgia continues to prove to the Dawg Nation and beyond why he was chosen as a Butkus semi-finalist for the nation's best linebacker," said Butler. "Another stellar performance by Tae, which included seven tackles with two solos, provided another great effort by the 6-3, 235-pound senior. In the final stretch of the season, Tae will lead a record-setting Georgia defense towards another championship. This defense that has not allowed a single rushing touchdown in 2019 will face the ultimate test this week against Auburn. Tae will need to lead this defense to a spectacular performance, not only to keep their streak of no rushing touchdowns active but, more importantly, to keep the SEC East title hopes alive. Tae is a damn good dog and another great linebacker that gives it his all for the University of Georgia."
SPECIAL TEAMS
Freshman punt returner/receiver Dominick Blaylock, who returned four punts Saturday night for 34 yards, to help the Georgia offense begin drives in good field position.
"In a phase of the game where you can easily pick the place-kicker or punter this week, I am going with Dominick Blalock because he is bringing a new advantage to the Georgia special teams," said Butler. "For too long Georgia has settled for a fair catch in punts. Dominick has finally brought a little flashback to Georgia's punt return game. The freshman from Marietta was highly recruited out of high school and when Georgia landed Dominick we knew we had a special player. Saturday he had three punt returns for 34 yards with a long of 18 yards. To be able to provide three first downs returning punts is a boost to our offense. Blaylock's ability to catch the ball and make the first defender miss is a talent that should not be taken lightly. Each game Dominick creates the opportunity for a big play on a punt return. It's never too late to be a star and Dominick is getting brighter and brighter as each game goes by. Let's see him shine against Auburn Saturday!"
THE KICKER
Freshman receiver George Pickens, who had a real coming-out party against the Tiger secondary by scoring both Georgia touchdowns on passes of 25 and 18 yards from Jake Fromm and had an explosive 68-yard touchdown catch in the fourth quarter nullified due to a Bulldog penalty.
"When things go bad you need a kicker to pick you up," said Butler. "My kicker this week is George Pickens. The freshman receiver from Hoover, Alabama had a coming-out party Saturday against Missouri. And his first game with multiple touchdowns, George even had one called back. On the day Pickens had five catches for 67 yards and two touchdowns. The first touchdown showed the strength the 6-foot-3, 190- pound receiver with a great catch over the middle and then a fierce move to split two defenders to reach paydirt. On his second touchdown, all of his talents came to the forefront. Jake's pass was perfect for George to go up and make a spectacular grab and then use his athletic ability to get one foot down in the end zone for a touchdown against a tough Missouri defense. The most important aspect of George's performance Saturday was he stepped up when Lawrence Cager went out with an injury. As a freshman, there seems to be a great future for George Pickens moving forward with his Bulldog career."