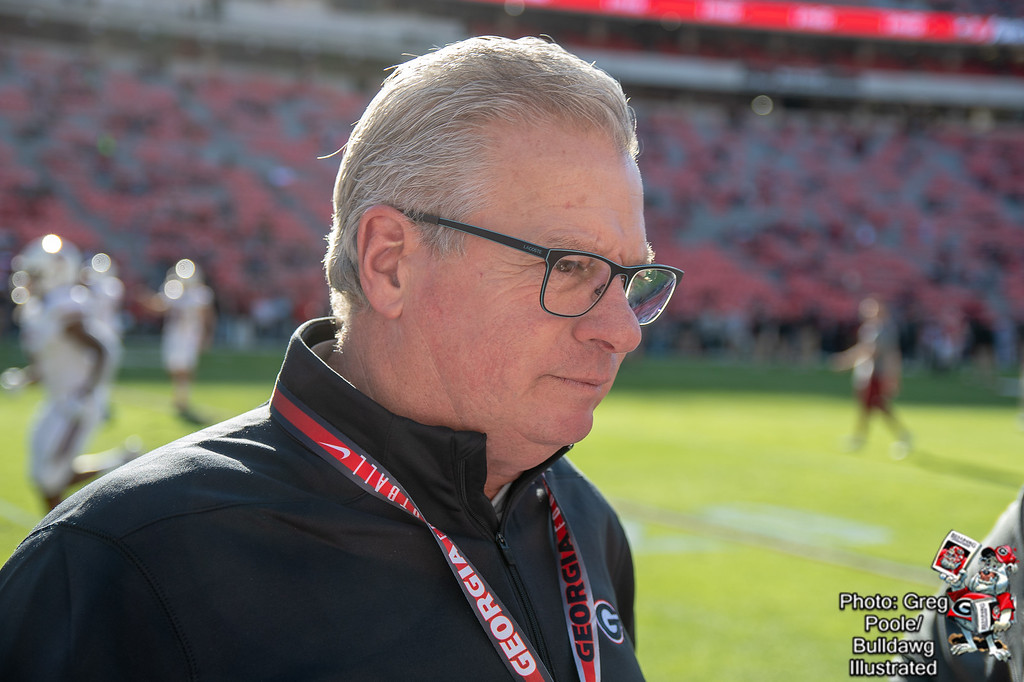 Each week, Georgia and Chicago Bears Hall of Fame legend Kevin Butler picks his Players of the Game. A member of numerous Halls of Fame and holder of a slew of records, Butler co-hosts DawgTalk on Georgia Football Saturdays and the famous Bulldog Brunch from the Hilltop Grille on Sundays. In this issue, KB does something he has never done before by naming all freshmen. — Compiled by Jeff Dantzler
Offensive Player
Brock Bowers – As we venture back into Napa Valley, California, we know the aging process sometimes can take years to develop a finished product. Brock Bowers is certainly the exception to a fine product aging quickly. In his sophomore year, Bowers has not only taken the Dawg Nation to a new level of enthusiasm but has brought a national focus to the Georgia tight end position. Against Florida, Brock was Brock. An acrobatic catch for a 75 yard touchdown was just the start of a truly great performance and a big-time game. Five receptions for 156 yards and a touchdown proves that Brock and the tight end position will play a key role in Saturday's super mega SEC East clash with the Tennessee Volunteers. If Georgia expects to win you gotta put Brock in – the endzone
Defensive Player
Javon Bullard – The sophomore from Milledgeville, Georgia stands 5-11, 180-pound and can bring the hammer from the corner on every play. Javon has dealt with adversity this year and has a renewed focus and it showed against the Gators. Eight tackles and five solos along with one tackle and a half for a loss capped off a tremendous physical performance from Javon. His sure-handed tackling and speed allow him to bring support from the corner on the run game as well as being a top-notch defender of the pass. Against the Volunteers, his speed and physicality will play a key role against an elite receiving core that loves to go vertical and loves to go big. Javon is a hidden gem in a big name secondary with his name moving up each week.
Special Team Player
NOT SO SPECIAL  – As Georgia prepares for their biggest game of the year it is time for a snobby ex kicker to talk about the "not so special special teams." In order for Georgia to make this tremendous run, the special teams are going to have to perform at a level that they have not reached yet. Here are three areas I believe improvement is needed this week – in an urgent manner.
1. We must cover better and pursue the returner on KICKOFF COVERAGE or else we will get hurt. Florida had 48 yards and returns on Georgia which gives them a definite advantage for a very aggressive starting point. We must break down and tackle better.
2. KICKOFF RETURN – It was a disaster against Florida. It is OK to take advantage of a fair catch and start at the 25 yard line. Starting inside your 15 sometimes is almost as good as a turnover. Fix it.
3.We need Payne Walker to get more consistent on his FIELD GOAL SNAPS and extra point snaps. We need to understand that the holder can crowd the spot and cause a slower process which will result in a missed field goal or extra point. More practice is needed by the holder and snapper. We will need lots of points … always need points.