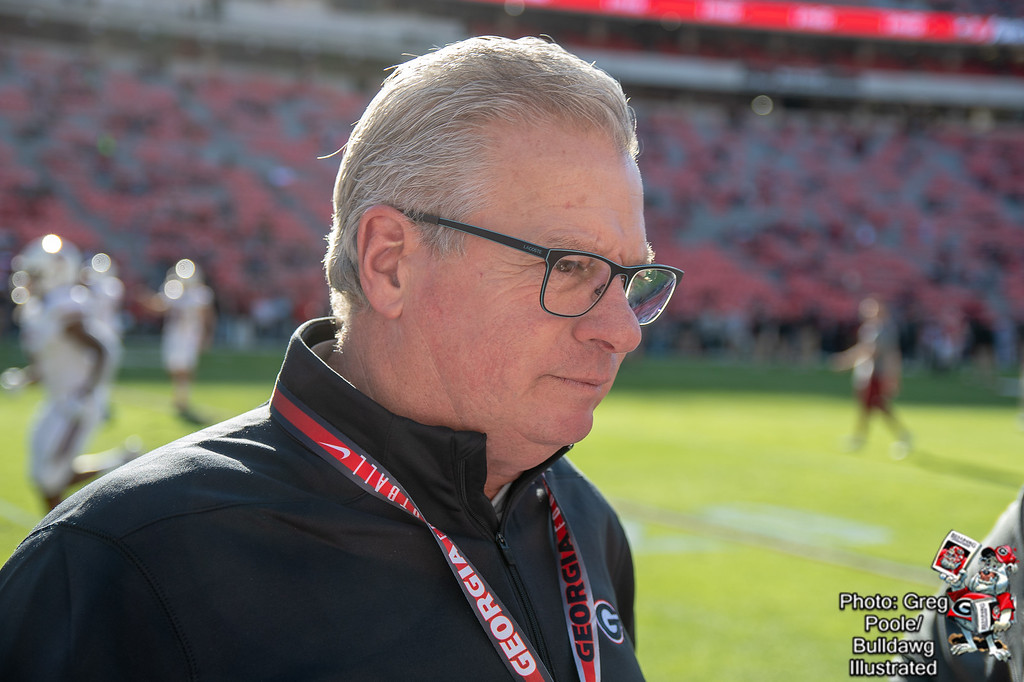 In a year when the motto is much like it was in 1980 "BIG TEAM/ Little Me". The last week of the season brought us a victory over our hated rival Georgia Tech and the reality that there is no one special player to focus on yet a tremendous offense, defense and special team playing every week for the Bulldog Nation.
Offensive Player
The Georgia Bulldogs offense has performed consistently all year long. A lot of new faces have played due to injuries and competition. Stetson Bennett, Zamir White, James Cook, Daijun Edwards and a slew of athletes have produced big numbers over the past 12 games. Our Dawgs do not care who gets the yards they just know it has to be done. The quarterback competition has been at the top of the list each week and Stetson Bennett has performed like a true leader for his team. The offensive line is led by Jamaree Salyer and a slew of new faces such as Van Prann, Shaffer, Jones, Ericson and McClendon have gotten better each week establishing a ground game and providing great protection for our quarterbacks. Our receiving corps has had the biggest challenge this year through injury and AD Mitchell, Burton, Blaylock, K Jackson, Johnson and Ladd McCokey… And let's not forget our tight ends which are the best in the nation. Brock Bowers has been overlooked as the best tight end in all of America, but he does not care because he, Darnell Washington and John Fitzpatrick will do whatever it takes for the team to win a national championship. Our offense has truly been the player of the week for the last 12 weeks… and beyond.
Defensive Player
The "1980 Junkyard Dogs" were known throughout America but I'm quite sure that the 2021 Georgia bulldogs defense is known well beyond America and could go down (after a national championship title) as one of the best defenses ever in college football. Led by Jordan Davis and Nakobe Dean and Lewis Cine, this Bulldog defense doesn't care who gets the glory as long as the bell rings on Saturday night in Athens. Through their recruiting, Kirby and his staff have built a deep, physical, fast defense with everyone contributing. Giving up just 6.9 points per game, limiting rushing yards to 79 ypg and allowing 151 ppg passing yards have limited any offensive production against the Bulldogs and their pride goes beyond one individual. This defense has a tremendous coaching staff to back them and their desire to be the best is unmatched in college football in 2021. Their goal is to hurt, beat down, demoralize and most of all defeat their opponent.
Special Team Player
Special teams are often limited to the kicker and the punter but this Georgia football team goes much deeper in what they can do with special teams. Our senior, Jake Camarda is unmatched in college football with his hang time and distance to help establish one of the top net punting averages in college football. We have so many starters on our special teams I would need another page to list them all. From punt blocks and Zamir White scoring a touchdown, to blocked field goals by our defensive line, to consistently creating more good scoring opportunities from Jack Podlesny, this Georgia team does not give their opponents a break when the special teams are on the field. Will Muschamp stepped in earlier in the year and assumed the special teams coach role and has been stellar motivating the players and convincing them that each special team play can change a game. This Georgia special team exemplifies what the Georgia team is about in 2021. A national championship – nothing less will be acceptable.