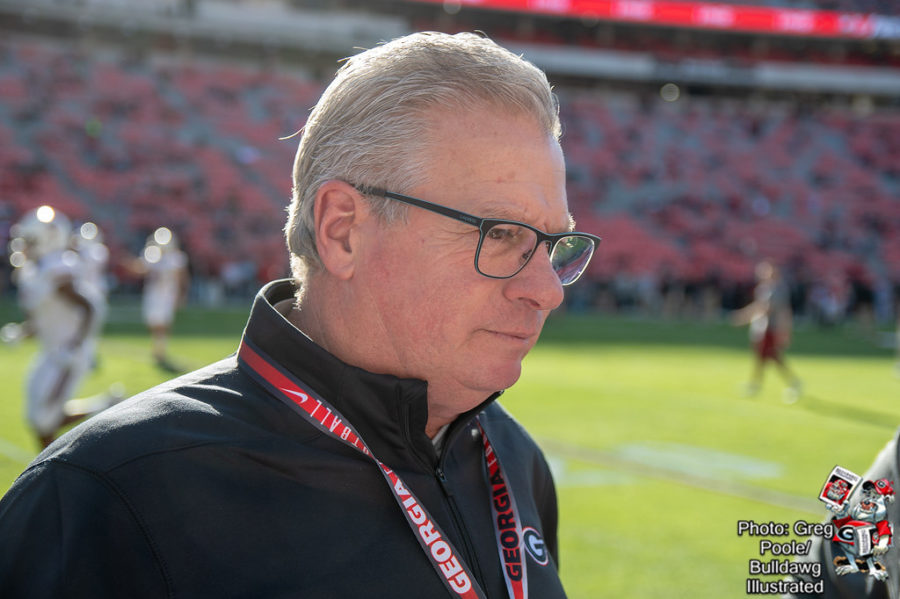 Each week, Georgia and Chicago Bears Hall of Fame legend Kevin Butler picks his Players of the Game. A member of numerous Halls of Fame and holder of a slew of records, Butler co-hosts DawgTalk on Georgia Football Saturdays and the famous Bulldog Brunch from the Hilltop Grille on Sundays. — Compiled by Jeff Dantzler
Offensive Player
As the Bulldogs go to 9-0 with a convincing victory over the Mizzou Tigers, the leader of the offense is the leader of the entire team – Stetson Bennett is that guy!. After becoming the starter due to an injury to JT Daniels,"The Mailman" has been the guiding light for the Bulldogs on the march to a Natty. I really believe that the additional year Stetson has been with Coach Monken, they understand what each can do when working with the other. Bennett's feet are definitely the biggest advantage Stetson brings as a starter and the team believes in him after five straight starts for the Bulldogs. Saturday was no different for Stetson, propelling the offense to 43 points, completing 13 of 19 for 255 yards and two TDs. The difference maker also had 10 yards on the ground, just to keep the D honest! Stetson is our Man, our Leader and the MAILMAN!
Defensive Player
Dan Jackson had the game of his life against Mizzou. The redshirt sophomore from Gainesville, Georgia is making a case for playing a lot more in every game on this run to a championship. Facing Mizzou means they are going to throw the ball more than they run the ball and Dan was up for that challenge. Recording six solo tackles against the Tigers, Jackson keeps impressing the coaches and the fan base with his "Junkyard Dawg" style of play. He was a walk-on and caught the eye of Coach Smart and has gotten better with every play in practice since. To win a job on this defense, you better bring it in practice and then when you get in the game you have to make plays and Dan is a playmaker. Keep making plays DJ and we will win the championship.
Special team Player
Nolan Smith, the junior linebacker from Savannah, continues to be a total contributor for all phases of the game. His special teams play extends almost to every special teams situation Georgia faces. His athletic ability and speed enabled him to get to the football before the football got off the punter's foot Saturday against Missouri. His heads up play provided a game-changing punt block that resulted in a safety for Georgia. After that safety, the offense immediately got the ball and converted for more points. Nolan's commitment to special teams helps Georgia become a more complete team with consistent play in all three phases. Nolan will continue to dominate on defense and he will always contribute on all special teams plays. He is a great player and special Dawg.