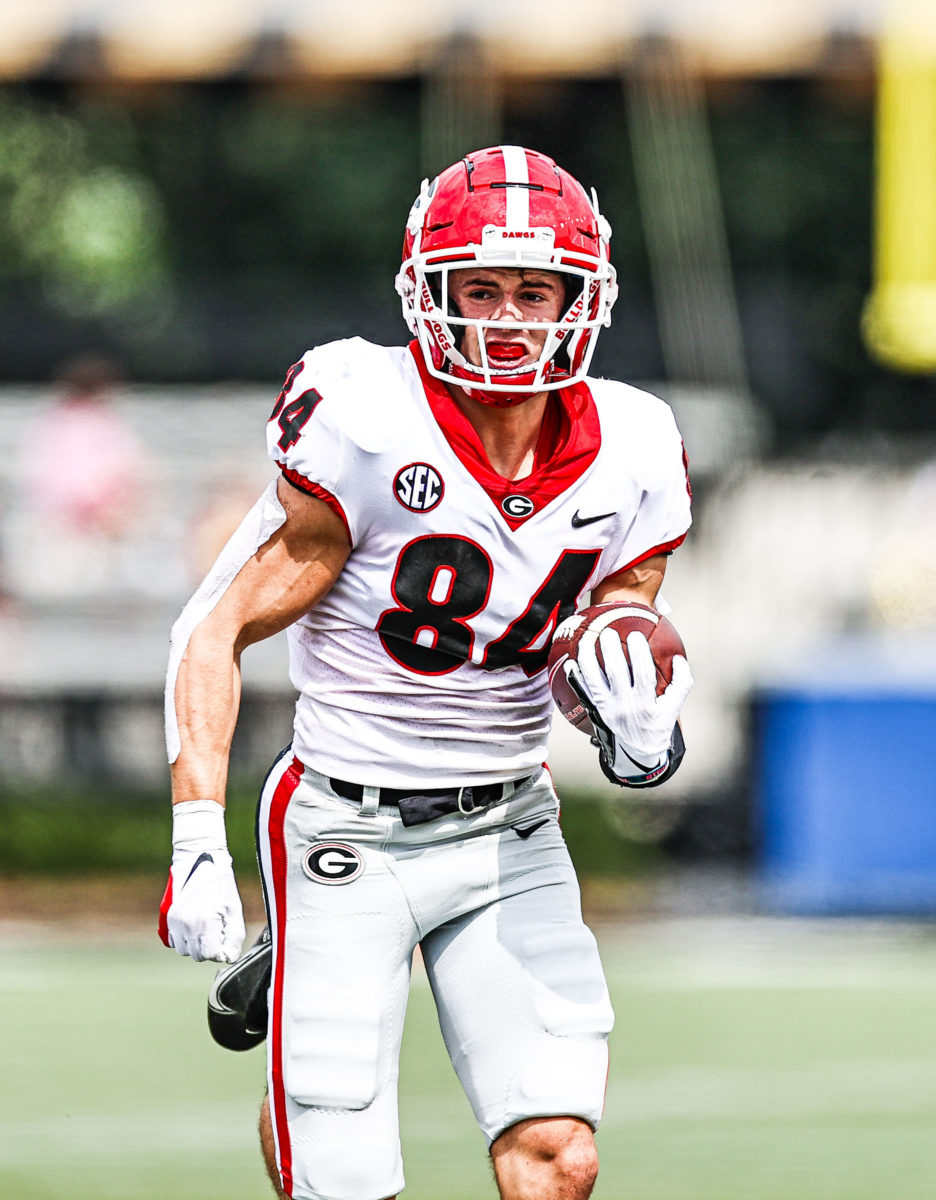 Each week, Georgia and Chicago Bears Hall of Fame legend Kevin Butler picks his Players of the Game. A member of numerous Halls of Fame and holder of a slew of records, Butler co-hosts DawgTalk on Georgia Football Saturdays and the famous Bulldog Brunch from the Hilltop Grille on Sundays. — Compiled by Jeff Dantzler
Offensive Player
Ladd McConkey – The redshirt freshman from Chatsworth, Georgia continues to shine for the Bulldogs. At a mere 6-foot, 185-pound, Ladd plays at a much bigger size than in the program. While UGA fans worry about the slim depth the Dawgs have at receiver, McConkey sees that issue as nothing more than a "field of opportunity". That opportunity for Ladd McConkey produced 4 receptions for 62 yds & one TD, along with two punt returns for 19 yards and one carry for a 24 yard TD. That's a total of 105 yards for the Bulldogs and FOLKS that was more than the entire Vandy team by 28 yards. Vandy's AD will probably try and get him to transfer to a much smaller non competitive school like Vandy. The Dawg Nation loves them some McConkey!!!
Defensive Player
Robert Beal Jr. – There really is nothing better than honoring a senior for his great play in a game because you know in your heart he has paid the price to be in the position. Making plays at this level separates the men from the kids on the football field. Beal made plays every time they snapped the ball. In a game where a lot of players got time, Robert Beal Jr. dominated at OLB, providing three solos and the only sack of the day and his second career sack. Confidence and persistence has paid off for Robert and now it is his time to contribute to a championship run. Recreate the Junkyard Dawgs days for Georgia.
Special team Player
The Kickoff Coverage Team – I called it and It happened. UGA tested themselves Saturday against Vandy when Kicking off 11 times. The Dawgs have the ability to execute the "RETURNLESS KICKOFF" with Jake's incredible leg strength every time but as the season gets longer the weather might dilute the length of kickoffs ….So Let's Practice! All of our guys on the coverage team responded positively by containing Vandy's return game kicking off 11 times and having five returned for 62 yards. Thats an average of 12.4 pre return, which is AWESOME. The great coverage resulted in a fumble caused by Jaylen Johnson and recovered by Daijun Edwards. Making sure the players are always attacking is a smart move from the SMART coach. Hats off to the KO coverage team.