[su_spacer size="20″]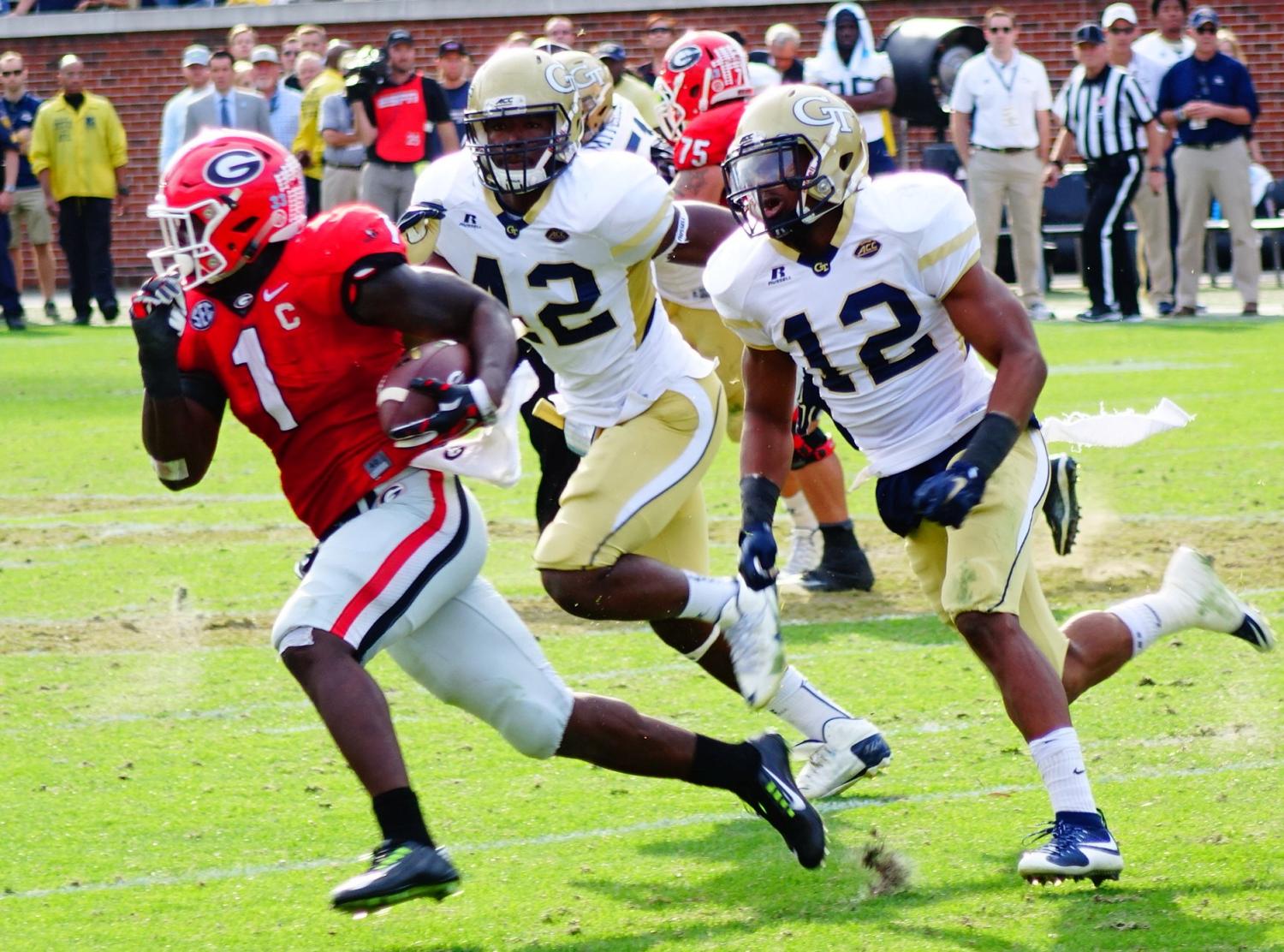 [su_spacer size="40″] Kevin Butler, former University of Georgia legendary kicker and a member of the Georgia radio broadcast team, will each week during the 2015 football season select his offensive, defensive and special teams players of the week for Bulldawg Illustrated. Here are Butler's selections and reasons why for the Bulldogs' 13-7 win over Georgia Tech on Nov. 28.
[su_spacer size="20″]
OFFENSE
[su_spacer size="40″] Sophomore tailback Sony Michel and sophomore fullback Christian Payne shared the offensive award against Tech, with Michel running for 149 yards on 24 carries including the Bulldogs' only touchdown on a 34-yard run and Payne opening the way with his outstanding blocking while also catching two passes for 35 yards.
[su_spacer size="40″] "In the last and most important game of the year against Tech, the combination of Sony Michel and Christian Payne was just about enough to win the game with an incredible block and 34-yard sprint to the end zone, respectively," said Butler. "They both are my offensive MVPs. Christian played an important role throughout the game with great blocking and two receptions for 35 yards that was needed to secure victory. Sony's strength the last four games has only gotten stronger. With the need for a workhorse at running back, Sony has accepted that role like a thoroughbred, rushing for 149 yards on 24 carries. Hate to talk about next year but Sony and Nick will be fun to watch."
[su_spacer size="40″] D
EFENSE
[su_spacer size="40″] True freshman linebacker Natrez Patrick, who sparkled in his first start for Georgia by recording four tackles, including two tackles-for-loss.
[su_spacer size="40″] "In his first start for the Bulldogs, Natrez Patrick gave the Bulldog nation a preview of the type of players that UGA will count on in the years to come," said Butler. "Natrez plays with intelligence and speed which makes him a force on the field. The freshman from Mays High School had four tackles with two tackles for a negative-9 yards and one of those came off a sack. He is an exciting player with a great future ahead with the Bulldogs. Get to know him cause you will hear from Natrez a lot! It's hard to be a starter and this is his time to step out in front and be a leader … and we need him to!"
[su_spacer size="40″]
SPECIAL TEAMS
[su_spacer size="40″] Senior snapper Nathan Theus, who was again flawless in his field goal and punt snaps on a day when touchdowns were hard to come by.
[su_spacer size="40″] "The senior long snapper has been the model of consistency all season long," said Butler. "When field goals count more than life itself, we never think about the snap but Nathan has performed numerous times without a problem. His field goal snaps this week were the difference in the margin of victory. He has been consistent with the punting snaps and coverage all year even though the punters have changed. These things cannot be taken for granted and most of the time can be the difference in victory or defeat. In his senior season Nathan closed out with a victory over the dreaded Techies! Thanks for always looking great upside down … a kicker's joke!"
[su_spacer size="120″]