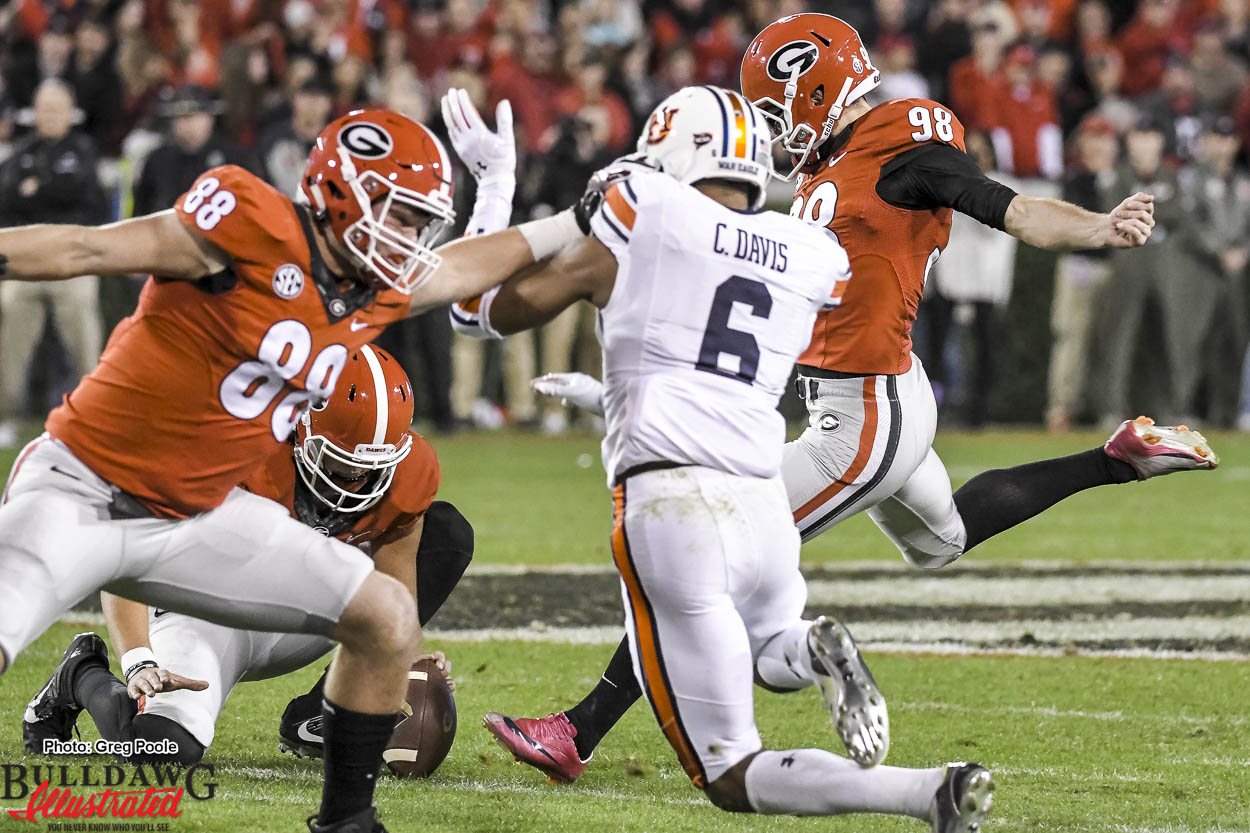 Kevin Butler is one of the most recognizable names in Georgia football history. He's the first kicker in the College Football Hall of Fame. He is one of the best kickers ever. Here lately he has been helping out the kickers for Georgia.
Kirby Smart addressed the topic of Kevin Butler in his press conference on Tuesday. Butler's influence has made a difference for Georgia's young kickers, especially Rodrigo Blankenship.
During the press conference, the question of whether Smart looks to Butler regarding deciding how far Blankenship can kick. However, Smart cut that idea off quick.
"I don't like making decisions in the heat of the moment like that. To me, that decision is made in pre-game warm-ups. About by Tuesday, Wednesday, Thursday, Friday, I go and talk with several people. James Vollono, Shane (Beamer), Kevin and I we have a meeting and say this is his yard line here and this is his yard line here, based on the wind, and that's the yard line. Because when you start making those decisions, it changes. So it was within his yard line, and we were going stick with that or go for it or punt. Because I don't think you always make good decisions when your calmer heads don't prevail sometimes," Coach Smart said.
Smart also compared the situation with Butler to a situation at Alabama. Where alumni, Chris Samuels, a former All-Pro offensive linemen, helped the team out. He would help make an impact on the players by being there.
"I mean we had a situation in Alabama," Smart said, "we had Chris Samuels came back who was an All-Pro offensive linemen, and he was like an extra coach on the field because he was a student assistant and that what…"
The most important part of the topic was how much Smart believes that Bulter is helping his kickers and if it's making a difference.
"Absolutely he is (making a difference). That's huge… KB's been awesome. I mean he's been good for me from a kicking standpoint, for Rodrigo (Blankenship), (William) Ham, for all those guys, Marshall (Long). Shoot he's been great, just the confidence that he provides it was almost like the perfect set up for the year of new specialists to have him involved, has been really good," Smart said.