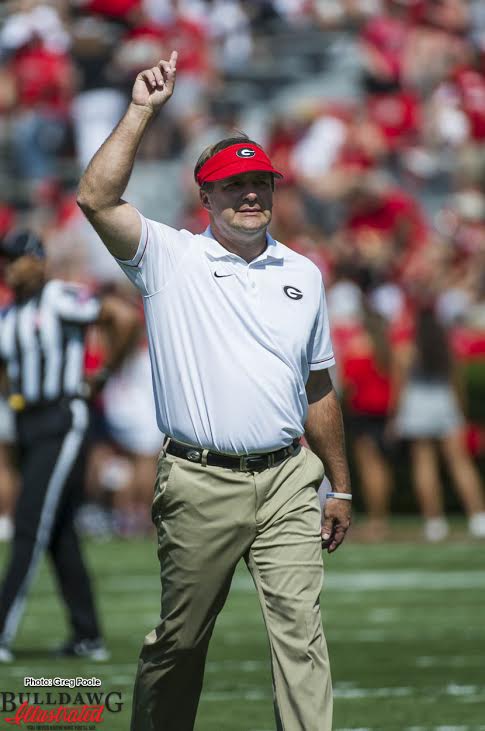 Kirby Smart has always challenged his players to become leaders for the team, and he continues to issue that challenge with the team beginning SEC play this week.



After two weeks of play in the books, Kirby has stated that his search for leaders is far from over, and he is hoping that more guys step up sooner rather than later.


Smart is trying to coach up more players to leadership roles but sees that the team is struggling to find that leadership quality because players are still trying to get comfortable in their roles in this early part of the season.


Smart highlighted one player who has stood out recently as a leader and that was running back Sony Michel. Smart was very pleased with Michel's attitude and how vocal he was with the team in their most recent game. Smart had this to say concerning Michel:

I thought it was a great bonus to get Sony back from an energy standpoint and from the standpoint of, he's a really good leader.


Michel's quality of being vocal with the team is something Smart is looking for, and he has made that very apparent to his players.


One player, who has taken notice of this, was tight end, Jeb Blazevich. Blazevich mentions that Smart has stressed that the players on the team need to take command of the team and invoke change among the other players because that is what will be vital to the team's success.


Blazevich had this to say concerning Smart's words on leadership coming from within the team:

He's said time and time again, this team is ours, and it's up to us to take command of that. Cause as he said, It really doesn't matter what the coaches say, they can say whatever they want but the change needs to come from within, from us.


Blazevich also went on to mention that Coach Smart has challenged for the players to push each other and to be more vocal and get on guys when they need to at practice.


With the first SEC game looming, it will be interesting to see what players step up and answer Kirby's challenge this week in practice.