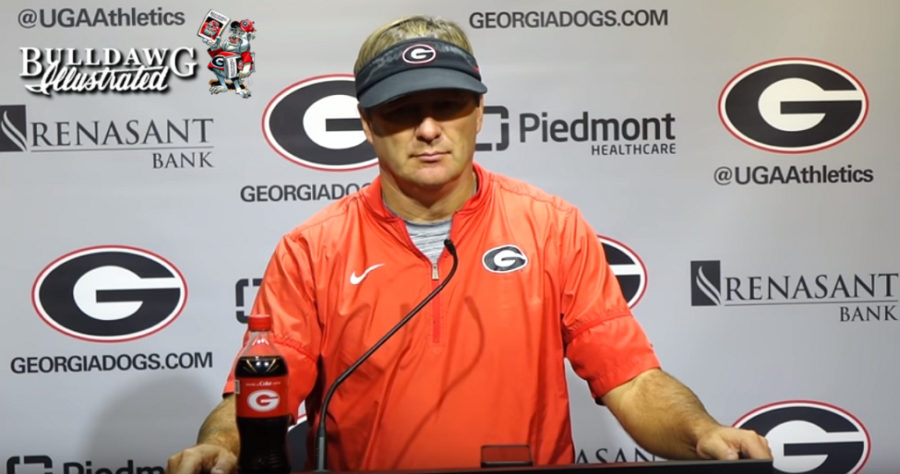 After Tuesday's practice, Georgia football Head Coach Kirby Smart gave an update on the Bulldogs during the Florida bye week. A timestamped index with a transcript of Kirby's presser is located below the video.
00:00 Opening Statement
"It was good tempo today, good enthusiasm. I thought the guys… they looked a little fresher because you get Sunday, Monday off and you come back and get to practice on Tuesday. So I thought there was a good tempo, guys got their legs back. Tried to work on a lot of fundamentals, blocking and tackling and a couple of phases of special teams today and a couple of opponents we play in the future that do some things that are just different and try to expose our guys to it. I thought the guys had a really good attitude. Hopefully, we're gonna get some guys back from injury and get them back working. If you want to ask anybody specifically that'd be fine. I don't know who that would be."
00:56 Injury update on Tyson Campbell, Lawrence Cager, and Travon Walker
"Travon (Walker) he is not able to go yet. We think he's going to be cleared probably by Monday. He's out there running around, exercising, and doing things. He's just not able to go contact."
"(Lawrence) Cager is still week to week, but he's not practicing right now. But he's out there at practice. He's conditioning and running. He's just not practicing."
"Tyson Campbell I thought was the best he's been in a long time. He practiced for the first time and did things. We didn't put him in there with the ones… We tried to slow it down for him some, but he did practice."
01:32 Injury update on Justin Shaffer
"Yeah. Shaffer is still out right now."
01:41 How important has Lawrence Cager been to the offense?
"Well, I mean, he's been a player for us. He's been like Javon Wims, he's been an impact player for sure. But he's probably been more of an impact on that room. We carried him… I guess it was last week, I guess Kentucky week… we took him over and used his experience with the other guys. We want him around, is what I'm saying. Even though we knew he wasn't going to be playing against Kentucky, he was still in the room, impacting those guys. He's just very mature, he's played a lot of football in his career, and he's a positive impact on other those guys in the room. So, he's been good."
02:18 Wide receivers learning how to get off of press coverage
"You get better when you play, certainly. I think some guys come in and they can get off press really well if they're really, really talented and they're good at it. That's something where experience brings value. Lawrence has a lot of experience, he's been around a lot of good wideouts when he was at Miami. He's physically stronger and bigger than a lot of our other guys, so he's able to use his body to help him against those press guys. And everybody's still working to improve that. Shoot, we're working at defensive back to try to press better so we can try to compete and do a better job defensively. Everybody's trying to get better at it. Cager is a great example of how to do that because he's done it for a long time."
03:12 Will Tyson Campbell be back for the Florida game?
"I don't think there's any way I can answer that. I haven't watched today's practice. To put the odds on it, there's just no way. I ask every day the medical staff, when is he going to be back just like you guys do. I was very encouraged today. The time off has helped, but his repetitions have helped, he got back out there. He's very mentally… he's into the practice. He always has a sheet of paper, he's always watching the script, but there's nothing like the speed of the game, but that's important. He'll have to be going 100 percent by next week to be able to play."
03:59 Do you like the bye week before the Florida game?
"Like I've said before, bye weeks fall where they fall. I never get into, that's great that it falls there. I think the SEC does a good job of balancing that out. You look at the big games and teams have off weeks before each other a lot of times. I'm sure they try to do that to not create a competition advantage. It falls at a good time for us because we are beat up, but who's not?"
04:30 Thoughts on the November schedule
"There are a lot of good teams on our schedule and everybody in the SEC basically has the same schedule other than your crossovers, so we embrace that. All offseason we've worked for it to be a three-part season. There was part one, part two in the middle and then part three was going to be the meat and potatoes. We've known that. We're building up this week to work on it. We're trying to look at a lot of different opponent tape to figure out what other people are doing to us and what other people are doing defensively and offensively to get better."
05:14 What do you think about the extension for the Georgia-Florida game to remain in Jacksonville?
All I can say is there's ongoing discussions. I'll be dead honest with you. I am focused on our team, making sure our team is trying to improve and get better in every facet of it and that's my single-minded focus. It's not singleminded focus on Florida. It's not single-minded focus on Jacksonville, it's single-minded focus on us. We're all trying to go to the doctor right now."
05:55 Is being able to run to the outside a good sign for wide receivers being able to block on the perimeter?
"Well, they blocked well on the inside runs, too. Those guys have to block every assignment. We opened the game with an outside zone play that was successful. I think you'd be misspoken if… I think sometimes the outside world thinks that an outside run is and what an outside run actually is two different things. So obviously, if a play works, we're going to try to repeat that play. That would be not very smart to not repeat that play."
"But we also have certain things we have to do to keep play-action involved, to keep balance in our offense. The outside zone the other night was most effective later in the game and you have to ask your self if the outside zone was most effective later in the game because you chopped wood early in the game? You're always trying to keep the defense off-balance. We ran some swipe plays, some perimeter plays and some work, some don't, sometimes they don't work because people don't block right. Sometimes they don't work because the defense is in there. We're trying to run the plays that work."
07:04 When the outside zone is working, how much does that loosen up the opposing defense?
"It loosens you up when you have to go against our offensive line repeatedly for four quarters. It just wears you down. There were a lot of plays that were called in the third and fourth quarter that were successful. There was some good inside zone plays. There was more movement in general. I've said it here for four years. You don't just walk in the SEC and move people early in the game. It just doesn't happen. You're not just road grading folks out of there. It's a cumulative effect that it takes. We certainly had a cumulative effect because we ran it better later than earlier."
07:56 Role of Shawn Watson on the staff and analyzing/scouting future opponents
"I was just saying earlier, in the off week, we look at all future opponents and we look at our selves. So we do self-scout, you do your opponents' work, and you say, 'what do they do that creates an issue?' And then you also look and say 'what's been successful that we might be able to emulate with our personnel?' "
"Shawn's a big part of that. He has replaced Jay (Johnson), who did a great job last year for us. He's very involved as far as advanced scouting, we call it, looking at opponents ahead of time, both defensively and offensively. He gives our defense an analysis of each opponent and their offense. So he's looking at Kentucky's offense and telling us what he thinks on Sunday night, just advanced work. But he's primarily with the offense and looking at things. Just an extra set of eyes to look at ideas, things he's done. He's got a lot of experience. He's been a part of a lot of successful quarterbacks and offenses so we used that as an asset. We've got several guys who do those things."
09:25 The value of the o-line experience of offensive tackles Andrew Thomas and Isaiah Wilson
"It's super valuable: I can't put a price tag on it. When you line up with two tackles in this league who have played you're very fortunate because tackles are hard to come by. Good ones are really hard to come by. Do the math; how many 6-foot-6 guys are walking around, it's not a lot. Six-six, 300 who can move? Very few. It's hard to find guys like that. We have been blessed. Sam (Pittman) has done a great job recruiting to get those guys. They're not perfect, either. They've had to go against some really good players but I'm very pleased with those guys and they're great competitors and great leaders."
10:25 Trey Hill
"I thought the other night he did a tremendous job in those conditions to not really have … you think about it, he really didn't have a bad snap. Jake missed the one that was probably head high but Jake will tell you that wasn't a bad snap, so that was big when you're talking about that game in those conditions. Both centers really did a good job. Trey knows his warts. He's got to strain hard, he's got to continue to fight. He was on a tough guy to block the other night and we left him singled a lot. That guy played well, but Trey, I thought in the end, won out a lot of perimeter run blocks and was very athletic getting to the second level. Trey will be the first to tell you he's got to play better, too, and he'll do that."
11:12 What are you working on this bye week compared to the first one?
"Statistically, we do schematically and we do professionally because we're trying to find, hey what compliments something we're doing well. Let's say we're doing some good in the Red Zone, what's something we can to do try and compliment that because people are going to try and attack you on what you've done as your strength. We meet in the morning for two to three hours, we have quality control guys come in, give presentations, this is what so-and-so is doing, this is what they're doing. They might not fit us, but they might, and we try to use those things. Same thing for me, I'm looking at the quality control of the offense, the quality control of the defense, what's been the most successful run, what front, what front have we struggled the most against and I'm looking at it from a defensive coach, saying, what is Todd Grantham, what is Kevin Steele, what is the next guy going to do to stop us."
12:31 Recruiting nationally versus recruiting the state of Georgia
"I would never change how we recruit the state of Georgia, it's home base, it's primary, it's A-number-one, most important, it doesn't mean we're going to get every kid, it doesn't mean that. I mean, there's some good players in the state that have left and we've fought to get them, but I mean, I want the best players in the state to stay home
13:09 How did you address the Dawg fans "booing" in Kentucky game?
"Nah, I don't really address it, I mean, I'm sure they are aware of it. But our kids are pretty mature, I don't think it's something to address or talk about. They know they're not really booing at them. So, the players are not upset or hurt by it, if they are then that's their opinion. But we don't let outside forces control what we do inside. That's just the belief that I've had for a long time. I've been around a lot of good coaches, and it ain't the first game I've been that somebody booed, and it won't be the last. So we try to control what we can control, and our message to our team is just go out and get better, and our kids adhere to that."
13:53 Self-scouting report after UK game
14:43 Suiting up for the Dawg Walk is learning how to present oneself professionally
15:29 Who has impressed you with their fashion choice in the Dawg Walk?
15:48 Assessment of defense
"No, not close. We were extremely sloppy in the last game, and you know, it's sad, because you guys control the noise. But when you watch that tape, there's a lot more concern. Tackling, gap fits, if you went to a coach and said 'Watch this game,' they would come in and say, 'That is atrocious, tackling, fits, eye discipline, leverage, blockers.' But walking around, whistling past the graveyard that everything is fine, and we're just OK, and we've got good defensive numbers—that's not the case when you watch the true integrity of it."
"You can't judge it based on, number one, statistics. You can't judge it based on a kid playing in the pouring down rain that's not a quarterback. So we haven't been tested in that regard. And we've got to get better, and that's what we're doing this week."