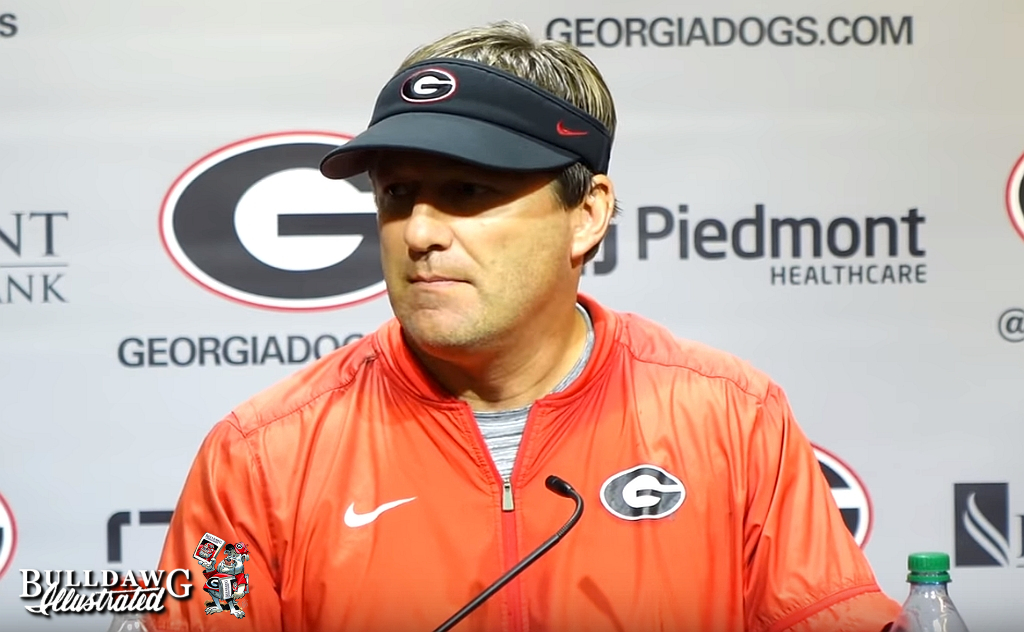 After Tuesday's practice, UGA football head coach Kirby Smart gives an update on the Bulldogs as they continue to prepare for Saturday's game versus Florida. A timestamped index and transcript of the press conference is located below the video. You can click on the time marker to go to a specific topic covered during the presser.
00:00 Opening statement…
"It was good to get back out there yesterday and get some guys back. Guys were able to practice and pushed and did a good job. Had a light practice yesterday and then got after it pretty good today. Got a little bit of weather, so we were able to practice in the rain for awhile, which was good. It was not a heavy downpour, more of a light deal. Got to do some good-on-good, got to work on some third downs, some red-area stuff. Got some guys back, so that was helpful, and I thought the guys had really good energy, which you would expect this week. So there was some good competitive periods out there. We're a little ahead of schedule for a normal week, which helps us get more time to fix some things."

00:46 Update on Lawrence Cager, Tyson Campbell, and Travon Walker…
"Yeah, (Lawrence) Cager has been out there practicing, Tyson (Campbell) has been out there practicing, Travon (Walker) has been out there practicing."
01:00 Update on Demetris Robertson…
"Yeah, he's been fine. He had the hamstring, I forget what game that was. That was, seems like an eternity ago now, but the games he's been back, he's been fine. We monitor his yardages and make sure he hits certain numbers and get him real loose before he starts, but he hasn't had any other problems."
01:33 What does it add to a rivalry game when the SEC East is at stake?
"That's what makes it a rivalry, you know.  You've got so much at stake.  I really don't think that it would matter if it was about the SEC East or not.  It's Georgia-Florida so that in itself carries a lot of weight.  The game, the history, the tradition, the fact that you have a Hall of Fame for the game alone, and players can be remembered for their performances in that game alone is pretty big.  The SEC East weighs heavily in this game, but I wouldn't say that it determines it all the time."

02:16 What makes the Georgia-Florida game unique?
"Probably the most unique thing is that it (crowd) is split 50-50. It's weird. You have a weird feeling in there sometimes. It's so different. I call it a pro mentality because there's no, like, student section chanting for you or against you when you come out for warmups. It's not like that. The atmosphere in pre-game is very different. It's a very different feel because when you go out for pre-game at a road game, it's like enemy territory. When you go out at your place, you're in friendly confines, but there's a lot of more energy and buzz. It seems like at this game — the times I played in it and coached in it — it's more flat in warmups and then, all of a sudden, boom, you come out for the game and everybody's in their seats. They come in at the same time, as opposed to being in there early."

03:09 Does the fact that coach (Charlton) Warren coached at Florida last year mean anything at all to this game?
"I don't think it means a lot. I think the history that our staff has from years in the West, going against Dan (Mullen). I mean, he probably watches countless films of times we've gone against each other, and we do the same, as far as schemes and things like that. Personnel, I think obviously there's personnel there that he knows or he's gone against. Sometimes that can be beneficial, sometimes it's not because you don't know how matchups are gonna work. How the left guard, right guard, center, the left receiver, right receiver, tight end are gonna match up on certain guys. He's seen more of them because he's seen them every day in practice. It's very similar to (former OC Jim) Chaney. I don't know how much that helps or hurts."

03:58 Any concerns with former linebacker Brenton Cox now on the Gator's roster?
04:19 Thoughts on new NCAA proposal for student-athletes to be compensated for their likeness …
"To be honest with you, I don't know.  I'm not smart enough to know and understand how it's going to affect the future.  I do trust the hands that it's in, and the committee that's been formed to look into it, and I think they'll do a tremendous job.  It looks like to me that they would come up with a proposal somewhere around January 2021, maybe, and that still seems like a long way off in my mind.  But we'll have to prepare, and whatever they decide to go with, we'll deal with it.  I don't have enough information to form a complete opinion on it, to understand it completely.  Our biggest concern, as coaches across the country, is it going to be an even playing field.  The biggest concern, from state to state, is not being balanced.  If it comes out balanced state to state, then we're all playing on the same playing field." 
05:18 Recruiting in regards to the rivalry with Florida…
"It says we recruit against them a lot.  It seems like every player that's on their roster, we were at least in contact with.  They've still got guys playing that were recruited under the other staff.  Most of ours were under ours. But I think both places recruit probably 80 percent of these kids overlapped, and they were probably in the final four teams.  It makes a player probably want to win more, if you almost went there, and there's also the overlap in that they recruit our state and we recruit their state.  They've got quite a few Georgia kids and we've got quite a few Florida kids.  Those kids want to win, obviously, because they've gotta go home and live and be seen in their communities.  Anytime there's a border rivalry, it makes it that much more.  We just have a lot of those."

06:24 Are Lawrence Cager and Tyson Campbell cleared to play versus Florida?
"They've been cleared to play, but we've got to find out if they're ready to play.  If they're practicing, they're cleared.  Cleared doesn't say, 'that guy's ready to play' and that'll be determined by how they practice, and what they're able to do and not do, what kind of shape they are, how much they can sustain.  Those are all important factors that we have to factor in to how much they play, and if they're able to play."
06:55 Relationship with Florida Head Coach Dan Mullen…
"I sit by him at every SEC meeting because 'F' and 'G' are alphabetized, side by side.  So we get to sit and talk about things.  When a topic comes up about, you know, whatever the conversation is, whether it's some recruiting thing, some rules thing, we're always sharing ideas.  Everybody looks at it like, 'how does it affect you?,' 'How does it affect me?'  'How does it affect him?'  We're both the only SEC schools in our state, so sometimes we agree on certain things.  I don't get to see Dan a whole lot, even when he's at the lake and I'm there.  We're both spending time with our families."
07:47 What is your lasting memory of the 1997 win over the Gators?
"To be honest with you, we didn't win a lot of big games, so that was the highlight of our time here. That was a big game, it was a big upset. Probably the highlight for me, or the biggest memory, was walking out after the game, showered and cleaned up, and my mom was there. She was born and raised in Florida, almost went to the University of Florida. She's from Plant City, so it meant a lot to her, and getting to see her was probably the best part of it."

08:21 Assessment of cornerback Eric Stokes so far… what is his ceiling?
"It's a hard question to answer. Eric works as hard as anybody on our team. He's very intelligent. He takes notes in the meetings, he understands things. He has made himself into a good player. I say that because it wasn't natural for him. He didn't grow up playing corner. He was a talented athlete. He was fast, he was a running back. He was a raw guy who has developed and gotten better through hard work and habits. With his length and his speed, the sky's the limit for him. But at the same time, you have to understand that our guys haven't had the chance to play a lot of guys, when you think about it. The rain, a young quarterback, whatever the reasons, we haven't had a lot of opportunities. We're gonna get 'em in this game because they (Florida) have good wideouts, good quarterback, good scheme. So there's gonna be opportunities. When you click on that tape, from LSU and Auburn games, there are NFL matchups all over the field. This corner against this wideout. This corner against this wideout. Well, the games in the SEC, they're not gonna change week to week. They're going to boil down to who can win in some one-on-one matchup, and he (Stokes) will get his opportunities."

09:45 Eric Stokes and his unique personality…
10:36 Who do you compare Florida's Kyle Pitts to?
"He's as talented as I've seen and we knew that coming out of high school. We recruited him heavily, couldn't get him, he went to the other staff. He's a tremendous athlete. He's a matchup with his size and speed … he's everything you want. I don't know if the SEC has seen a tight end … I'm trying to think through the years. He's different. The tight end at Notre Dame was a big old physical guy and a great player; this guy is 50 percent wideout, 50 percent tight end. He's a great player."
11:31 How do you evaluate the special teams return game?
"We haven't done what we want to do there, explosive-wise. We've probably missed some opportunities for some big ones, a couple of times with Tyler. Tyler's got good numbers but we didn't do it consistently and he's been dinged up. Don has given us some good, quality work back there. We've missed some opportunities in the kickoff return game. Two times we had zero yard games and statistically, those kill you. We had a situation against Notre Dame, we think we've got hands out there, we catch it, D'Andre gets a 2-yard return and Cook's last week, the ball was swirling around … they just absolutely murder your statistics, but I'm pleased with our protection, our blocking, our scheme, everything we're doing. We just haven't had a clean shot."
12:27 How common is it for players to reward their offensive linemen?
13:19 Match-up of Georgia's secondary to Florida's wide receivers… depth of Gators' wide receiving corps…
"Yeah, they have some good matchups, they've got the ability to put, they've got good players, their skill guys are really talented. It's probably past six, because, they have seven or eight, especially with getting Toney back, it gives them added dimension. Fortunate for us they can't have but three or four of them on the field, but they put them in locations, they move them around. He does a good job creating matchup issues across the field. At the end of the day you have to cover people and play them, you can't trick them. You have to go out there and cover them and play them. Every game they've been in, LSU and Auburn, there's been one-on-one matchups all over the board. You gotta win more of those than you lose."

14:17 Talk about why you reached out to Georgia Southern Head Coach Chad Lunsford and the Eagles football team after the death of Jordan Wiggin.
"Because it's hard, mental health, and my brother works in the profession, it has affected me more in the last two years than it had the previous 12, 13 of my coaching career. When I was first into coaching, I didn't even know what that was. Now, it's way ore prevalent, and we talk about it in SEC meetings, we talk about it all the time. We've hired two people in the field. These kids today are dealing with a lot more pressure, anxiety, issues, social media, pressure on themselves to perform, whatever it may be, and I'm not just talking about student-athletes, we're talking about students. We've had guys that have had struggles and had issues, so when he had his situation, I just reached out, that, hey, we're all going through it. We're not professional. I'm not a professional dealing with that so we have to reach out and get help on how to manage those kinds of situations."