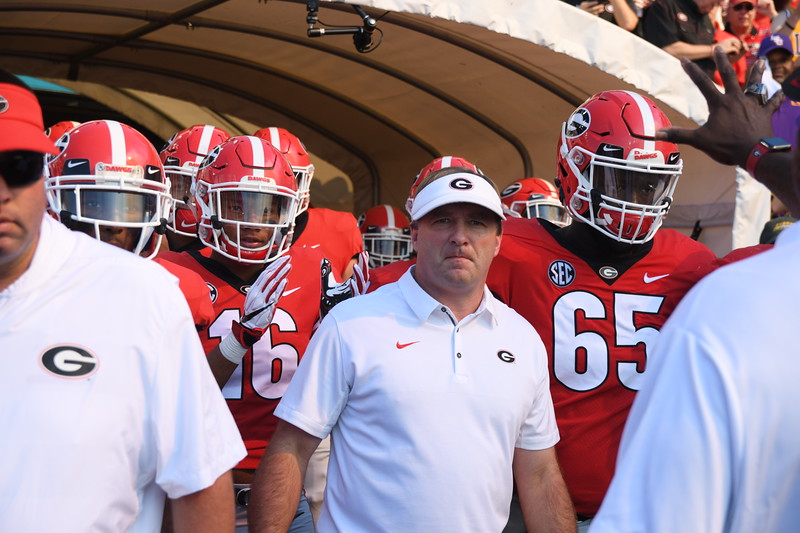 Georgia and South Carolina are set to play each other in their 72nd meeting, and since 2016 the rivalry has been pretty unique.
2016 was the year that Kirby Smart was hired at Georgia, and at the same time Will Muschamp took over at South Carolina after Steve Spurrier's departure. Both coaches were former teammates at Georgia, and colleagues at LSU and Valdosta State. Both seem to share a great amount of respect for one another. 
When the No. 3 Bulldogs and the Gamecocks face off against each other at noon on Saturday at Sanford Stadium, it will be the fourth time the two have gone up against each other as head coaches. Smart leads the head-to-head matchup as Georgia has beaten South Carolina the last three years. Before South Carolina, Muschamp coached at Florida (2011-14) and he is 1-7 all-time against his alma mater. 
Muschamp played for the Bulldogs from 1991-1994 and served as a team captain. He is a former roommate of Georgia legend, quarterback Eric Zeier. 
"We've been good friends since we played together at Georgia and obviously coached together at Valdosta State and LSU," Muschamp said on his weekly teleconference.
Muschamp added that he and Smart have maintained a close personal relationship despite the circumstances. 
"There's just a lot of respect on both ends as far as number one as a person, and number two as a football coach."
Smart said their relationship really started to develop when Muschamp helped him land a position on Valdosta State's staff as a defensive backs coach. The following year Muschamp was hired to join Nick Saban as LSU, and Smart was promoted to defensive coordinator.
"It was not like a close relationship when we were here, because he was a fifth-year senior captain and I was a redshirt freshman, we were really in two different places," said Smart. "I mean, he was good to me, but it wasn't like we had a friendship. We were at two different spots in our career."
Smart added that it was the two years at Valdosta and LSU together that really bonded them.
Muschamp has also publicly given Smart praise for what he has done to the culture of football in Athens, and how the change has led Georgia to recruit well. 
"(Kirby) has done a fantastic job at Georgia, he's recruited, they've got a deep team, and very talented and well-coached," Muschamp said. "Regardless of our roles, we've got a lot of respect for each other and the job they do."
Smart has also commented on how competitive Muschamp is and even said the two shared ideas and notes in the offseason. 
"He has always been a very intense coach, good football coach, and I think he does a good job running the program," Smart said. "That has allowed us to share information when possible when it's not about scheme and it's more about philosophy, but he has been a good friend. I've got a lot of respect for him."