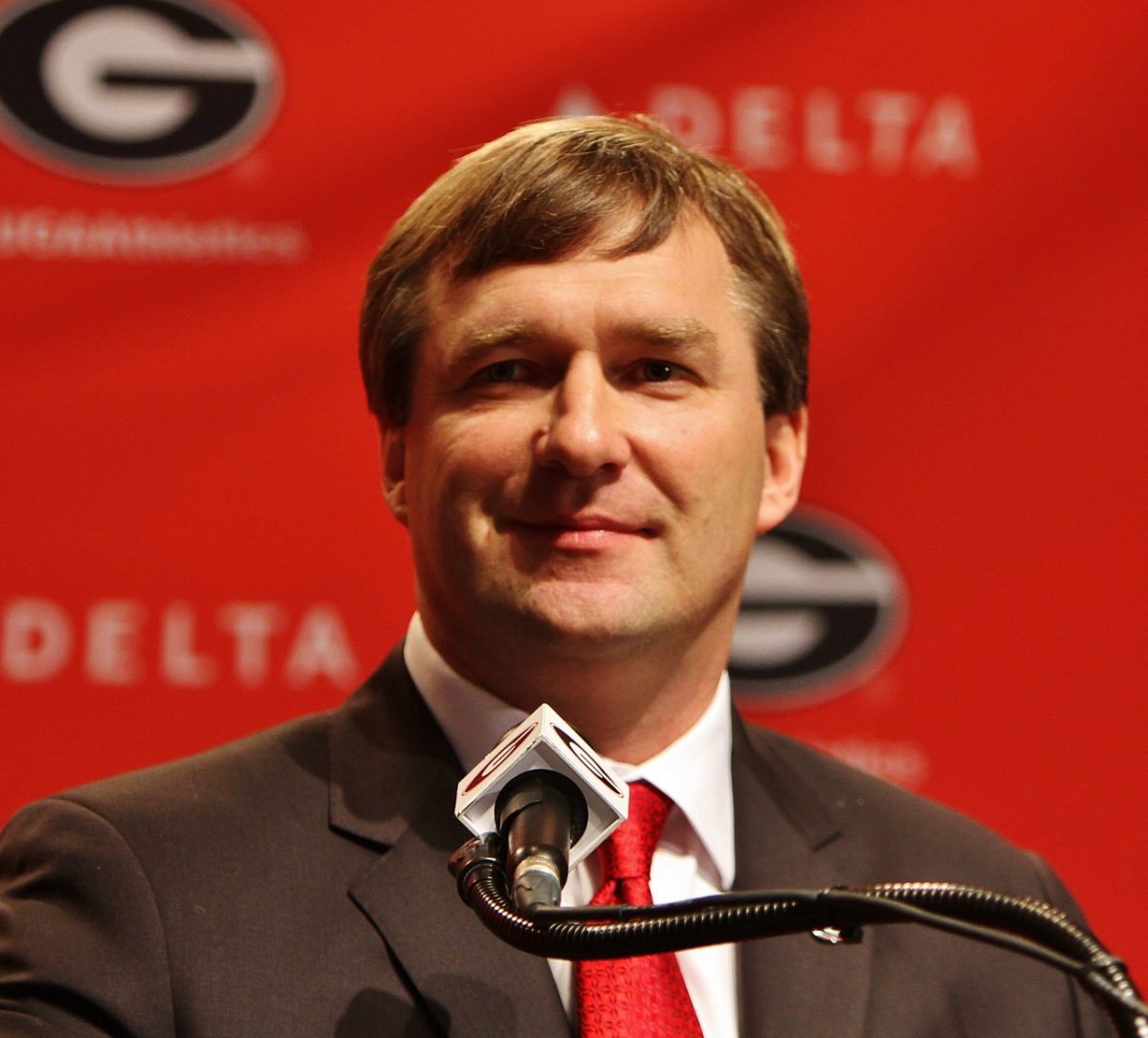 University of Georgia head football coach, Kirby Smart, spoke before the Macon Touchdown Club on Monday night at their February 22nd jamboree, and the message was clear within a speech that drew cheers and ovations from the crowd:

"Do Your Job."

Kirby Smart's special assistant, Mike Cavan, introduced him in front of the Georgia Bulldog faithful gathered in force at the The Methodist Home For Children, in The Rumford Center along with several class of 2016 signees, class of 2017 prospects, and members of the media. He was scheduled to arrive in Macon at around 6 PM but was late. And at the 7:55 mark of his speech, Coach Smart pointed out the reason for his tardiness:

"That's why I'm late coming down here now. We've got some guys in the off season workouts that don't want to work"

Smart addressed the high school students in front of him to start with which led into his message about "Do Your Job." Attending the Touchdown Club's jamboree to hear Coach Smart speak as well as receive awards were two of UGA's class of 2016 signees, defensive linemen Michail Carter and David Marshall. There were also a number of class of 2017 prospects attending as well including UGA offers and targets Jake Fromm, Nate McBride, and Aubrey Solomon. He particularly made a point about what the high school players, who had just gone through the show that is the recruiting process over the last several year's during their varsity football careers or were going through it, will face as they step from those high school fields and class rooms onto collegiate ones as well as what they would face beyond college.

"But when you step out of this world and you go into the new world you are about to enter. They don't care. They don't care where you come from. They don't care about how many accolades you got. They want to see what you can do for them there," Smart said. "I'm in a very similar situation to some of you guys. I'm on a honeymoon, right? You see that standing ovation? You think if we don't win those games next year they'll invite me back. Coach McElwain or coach Jones will be up here. That's because it is conditional on you winning. Conditional on you having success. As long as you know that up front, there is no ambiguity or surprise for you.

And it is at this point, about 2 minutes and 30 seconds into Coach Smart's half hour long speech when he confronts us with the message:

"Do Your Job."

It is a message that struck a chord with him and also stuck with him on a trip he took up to the New England Patriot's NFL organization one year while he was on Nick Saban's staff at the University of Alabama for "professional development" about 6 or 7 years ago. It was one of the first thing he saw printed on a big sign when he arrived up at the Patriot's headquarters behind the secretary's desk. "Do Your Job." It was a message he not only heard but saw throughout his time up New England from offices and meeting rooms to even in the bath rooms . It is a message that he is "wanting to, trying to" send to his 2016 Georgia team.

Coach smart went on for the rest of speech talking about the Georgia football team and taking questions, but he prefaced this part of his speech by going ahead and answering two big questions. One, he does not know who the starting quarterback will be. There are three players that are competing for the starting quarterback job at Georgia for 2016. Who are those three? Last year's starter graduate senior Greyson Lambert and last year's part time punter and back-up quarterback, Brice Ramsey will try to hold off heralded early enrollee and incoming freshman Jacob Eason. Even though he didn't have an answer, he did give some insight on who they would play:

"We are going to play the guy who gives us the best chance to win."

And for the first time that I can recall, since he took the head coaching reigns at Georgia, he praised the offensive line.

"What I do like, is our work ethic on the offensive line. Those guys are buying in and working hard, working really hard. I'm fired up about the work they're doing. I wish there was more of them, and I wish they were bigger."

As you may have noticed, Coach Smart mentioned once again about being "bigger" on the offensive line, which ties back to the mantra we have heard throughout the off season so far from him the new coaching staff about Georgia getting bigger and deeper in the trenches and overall.

The second big question the head coach addressed is that he does not know when running back Nick Chubb will be ready to be play.

"I know he is working his butt off. I know he is as competitive a kid as I have ever seen," Smart said. "He is a competitor. He wants to be back worse than you (the fans) want him back. Worse than I want him back. And we are looking out for Nick Chubb's long term interest because he is going to be a phenomenal player in the NFL and is a great kid as well."

Kirby Smart went on to address the rest of the position groups on offense at wide receiver and tight end before he moved on to the defense and the seven returning starts along with special teams, and he again made a point about the "biggest fear" he and the coaching have headed into the up coming 2016 college football season is the special teams unit.

"Probably the biggest fear we got going into next year is the special teams, Smart said. "First thing they tell me, the kicker gone. Punter gone. Longer snapper gone. Oh boy! Here we go! It's going to be a thrill a minute with some guys that haven't done up opening up in Atlanta in a pretty intense environment."

Before he opened the floor to take questions, Coach Smart talked about his coaching staff and how pleased he was with the staff he had assembled here at the University of Georgia. He also made a point that he had received nothing but "great" support from Athletic Director Greg McGarity and University President Jerry Moorehead.

But what he impressed on those listening and that would listen is:

"Do Your Job."
---
---
---