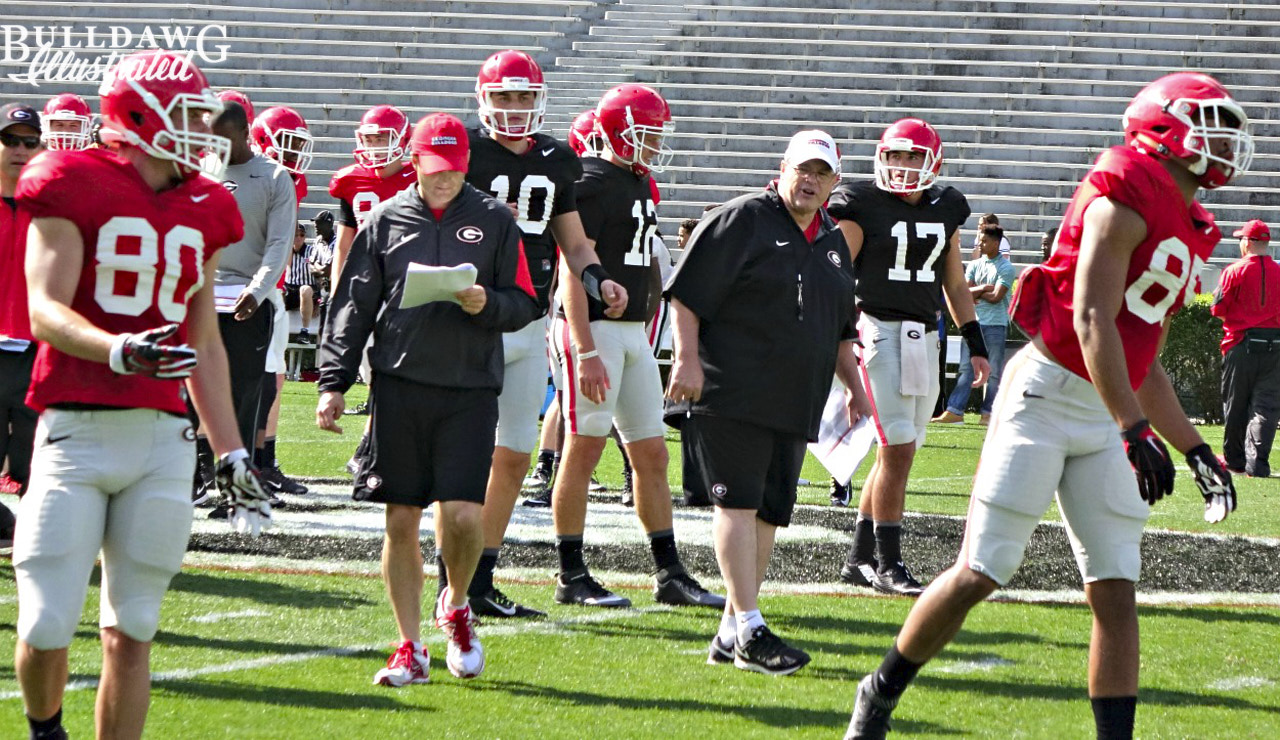 Over the weekend at UGA's Saturday practice, there was a familiar face between the hedges in Sanford Stadium. Colorado State's Head Coach Mike Bobo, who served on the Bulldogs' staff as quarterbacks coach and offensive coordinator from 2001-2014, was in Athens to offer some advice to his former teammate who is now a head coach himself, Kirby Smart.


In UGA's Saturday post-practice presser, Coach Smart was asked if he got to talk and interact with Mike Bobo:


"I got to see Mike (Bobo). I appreciate him coming out. It's always good to get opinions from somebody else. It was great to have him out there because I think he is a great offensive mind, and he helps me. He can see things that maybe I can't see."


Coach Smart and Coach Bobo were teammates and played together at the University of Georgia in the nineties from 1995 to 1997, and the two also were on the Bulldogs' coaching staff in 2005 under former Head Coach Mark Richt. The two have remained close since their playing days as well as the year they helped coach the Dawgs to an SEC Championship in 2005, and it is Coach Smart made it clear that he valued Mike Bobo and thought his advice and input was important:


"He's a guy that is for Coach (Mark) Richt. He's for Coach Smart. He's for the University of Georgia and he's given a lot of his life … his family has been here … to this place (UGA). It's important to me that he does get input and he does a good job and so does his dad."


During the off season, coaches traveling around the country to share ideas and learn from one another is pretty standard fare, and why not get some advice and input from a former Bulldog whose offenses set school records as some of the most prolific in UGA's history?


Under Mike Bobo, the Georgia offense holds the record for the top five most productive season in total yards:
1. 6,547 in 2012
2. 6,294 in 2013
3. 5,951 in 2014
4. 5,719 in 2011
5. 5,538 in 2008


Mike Bobo's Bulldog offenses for most average yards per game are first, second and fourth in school history for 2012, 2013, and 2014:
1. 484.15 in 2013
2. 467.64 in 2012
3. 466.82 in 1994
4. 457.77 in 2014
5. 450.36 in 1992


Georgia's offenses under Mike Bobo were also some of the most prolific at putting up touchdowns and points on the scoreboard:
1. 72 in 2012
2. 70 in 2014
3. 58 in 2013
4. 54 in 2011
4. 54 in 1942
6. 53 in 2007
6. 53 in 2002
8. 52 in 1946
8. 52 in 2008


In addition to those gaudy stats, Coach Bobo's Bulldogs put up an average of 30 plus points per game from 2010-2014 and averaged over 35 points per game from 2012-2014 with the 2014 Dawgs posting a blistering 41.7 points per game. After Bobo departed to test his mettle as a head coach out west at Colorado State, Georgia's offensive production took a nose dive, managing just 26.3 points per game in 2015 and from over 450 yards per game to 377.23.


That is a trend that Kirby Smart and Offensive Coordinator Jim Chaney hope to reverse.

---
---