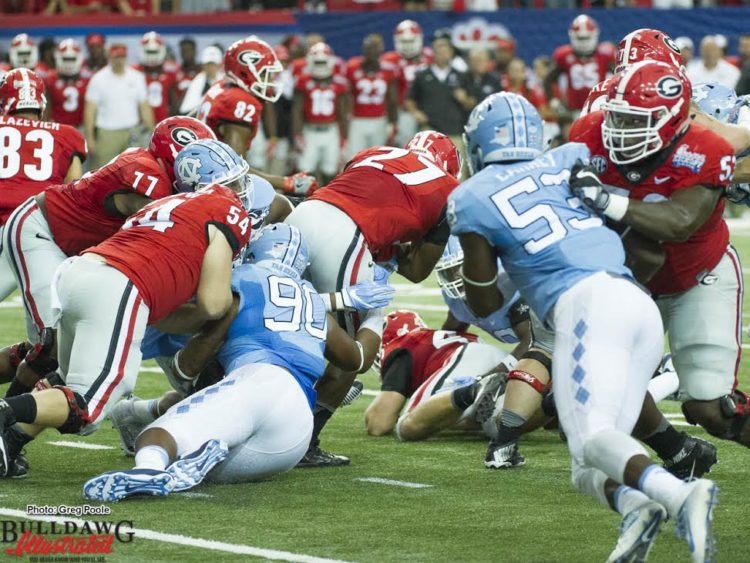 Kirby Smart gave praise to the offensive line and tight end groups but understands that there is still a lot of improvements to be made for the Bulldogs to have an even more successful offense.



Kirby addressed the offensive line and gave them a ton of praise but also saw areas on the offensive line that needed to have some improvement. Kirby was happy with the offensive line because he saw the offensive line "play hard and physical." Smart holds the belief that that's the main thing he wants to see out of his offensive line.


Although he had a lot of praise for the offensive line, he did see some areas where this position group could improve. The three main things that Smart is hoping to see out of the offensive line in future games is for them to "play with more power, play with more consistency, and sustain longer." The main thing that Kirby stressed for the offensive line to be a successful group in the SEC is that they would have to be more physical.


Kirby continued on and complimented the play of the Bulldogs tight ends, who may not have seen a lot of action in the passing game, but did do an outstanding job blocking and opening up holes for Nick Chubb and the other running backs to run through. Smart had this to say concerning his assessment of the tight ends blocking:

Well those 200 and how many yards Chubb got, there was three tight ends on the field for about half of those, so I would assess their blocking as good. It could show some improvement but they're blocking some big men.


Smart understands that the freshmen tight ends have to grow and get better for the team to improve at this position. The two freshmen tight ends received the only targets to this position with Isaac Nauta dropping a pass and Charlie Woerner catching a pass for a one-yard gain. The tight ends as a unit should see more involvement in the passing attack in future games, but their blocking will always be a huge key for the success of the offense.


Uploaded by Bulldawg Illustrated on 2016-09-05.