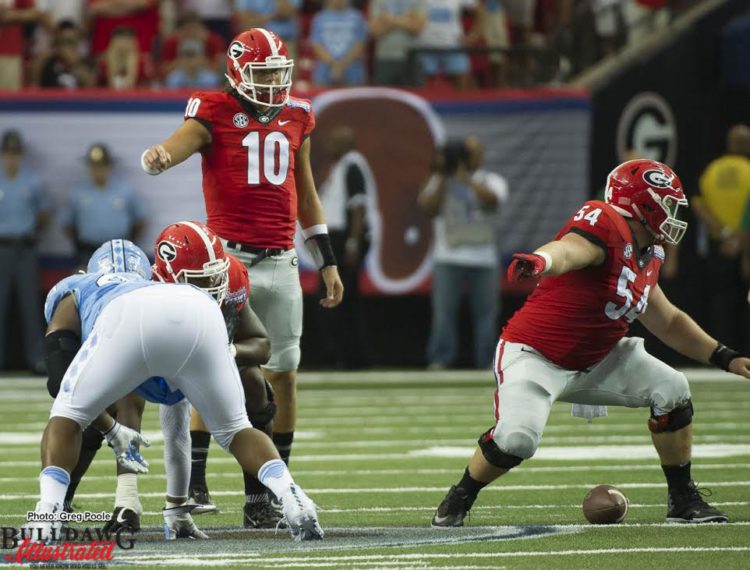 The Kirby Smart and the Bulldogs coaching staff decided to use multiple quarterbacks in their season opener against the North Carolina Tar Heels in hopes of finding a true starter. Each quarterback got their opportunity to make their case, but the battle looks as if it will continue on into week two.



Senior Greyson Lambert started for the Bulldogs in game one and was given the first shot at locking down the starting quarterbacks spot. Although Lambert did not have a horrible day, he also did not have an outstanding day throwing the ball. Lambert went 5 for 8 for 54 yards with no touchdowns or interceptions. He may not have made any mistakes but he may have lost his last chance at being a starter in the world of college football.


Freshman Jacob Eason, who was challenging Lambert for the starting role, had a great showing for a freshman in his first real game experience. He finished the day with 131 yards and 1 touchdown and no interceptions. Eason was a little shaky at the start but settled in and seemed to gain a lot of confidence as the game progressed. Eason even completed a 51-yard pass to Isaiah McKenzie which really helped get the offense going in the late stages of the game.


The fact that each quarterback did a good job limiting mistakes is great news for Kirby Smart and offensive coordinator Jim Chaney. However, the lack of making plays by both quarterbacks looks as if it has made this position battle continue on in the second week of practice. Kirby Smart had this to say concerning the quarterback plan going into the home opener.

Yeah the quarterback plan is very similar to last week right now. We're gonna continue to rep both guys, get both guys a lot of work, make a decision as to what were gonna do, whether it's later in the week, game time, but both guys will continue to work.


Kirby Smart and the staff have yet to make a decision on the quarterback position but they will continue to evaluate both of these guys before making a final decision on the starter. As of right now, I would give the slight edge to quarterback Jacob Eason because of the ability he showed in the season opener and the potential he has to grow into an even greater quarterback.