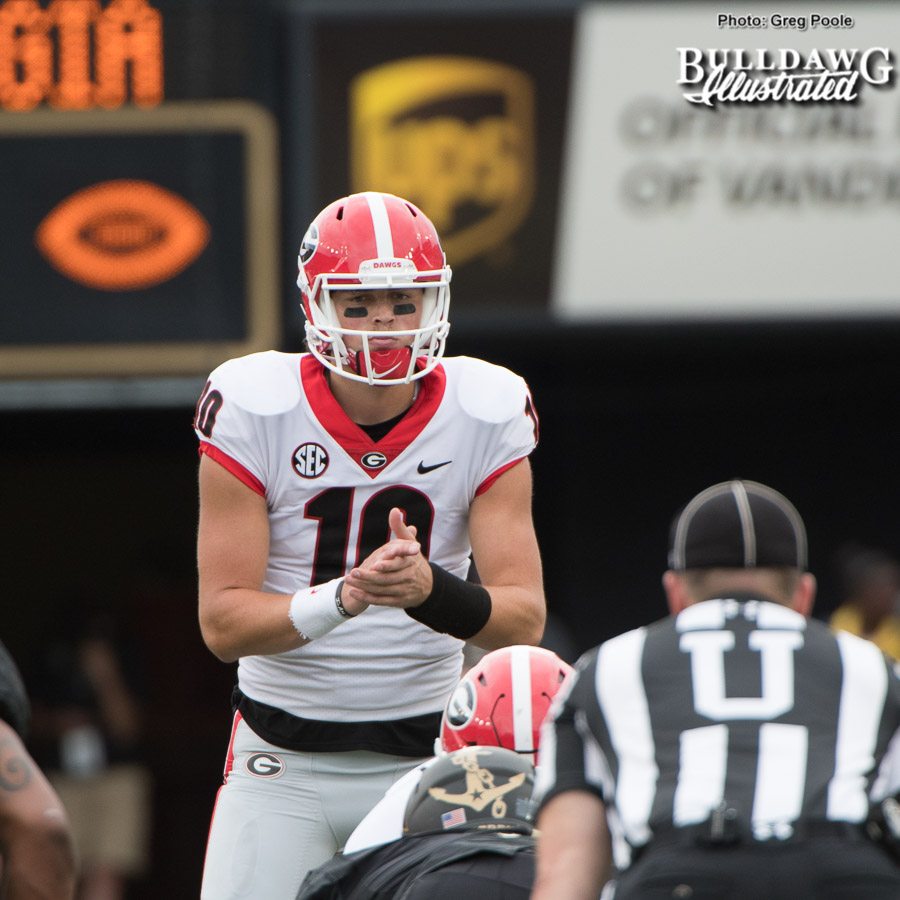 In the waning moments of the Georgia-Vanderbilt game on Saturday and with the Bulldogs comfortably ahead 45-7, starting quarterback Jake Fromm's day was done and Jacob Eason came off the bench to 'bat clean-up'. On the ensuing play, everything that could go wrong for Eason did as he took a sack and fumbled the ball. The Commodores recovered on Georgia's 1-yard line and Eason was obviously frustrated. After the game, in Head Coach Kirby Smart's press conference, he made it known that Eason's sack and the fumble was on him and not on his sophomore quarterback.


"I wanted the kid to be able to come in and throw the ball and I called that play and put him in a bad situation," Smart said. "So that's on me, not on Jacob Eason."


So was Coach Smart just protecting Eason and putting out some sort of coach speak or is there some truth in his words? Let's take a look.


The play in question was at the 10:07 mark in the fourth quarter and the 7:18 mark in this YouTube video clip of the highlights of the UGA vs. Vanderbilt game.


https://youtu.be/V8tERYEtKFs?t=7m18s


The Georgia coaching staff called a shotgun split Y-Flex formation with three wide receivers, no tight ends, and running backs D'Andre Swift and Brian Herrien in the backfield "split" on either side of Eason. Vanderbilt countered with a CB blitz by defensive back Bryce Lewis, who was lined up over the WR on the left side, coming off the edge on Eason's "blind side". It was a brilliant play call by the Commodores' coaching staff to try to affect a quarterback coming off the bench and who might not have as much mobility coming off a knee sprain. Couple that with the fact that both Georgia running backs went out to the flats and there was no blindside protection for Eason.


With a free blitzer bearing down, Eason had approximately 2.5 seconds from the snap of the ball till B. Lewis arrived on top of him. All three of the Bulldogs' wideouts were covered well. There was a Vanderbilt defender loosely shadowing D'Andre Swift out in the flat to the right, but Brian Herrien was open in the flat on the left and had room to run since that area was vacated by the blitzing Lewis.


On the discussion of the play on Bulldawg Illustrated on Monday, it was pointed out that Eason did have a split second where he could have dumped the ball off to Swift while the Vanderbilt defender wasn't quite in the position to have a good angle to No. 7 to make a play. At the very least, Swift would have likely made it back to the LOS or even gained a few yards. If he was able to make the defender miss, it would have most likely resulted in a first down.


But we are talking about just a 1-second time frame to move from his primary receiver on the play, who was covered, to the read on D'Andre Swift. And what about getting the ball to Herrien?


Even though it is not a long throw, it is not as easy as it looks as Eason has to throw across his body and has little time to get set. It would have been a heck of play as Herrien had some room to run.


Could he have thrown the ball away instead of taking the sack? Not unless he could manage to get outside the tackles, otherwise, it would be intentional grounding. The one thing he could have done if he had managed to pick up Lewis coming on the blitz, is to tuck the ball and move up in the pocket to try to get back to the LOS and perhaps fall forward to get a few yards. And that was a subject of another debate as well? Were there any indications in his presnap read of the CB coming on a blitz?


Long story short, Kirby Smart was correct that the staff did not put Eason in a good position to succeed with that play call. Playing Monday morning quarterback, the one change on that play that could have affected a far different and more positive outcome was to have left Herrien in pass pro to pick up any pressure from Eason's blind side. While that does mean there is one less receiver on the play and it is possible that Lewis could still beat Herrien for the sack on Eason, there is a greater chance of success for the sophomore quarterback coming in cold off the bench.


Would Jake Fromm have fared any better in the same situation? It's hard to say. Fromm is more mobile, but 2.5 seconds is still 2.5 seconds. And there is a chance that he doesn't pick up Lewis coming on the corner blitz and is also sacked and fumbles the ball. Fromm has had a couple of fumbles himself this season. In the Samford game, in the second quarter with about 4:58 to go before half-time, Georgia was in a third and nine to go situation. Fromm took the snap from the shotgun and was immediately pressured from up the middle. Being flushed out of the pocket from the pressure, he fumbled the ball after scrambling to his right, just getting past the LOS, and then taking a big hit.


Regardless of whichever quarterback was taking the snap on that play, Eason or Fromm, it was a very tough situation to come out of with success and positive yardage. While the sack and fumble resulted in the Commodores getting a touchdown, in the end, no harm, no foul.


Jacob Eason, thankfully, didn't re-injure his knee, and both he and Fromm will be able to sit down with the coaching staff in the film room and use the play as a learning experience. Plus, I liked how Eason responded by coming back in and completing all 3 of his pass attempts, one which was a crucial conversion for a first down on third and five, a bullet between two Commodores to Jeremiah Holloman for 7-yards. He also hustled to recover a fumble by running back Elijah Holyfield in a few plays later.



---
Recent Articles by Bob Miller


[pt_view id="83405b425p"]