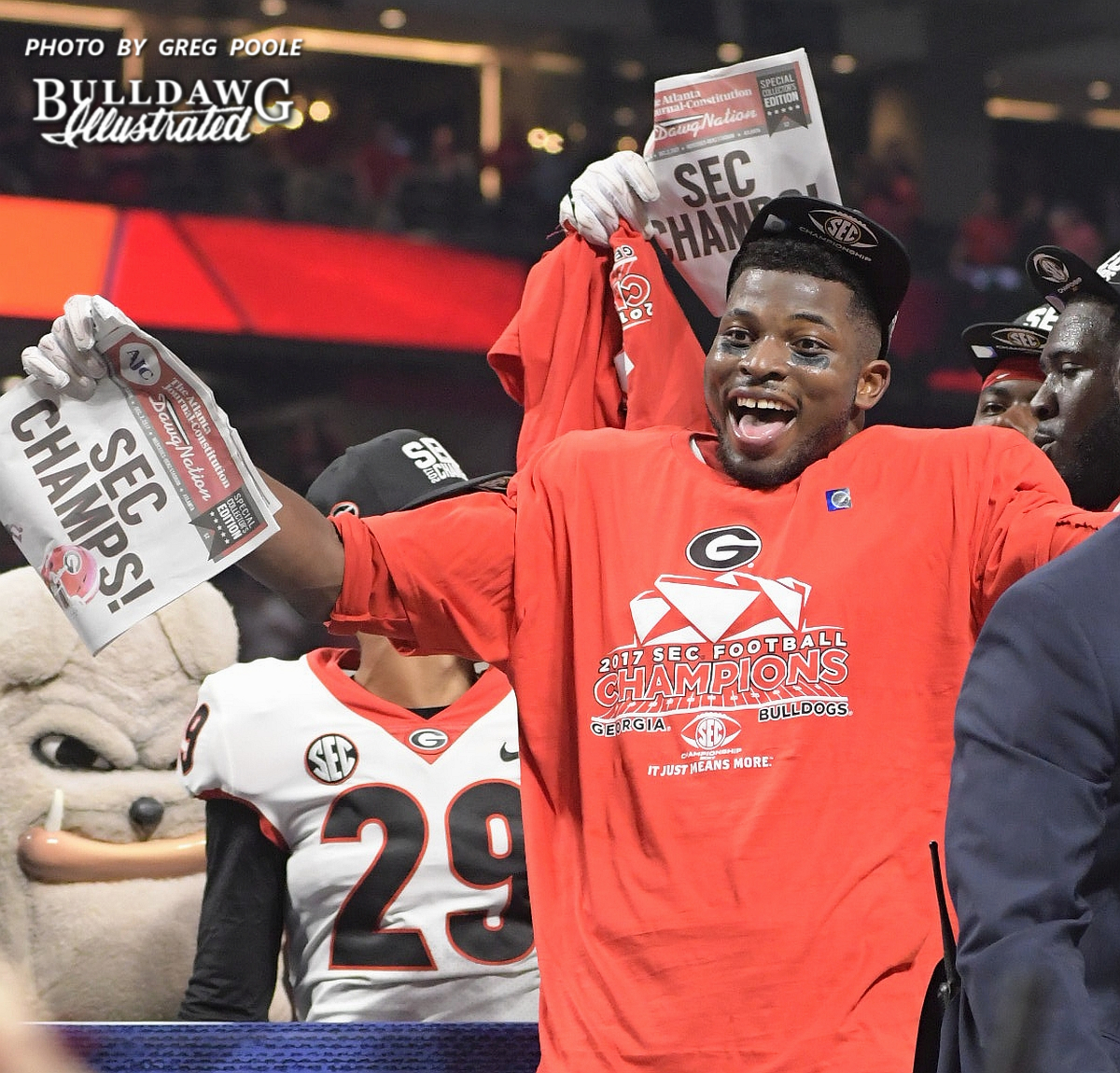 The return of some of the Bulldogs seniors has been a huge topic of discussion this season, but Kirby Smart pointed to an even greater impact that this group had with each and every player.


The four seniors that were highlighted for their unlikely return were Nick Chubb, Sony Michel, Lorenzo Carter and Davin Bellamy. Each of these players has had a tremendous impact for the Bulldogs in their whole careers but especially this season.


Davin Bellamy has made multiple big-time sacks including his sack that sealed the victory for the Bulldogs against Notre Dame, which was recovered by Lorenzo Carter. Also Bellamy's play against Auburn that Kirby highlighted as another tone-changing play.


Nick Chubb was the Bulldogs offensive workhorse as he had another outstanding season moving into the number two spot of the SEC's all-time leading rushers trailing only Bulldog legend Herschel Walker. However, Chubb was able to stay fresh because of Michel's return who will finish as the Bulldogs third all-time leading rusher.


The impacts of these players are very clear and evident on the field, but their leadership has been especially highlighted off of the field as well. Coach Smart has spoken on numerous occasions of Chubb and Michel both finding their voices as leaders of this team and Carter and Bellamy can be seen on Saturdays providing coaching and encouragement for other players.


Kirby Smart has complimented their impact in these areas on multiple occasions and he made another huge impact known to the media today that will not only play out in the rest of this season but should have a huge role in the culture around the program for years to come.


"I think the greatest impact it had was it gave the younger players, juniors, sophomores and freshman confidence in the regime and it showed them that 'hey man these guys have only been with the staff with one year, they're willing to stay.'" said Smart. "The leadership of those seven or eight seniors has been tremendous for offseason workouts and set the tone."


Smart has often talked about creating a culture around the program and his ability to get the seniors to come back for their final year should play a huge role in how players and even recruits view the program. Smart is on the brink of building something special at the University of Georgia and these players will definitely be viewed as some of the key guys who helped build the foundation in his culture.



---
Recent Articles by Michael Pope


[pt_view id="b8629e37y8″]